Virgin Airlines Presumes All Men Are Child Molesters
Since most pedophiles are men, Virgin airlines naturally treats all men as potential pedophiles.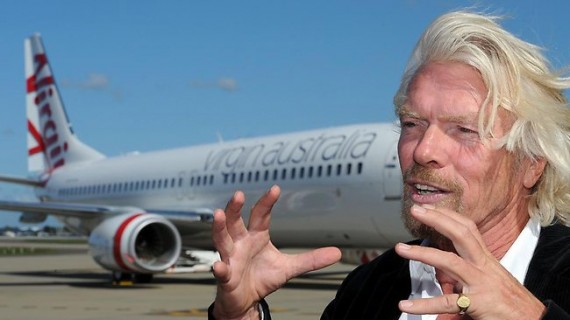 Since most pedophiles are men, Virgin airlines naturally treats all men as potential pedophiles.
ABC News ("Man Seated Next to Unaccompanied Minors Forced to Change Seats")
A man traveling from to Brisbane from Sydney was asked to change his seats so he would no longer be next to two unaccompanied minors on a Virgin Australia flight.

A flight attendant asked 33-year-old Sydney fireman Johnny McGirr to switch seats with a woman after he was seated next to two young boys  on an April flight, the Sydney Morning Herald reported. McGirr said he estimated the boys to be ten years old.  He wrote about his experience in a blog post titled "My Virgin experience as a Paedophile!"

He said he was approached and told he had to move. When he asked why, he was told,  "Well, because you are male, you can't be seated next to two unaccompanied minors."  He said he thought the request was sexist and discriminatory, but was told it was the airline's policy.

"As I collected my things from the seat pocket I could see people looking at me and wondering why I was being moved. I was red from embarrassment. I felt like I was being judged and found guilty of a crime I hadn't committed. It was an uncomfortable situation and I felt ashamed which was a weird feeling because I hadn't done anything wrong."

McGirr wrote to the airline to complain.

A spokeswoman for Virgin Australia confirmed the policy to the paper and said while the airline did not want to offend male passengers, its priority was the safety of children. "In our experience, most guests thoroughly understand that the welfare of the child is our priority," she said.
As a single father of two little girls, I'm four-square in favor of putting the welfare of children high on the priority list. But this is just an absurd policy. Which, thanks to McGirr's blog post and some media outcry in Australia, is now under review. Indeed, the same report notes, British Airways was successfully sued over such a policy back in 2005, prompting Qantas and Air New Zealand to drop it.
Amusingly, the article was accompanied by this photo: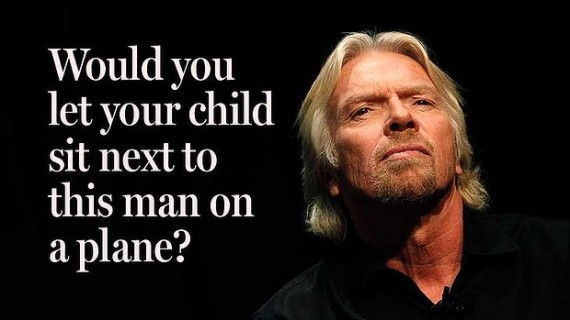 That thought crossed my mind, too, when I noted the appearance of Virgin's Richard Branson in many of the photos when I was looking for one to illustrate the post. (And, yes, I would.)
Virgin's policy here, though, is part of a much larger and more disturbing trend. We've gradually  taken the avoidance of tiny risks to such an extreme as to reverse the presumption of innocence. In order to board an airplane, enter a courthouse or any federal building, or even get into a museum, we have to prove that we're not terrorists. In order to shop at some stores, we have to submit to exit searches to prove that we're not thieves. Now, apparently, we have to switch seats on the off chance that we're child molesters.  Yes, terrorism and child molestation are horrible things. And, yes, theft drives up prices for everyone. But how much of our dignity are we willing to give up in exchange for mitigating infinitesimal risks?