Virginia County Considers Banning People From Meeting In Their Own Homes
One Virginia county wants to regulate how many people you can have in your home for a visit.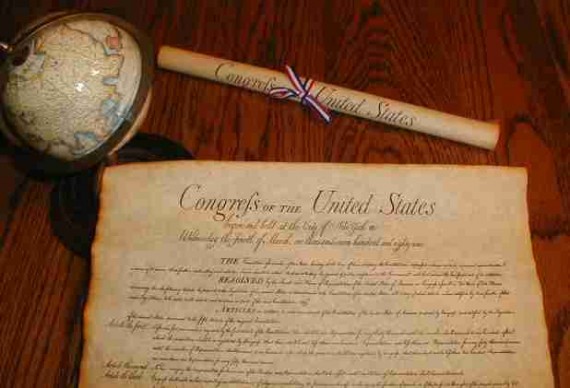 Starting this week the Board of Supervisors of Fairfax County, Virginia will consider a proposed ordinance that would ban "frequent and large gatherings in neighborhood homes" throughout the county:
FAIRFAX, Va. – A plan to ban "frequent and large gatherings at neighborhood homes" is a lawsuit waiting to happen, a Fairfax County supervisor predicts.

Officials will get an idea Wednesday when public-comment hearings begin in Virginia's most populous county.

"I believe the county is risking a lawsuit and/or aconstitution challenge by interfering with peoples' right to assemble," Supervisor Pat Herrity said in a statement.

The proposed zoning ordinance limits "group assembly" at residences to 49 people a day. Such gatherings "shall not occur more frequently than three times in any 40-day period."

County officials say they have received complaints about group meetings at homes. But Herrity said "they haven't even reached 1 percent of the thousands of complaints our Department of Code Compliance investigates a year."

"This is yet another instance where we appear to be punishing the many for the actions of the few," said Herrity, who reported a total of six complaints were received last year.

Church groups, scouting organizations or even sports fans drawn to a home's big-screen TV during playoffs could be potential targets of the proposed county law. Realtors worry that even open houses would invite civil penalties.

John Whitehead, an attorney and president of the civil-libertarian Rutherford Institute, calls the Fairfax plan "nefarious."

"Broad enactments like these have governments assuming that private property is their property," Whitehead said in an interview with Watchdog.org.

"If you can't determine what goes on at your own residence, you have surrendered your rights. The Constitution is founded on property rights."
It's easy to see how something like this could lead to complaints from neighbors. A large group of people meeting a someone's home, whether it's for a party, a church gathering, or some such other purpose, often leads to clogged streets, loud noises, and litter in the neighborhood. Suburban residents being what they are, it's only natural that they would complain about something like this. The fact that there have been complaints about these practices in the past, though, is not sufficient justification for the kind of ordinance that the County is considering here. For one thing, the standard of  "frequent and large gatherings in neighborhood homes" is simply far too arbitrary to pass muster. Who is to decide what is too "frequent" and what is too "large," for example? The proposed ordinance apparently establishes that anything larger than 49 people is too large and that any meeting that occurs more than three times within 40 days is "too frequent." However, what if someone has meetings that are outside the parameters of this statute but doesn't really disrupt the neighborhood to any significant degree because they have a large property with sufficient space so that cars aren't parked all over a neighborhood? Shouldn't they be treated differently than someone who has a smaller house in a more densely packed neighborhood? There are already noise and parking regulations on the books that can regulate situations like this. If someone's meeting isn't violating those rules, then why should it be the concern of the County, or of any of their neighbors, what they are doing on their property?
As Brian Shoeneman points out, though, the real problem with this proposed ordinance is that it seems quite clearly to be unconstitutional:
The First Amendment is pretty clear – "Congress shall make no law abridging … the right of the peaceably to assemble." All First Amendment clauses have long been incorporated against the States (and thus, counties in Virginia, which are governmental entities created by the Commonwealth) by the 14th Amendment.  Thus, no local government can violate the First Amendment, either.

As Supervisor Pat Herrity (R-Springfield) correctly notes, "the county is risking a lawsuit and/or constitution challenge by interfering with peoples' right to assemble."

Pat's point here is spot on.  The Supreme Court has held, time and time again, that minor nuisances – whether it be to individuals or neighborhoods – isn't sufficient to trump someone's protected First Amendment rights.  In two major cases, Schneider v. State of New Jersey, 308 U.S. 147 (1939) andMartin v. Struthers, 319 U.S. 141 (1943), the Supreme Court held that municipal regulations designed to impede Jehovah's Witnesses from distributing leaflets, either on a street corner or door-to-door, represented a violation of the First Amendment and struck those ordinances down.  Their rationale was relatively simple – an individual's First Amendment rights trump a neighborhood annoyance.

At the very least, a pretty good case can be made that this provision breaches the boundaries of government regulation.  But regardless of whether it violates First Amendment precedent the provision is unnecessary big government intrusion into the private lives of the citizenry.
Schoeneman is exactly right. Like many suburban communities here in Northern Virginia around the country, Fairfax County has gone far enough as it is in the adoption of laws, rules, and regulations that do nothing less than regulate the manner in which people can utilize their private property. In some cases, of course, these regulations are proper limitations that prevent a person from using their property in ways that cause a nuisance to their neighbors. However, this proposed law seems to me to go a step too far. If someone is having frequent large group gatherings at their home but isn't otherwise disrupting the neighborhood, then why should it matter if there are 49, 53, or 72 people there or if those meetings occur more than three times in a 40 day period? Absent an actual nuisance, the rule strikes me as completely arbitrary and unsupportable both under the Constitution and as a matter of policy. Instead of trying to regulate an activity that isn't bothering anyone, the country ought to be enforcing the regulations already on its books in cases where there are actual nuisances and disruptions to the surrounding community. Blanket bans like this should be avoided at all costs.