Virginia GOP Goes Redder as State Goes Purple
The bizarre dynamics of Virginia politics.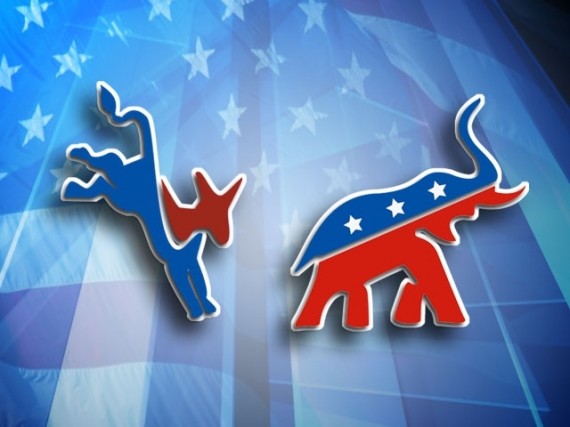 Virginia, where I was born and where I've lived for more than a decade, has gone from one of the most reliably Republican states in the union to a swing state that leans slightly Democratic. Mostly, that's a function of the Northern Virginia suburbs surrounding DC (where I live) having had a massive population influx. The Virginia Republican Party, meanwhile, is increasingly dominated by the Old South region of the Commonwealth.
POLITICO ("Virginia embodies GOP's woes"):
Look no further than Virginia to catch a glimpse of the GOP's national dilemma.

As the Old Dominion becomes a firmly centrist state, more closely resembling the rest of the country demographically and politically, Virginia Republicans are shifting rightward.

After President Barack Obama carried the state twice, it's plausible that the party will nominate a slate of three movement conservative white males for governor, lieutenant governor and attorney general next year.

At a traditional party gathering earlier this month called "The Advance," Virginia GOP leaders said there was no need to retreat — or even accommodate.

Attorney General Ken Cuccinelli, the GOP's presumptive gubernatorial nominee, was defiant at the gathering, citing Virginia Republican revivals in past years following Democratic presidential wins.

Cuccinelli scorned what he said were "media" calls for GOP "change, re-evaluation, remake, retreat."

But that's precisely how Gov. Bob McDonnell won so convincingly in 2009, one year after Obama carried Virginia by 7 percentage points, and it's the same path many Republicans expect Cuccinelli, a tea party favorite, to embrace next year if he's serious about keeping the governor's mansion in GOP hands.

McDonnell surely wouldn't cotton to calling his repackaging from anti-abortion crusader and Pat Robertson acolyte to a "Bobs for Jobs," son-of-northern-Virginia pragmatist as any sort of retreat. As he often notes, he remains an unapologetic social conservative.

But in an interview here, the governor, who just finished a stint as Republican Governor's Association chairman and will consider 2016 presidential run, was abundantly clear about what sort of campaign he expected Cuccinelli to run.

"After you convince all of your conservative Republican allies and voters in the state that you're right on those issues, you then have to find a way to capture the majority of the independent vote that represent 30 percent or 40 percent of the electorate," McDonnell said, speaking generally and careful to avoid mentioning the attorney general by name. "And many times that's as much a matter of tone and style."

By that logic, wouldn't nominating Cuccinelli, a hard-charging conservative who has sought a national profile, be a risk?

"No," McDonnell shot back. "Because people grow into the office, and they grow into being a candidate."
This is essentially the "Etch-a-Sketch" strategy that Mitt Romney deployed in the presidential contest to utter and spectacular failure. It's long been the case that candidates have worked to appeal to their party base during the primaries and then shifted to the center for the general election campaign.  But, for the current Republican Party, the distance between the two is enormous. Moreover, the era of YouTube and Twitter makes it much, much harder to say different things to different audiences and get away with it.
Virginia is an especially difficult state. Outside of Northern Virginia, it's an Old South state, more akin to Georgia or Alabama than to North and South Carolina. But NoVa is simply exploding. Fairfax County alone has well over a million people—more than five times the population of Richmond. Further, while embittered conservatives blame the Democratic lean in this part of the state to a combination of carpetbaggers and a dependency on the largess of the Federal Government for the very nice standard of living—both of which are true—the fact of the matter is that we're simply a different population with a different set of needs, experiences, and interests. Transportation issues alone create a set of political pressures that don't exist in the rest of the state.
Cuccinelli will almost certainly be the nominee. His brand of social conservatism will be a hard sell, indeed, in this part of the state. McDonnell wouldn't have been able to pull it off in 2009, even at the height of the Tea Party frenzy, had the Democrats not shot themselves in the foot by nominating unknown Creigh Deeds in one of the most bizarre primary sequences I've ever seen. Thankfully for Virginia Republicans, there's an excellent chance that they'll do the same thing again by nominating lobbyist Terry McAuliffe.