Virginia GOP Senate Candidate Using Redskins Name Controversy In Hail Mary Ad Campaign
Republican Senate candidate Ed Gillespie picked an odd issue on which to start his closing argument to Virginia voters.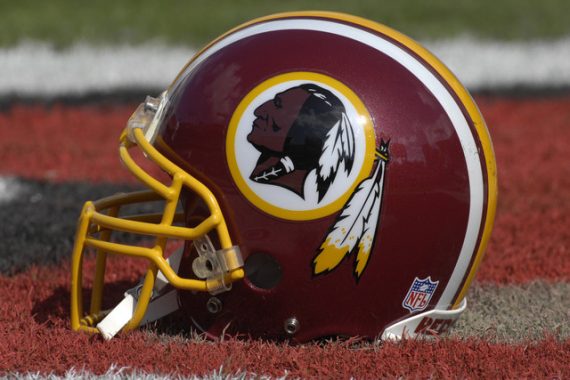 Republicans in the Commonwealth of Virginia and nationwide had hoped that this years Senate election in the Old Dominion would be competitive enough that they'd have a chance at grabbing the seat from Democrats. It was, from the beginning, a long shot largely because Mark Warner, who had served as the state's Governor before being elected in 2008 when Republican Senator John Warner (no relation) retired, was by far the most popular politician in the state. He was so popular, as a matter of fact, that there had been some speculation in 2012 and early 2013 that he would make a run for his old seat in Richmond, a race that he would easily had he done it. Instead, Warner decided to run for re-election, perhaps signaling national ambitions in the future, while the Virginia GOP struggled to find a candidate they could put up against him. The most logical choice would have been former Governor Bob McDonnell, but of course his ethical and legal problems made that candidacy impossible. Below McDonnell, though, there was a dearth of truly tested Virginia Republicans who could compete statewide and, in the end, the party chose Ed Gillespie, who had previously served as a counselor to former President George W. Bush as well as Chairman of both the Republican National Committee and Republican Party of Virginia. Very early this year, it appeared that the Gillespie-Warner race might be competitive, in no small part because Gillespie is definitely closer to the middle politically than some of the candidates the Virginia GOP had put up in the recent past, such as in 2013. As it has turned out, though, Gillespie has been unable to significantly dent Warner's popularity, and the polls seem to clearly indicate that Warner is headed for an easy re-election win.
Perhaps the best indication of Gillespie's problems is the fact that, with one week left to go in the campaign, he has thrown a Hail Mary pass by trying to use the Redskins name controversy to his advantage:

Virginia Senate candidate Ed Gillespie said in an ad airing during Monday Night Football that he would oppose legislation forcing the Washington Redskins to change the team's name.

"I'll oppose the anti-Redskins bill. Let's focus on creating jobs, raising take-home pay and making our nation safer. And let the Redskins handle what to call their team," said Gillespie, the former chairman of the Republican National Committee.

Gillespie faces long odds to oust Sen. Mark Warner, D-Va., next week, and recent polling shows the Republican trailing by double digits. The race is rated Democrat Favored by the Rothenberg Political Report/Roll Call.

Gillespie recently cut his ad buys in the Washington, D.C. area — an indication of a campaign struggling for cash. Also, it wasn't immediately clear if the spot would run elsewhere

The bill in question is an effort led by Sen. Maria Cantwell, D-Wash., with the backing of Majority Leader Harry Reid of Nevada, that would effectively target the National Football League's tax status if the D.C.-area franchise does not drop the Redskins moniker.
Here's the ad:
On some level, I suppose, this is a politically smart move by Gillespie. The Redskins are immensely popular throughout Virginia, except perhaps the far Southwestern parts of the state that are actually closer to Atlanta than they are to Washington D.C. where you are likely to find some Falcons fans, and especially so in Northern Virginia, the Richmond area, and in the Tidewater region; the three areas of the states where the votes that actually win elections are located. Even if it never airs again, the fact that the campaign spent the money to run during a Monday Night Football against the arch-rival Cowboys likely means that it caught a lot of eyeballs. That being said, it strikes me as a desperation move that is unlikely to have much of an effect on the race.
Travis Waldron makes this observation:
Warner has not signed onto Cantwell's legislation, but targeting him specifically on this issue is an odd decision. The Virginia senator was one of just three Senate Democrats not to sign onto a letter that called on the NFL to change the name, and unlike the others — fellow Virginia Sen. Tim Kaine (D) and Sen. Bill Nelson (D-FL) — he did not come outagainst the name afterward or write his own letter to the NFL. That puts Warner in the minority of Senate members, after Sen. John McCain (R) also spoke out against the name.

Warner has, however, received $5,200 in campaign contributions from Dan Snyder, the team's owner. Gillespie, meanwhile, has been endorsed by former Virginia Sen. George Allen (R), who as ThinkProgress reported in January is among a cadre of prominent Washington communications consultants the team has hired to help defend its name from opposition.

The ad takes an even odder turn near the end, when just seconds after criticizing his opponent for not talking about the team's name in a campaign-produced ad about the team's name, Gillespie pledges that he will turn his attention to "creating jobs, raising take-home pay, and making America safer," while letting Washington "handle what to call their team."

After Warner decided not to sign onto the letter from Senate Democrats, an aide explained the decision in quite similar terms.

"Senator Warner believes that it's not for Congress to dictate what the league does," a statement from Warner's office said then. "He believes that over time, team names will change to reflect the times, as happened with the Washington Wizards."
As I said, placing an ad themed around this issue to run during one of the biggest Redskins games of the year, a game the Redskins ended up winning in overtime, is smart ad placement, but I can't really say that it seems smart in any respect beyond that. For one thing, it's an odd way to start out the final week of the campaign, a time during which candidates are supposed to be making their closing arguments to voters. Additionally, even though polling has indicated that Virginia voters largely support the Redskins keeping their name, it seems unlikely to me that many people are going to change their mind about him because of an ad that points out that he hasn't taken a firm position on a piece of legislation that probably won't pass the Senate, and which will never pass the House of Representatives, and instead explicitly said that he'd rather focus on issues like jobs and the economy. This might have been an ad to run weeks ago when the NFL season started, but it seems like a huge waste of money this late in the campaign.