Virginia Veterans ID Card
Virginia has been offering ID cards to military veterans to make it easier to prove that they're military veterans for months now.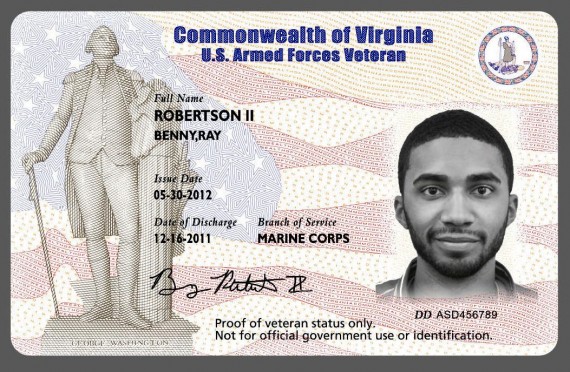 Virginia has been offering ID cards to military veterans to make it easier to prove that they're military veterans for months now. I'm a veteran who lives in Virginia and just found out three minutes ago, via Twitter.
Fairfax News ("Virginia Veterans ID Card Now Available from DMV"):
Governor Bob McDonnell today launched the new Virginia Veterans ID Card available from the Department of Motor Vehicles (DMV) in partnership with the Department of Veterans Services (DVS) during an afternoon event at the McGuire Veterans Affairs Medical Center in Richmond. The card will help thousands of Virginia veterans identify themselves as veterans and obtain retail and restaurant discounts around the state. The DMV 2 Go mobile office was present to process veterans' applications for the cards onsite this afternoon. Governor McDonnell, a U.S. Army veteran who served for a total of 21 years in active duty and reserve roles, visited the mobile office at today's event and was one of the first to apply for the new ID card.

Speaking about the launch of the Virginia Veterans ID Card, Governor McDonnell said, "Virginia is home to 823,000 veterans who have protected and served our great nation. It is Virginia's duty to serve them. The launch of the Virginia Veterans ID card will provide a new state resource to aid in obtaining discounts and other services from the Commonwealth's retail community, as well as providing convenient identification for Veterans. This initiative is a perfect example of state agencies working together to assist those individuals who have served and sacrificed for our great nation. We take seriously our responsibility to provide resources and support to our veterans. This is an important step towards reaching our goal of making Virginia the 'most Veteran friendly state in the nation.'"

Currently, retired military and veterans with a service-connected disability rating from the U. S. Department of Veterans Affairs are issued ID cards. These men and women comprise just a fraction of the state's veteran population. The remainder of Virginia's 823,000 veterans have no way to show veteran status other than by presenting their discharge documents. The new Virginia Veterans ID Card is convenient and fits in a wallet, cutting down on Veterans having to carry the DD 214 military discharge document as identification.

Paul Galanti, Commissioner of the Virginia Department of Veterans Services, added, "Retailers and restaurants across the state offer discounts and other special promotions to veterans and military, especially around Memorial Day and Veterans Day. This is a winning situation for both veterans and retailers."
If any of the stores and restaurants I frequent offer discounts to veterans, I don't know about it. Then again, I didn't know about this card, either.
At any rate, it's a good idea to give veterans an easy way to prove their status. You'd think that, if they're going to have the DMV issue it, though, they'd just include an annotation on the existing drivers license rather than coming up with a second card.
Of course,  I'm not sure why having served in the military entitles people to cheaper restaurant meals. Excepting, of course Medal of Honor awardees and those who suffered grievous injuries in combat; at very least, they ought to be issued a card that entitles them to unlimited free beer.
UPDATE:  Another Twitter conversation calls into question the need for this card, period. It turns out that the US "Department of Veterans Affairs (VA) provides eligible Veterans a Veterans Identification Card (VIC) for use at VA Medical Facilities. The VIC protects the privacy of Veterans' sensitive information, as it no longer displays the Social Security Number or Date of Birth on the front of the card. The VIC will only display the Veteran's name, picture, and special eligibility indicators – Service Connected, Purple Heart and Former POW, if applicable, on the front of the card."  Once again, despite being a veteran myself—and having been for over two decades now—I was completely unaware of this.
The only caveat is that "Only Veterans who are eligible for VA medical benefits will receive the card." But the eligibility requirements are pretty minimal: 24 months continuous service and any discharge other than "dishonorable." And those released from the service in less than 24 months for medical purposes are also eligible. So . . . it's not clear why Virginia needs its own card.