Virginia's Forgotten Political Scandals
Six weeks is a very long time in American politics.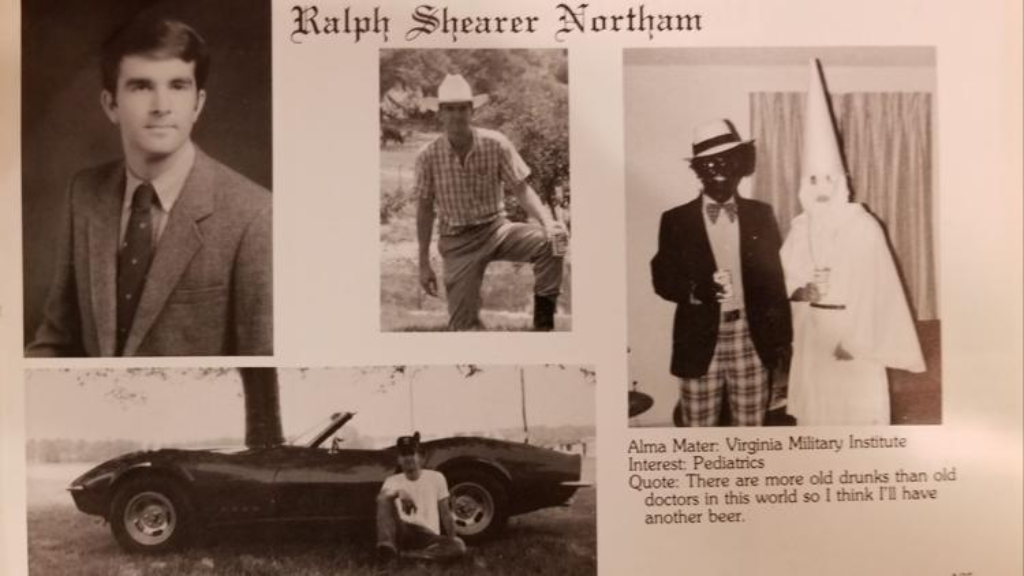 NYT ("'It Just Went Poof': The Strange Aftermath of Virginia's Cascade of Political Scandals"):
More than a dozen state lawmakers filed onto the stage, summoned by the smiling leader of their state: Ralph S. Northam, the governor of Virginia.

On the governor's right were a handful of House Democrats, who as a group in February said they were "no longer confident in the governor's representation of Virginians," after learning of a shocking racist photo on Mr. Northam's medical-school yearbook page.

On his left were mostly Republicans, including the speaker of the House, Delegate Kirk Cox, who'd declared that Mr. Northam's "ability to lead and govern is permanently impaired."

Some on stage were members of the legislative black caucus, which called the yearbook photo "disgusting, reprehensible, and offensive" and "a complete betrayal."

Even so, as Mr. Northam took out a pen at the event last week and signed bills to overhaul the state's foster care system, the lawmakers of both parties stood behind him, grinning and clapping.

This is the strange, suspended state of Virginia politics, just two months after scandal after scandal seemed to be devouring the state's government from the top down.

In the space of a week in early February, the public was stunned by revelations about each of the three highest statewide elected officials, all Democrats: the racist photo in the governor's yearbook; accusations of sexual assault against the lieutenant governor; and the attorney general's appearance in blackface at a party in college. Protesters and news crews swarmed the Statehouse. Calls for resignations came from fellow Virginia Democrats, Republicans and even 2020 presidential candidates.

And then? "It just went poof," said Natalie Draper, a librarian sitting in the back of a coffeehouse last week in Richmond. "It's like it never happened."
How did Northam and Lt. Gov. Fairfax not only survive politically but have the scandals seemingly disappear?
Some say the whole mess was so exhausting and embarrassing that by the time the legislature adjourned on Feb. 24, the outrage had burned itself out. Others point to polls that showed Virginia voters were considerably less hungry for resignations than their representatives were. Some political observers mused about more fundamental changes to the life span of scandal, describing President Trump's approach to bad press as if it were a revolutionary medical breakthrough.

"Don't apologize, move on, and everybody will talk about something else next week," is how Ben Tribbett, a Democratic strategist, described it. "Maybe we've been doing it wrong over the last 100 years."

For the Democrats, perhaps above all, there are the blunt political realities. Whatever may happen in the 2021 election for governor, every seat in the Republican-controlled Virginia General Assembly will be up this November, and Democrats have a chance to take back power in at least one chamber of the legislature. That will be hard enough now, given the bales of fodder Republicans now have for attack ads. But the idea of trying to raise money and hold rallies while spurning the three highest officeholders in the state came to be seen by many Democrats as just a needless handicap.
So, essentially, the scandals just petered out:
In the immediate wake of the scandals, the governor all but disappeared, either avoiding public events or being explicitly disinvited from them.

The gears of state government kept turning — bills were signed or vetoed, cabinet secretaries did their work — but Mr. Northam's public resurfacing was slow, beginning with an appearance in early March at the third annual Public Safety Unmanned Aircraft Systems Conference.

Still, it is only in recent days that his public schedule has approached normal — or at least, something that looks normal from the outside.

"I think groups are struggling with, 'What do we do? What do we do about inviting him? Do we want him the centerpiece of an announcement?'" said Mr. Cox, the House speaker, who spoke with Mr. Northam at the bill-signing for the first time since February. "It's going to be pretty hard to say we're just going to have a normal governorship for the next three years," Mr. Cox said.

Lt. Gov. Justin Fairfax, too, has been showing up at public events more often. But rather than trying to change the subject from the allegations against him, he dives right into them, even unprompted, as he did on the last day of the legislative session in a surprise speech comparing himself to a victim of lynching.

Mark Herring, the attorney general, has taken questions from the public on a few occasions since his own blackface scandal broke. But when he talked recently with reporters in Washington, after a Supreme Court hearing on gerrymandering, no one asked him about the episode.

Democrats fully acknowledge that there is unfinished business in all this. But they cite the lack of resolution as a reason to slow down on those immediate calls for resignations.
And the people themselves seem to have stopped caring, if they ever did:
Democratic lawmakers who are asked what may come next on the scandal front have no concrete answer; most say their constituents would rather hear about roadwork, school financing and health care.

Those, after all, are matters that state politicians can actually change, as opposed to the things that apparently they cannot.

"The calls for resignation have not been rescinded," Delegate Jeff Bourne, a member of the legislative black caucus, said a few days before appearing with the governor at a bill-signing ceremony. "But I think it's one of those things where we are operating in the current state of affairs. And the current state of affairs is that the governor and lieutenant governor are still there."
It may well be, too, that the confluence of scandals—along with so many scandals at the national level—just sort of canceled them out. Northam might well have been forced out if his scandal were the only one. But the charges against his designated replacement, Fairfax, were arguably more serious. And then there were revelations (although minor in comparison) against the number three guy.
Scandals have simply become more weatherable over time. When the Monica Lewinski affair was rumored, ABC's Sam Donaldson predicted that President Bill Clinton would have to resign within a matter of days on the basis of the adultery alone. In another era, that might have been right. But Clinton persevered his way through it.
Nearly twenty years later, most of us thought the "grab 'em by the pussy" tape destroyed any chance Donald Trump had of becoming President. He managed to brush it off as "locker room talk" and continue the fight. He's still damaged by it—as Clinton was then and Northam and Fairfax are today. But the public seems to be almost inured to scandal at this point, seeing it as a distraction from the "real issues."