Vote Moderate Republican: Vote Obama
Understanding the state of the GOP field requires recognizing that President Obama is actually pretty moderate.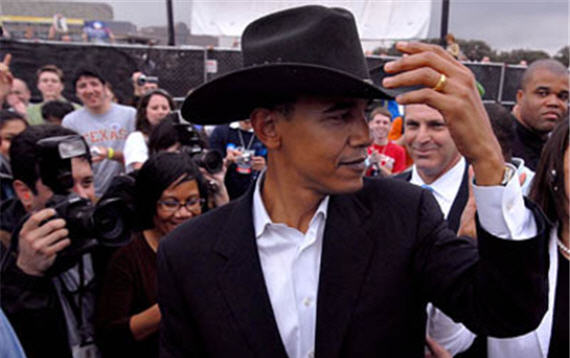 Glenn Greenwald argues in the pages of the Guardian:  "Vote Obama – if you want a centrist Republican for US president."
In fairness to the much-maligned GOP field, they face a formidable hurdle: how to credibly attack Obama when he has adopted so many of their party's defining beliefs. Depicting the other party's president as a radical menace is one of the chief requirements for a candidate seeking to convince his party to crown him as the chosen challenger. Because Obama has governed as a centrist Republican, these GOP candidates are able to attack him as a leftist radical only by moving so far to the right in their rhetoric and policy prescriptions that they fall over the cliff of mainstream acceptability, or even basic sanity.
I know many regular commenters here at OTB will scoff at such assertions. After all, many of them frequently assert that Obama is a radical who, if given four more years, will utterly transform American into something none of us will recognize.  However, the truth of the matter is, if one actually looks at what Obama has done in office, it is really very difficult to reach the conclusion that he is especially liberal  in the American sense of the word (let alone a radical, a socialist!, or whatever other term one wants to deploy).
Here's the challenge:  what policy has Obama pursued that could not have been pursued, at least until very recently, by a Republican?  And once we get beyond  the PPACA (and even that is a lousy example for reasons discussed below)  what actual policy has Obama pursued that would prove his alleged extreme liberalism?  And even if a handful of examples can be conjured, what does the preponderance of the evidence actually demonstrate?
Off the top of my head, the following policy areas come to mind (and note, I am not making value judgments about whether the policies are good  but whether they are uniquely "liberal"):
The Major Initiatives
PPACA (aka "ObamaCare"):  Health Care reform has been Obama's signature legislative achievement.  Regardless of anything else, we know that in the 1990s this approach (keeping insurance private and the creation of an individual mandate) was touted as the "conservative" alternative to "socialized medicine."  As we well know, this was the system put in place in Massachusetts during Romney's tenure as governor (and, indeed, is his signature legislative achievement) and was the system favored by the conservative Heritage Foundation during the Clinton administration.  And, as Doug Mataconis has pointed out over the last couple of days, Newt Gingrich praised such systems within the last couple of years (see here and here).  Note:  the truly liberal preference was a single-payer system (or, the semi-liberal preference was a public insurance option).
Cap and Trade:  This, of course, has not passed. However, this used to be a Republican idea.  The goal was to create a market for carbon and let the magic of that market fix the pollution problem by incentivizing polluters to reduce emissions via the profit motive (i.e., selling off part of their allotment of allowed carbon) instead of just imposing caps (the more traditionally liberal solution).
On both of the above, see my post from a while back:  Obama: Moderate 90s Republican?
Stimulus:  While it is true that the fact that Democrats had huge majorities in both chambers in 2009 meant that the stimulus package passed was going to be laden with Things Democrats Like, the bottom line is that a Republican president would have also signed a stimulus bill, so the notion that this was some uniquely "liberal" or "socialist" move is problematic.
TARP/Bailouts:  This started under Bush and would have been continued under McCain.
Deficits and Debt.  I know a lot of people assert that Obama came to office and exploded the deficit.  However:
Source:  NYT.
Foreign Policy:  While I know it is fashionable in certain conservative circles to assert that the president's foreign policy is just to go around and apologize for the US, the truth is that US foreign policy under the Obama administration is hardly all that different from that of the second Bush administration and apart from bomb, bomb, bombing Iran, I defy anyone tell me how a McCain foreign policy would have been especially different (more aggressive in Libya, perhaps?).
Taxes
While Obama has argued for the need to increase taxes, he has only done so by targeting upper income levels (either in terms of increased the top marginal rate to the pre-Bush levels, or via a millionaire surtax in the latest go 'round over the payroll tax holiday and unemployment benefits)—hardly radical suggestions.  All of that, by the way, has been rhetoric to date.  The reality has been tax cuts:  he signed into law the extension of the Bush era income tax rates and he pushed for, and saw passed, the payroll tax "holiday."
Social Issues
It is true that Obama is pro-choice (although the degree to which this has been of any serious policy relevance of late is questionable at best), so that marginally puts him in the Democratic/"liberal" camp (although plenty of moderate Republicans are pro-choice as well).  Further, he is pro-gay marriage (although, again, this is a matter that is shifting in many Republican circles as well).  I expect that "don't ask, don't tell" would not have been aggressively repealed by a Republican president, but again, even that issue is one of salience these days only to portions of the hard right.
I will allow that Obama is more likely to appoint members of the judiciary that are more liberal on these issues but again, the degree to which they substantially different from those a moderate Republican might appoint is questionable.
Civil Rights
While Obama did end certain torture techniques, his record in this area is hardly all that different from the Bush administration.  Guantanamo is still open, Americans on foreign soil are considered legitimate targets for assassination without trial, and now, with the signing of the NDAA, American citizens arrested in the US can face either indefinite detention or military tribunals.  All of this is "liberal" how?
Conclusions
Understanding that words like "conservative," "moderate," and "liberal" can shift in meaning over time, I would still submit that it is quite difficult, from an empirical and dispassionate point of view, to call Barack Obama anything other than a moderate (and one whose policies would have been welcome, in large measure, within the Republican Party in the 1990s, if not more recently than that).
One can call President Obama "extremely liberal" or even a ""socialist" but the facts run counter to such claims (unless, of course one wishes to utterly redefine the words).
The bottom line here is that a lot of voters really pay attention only to party label, and not to actually policies.  To wit:  if Obama signs the PPACA, it must be socialism, but if Bush signs Medicare Part D, it is just "moderate" social policy.  That is:  too many of us react too much to the party symbols and not enough to the policy views, when making decisions (and forming opinions of said policy initiatives).
What does all of this mean?  Well, it depends on who you are.  If you truly are liberal, you are likely quite disappointed.  If you are a disaffected Republican, it explains why supporting/tolerating Obama hasn't been that hard (e.g., Andrew Sullivan, David Frum, Bruce Bartlett, etc.).  It also means that if you are one who has made constant accusations of extreme liberalism, socialism, etc., that you are simply wrong.  And for the GOP it has meant a continued shift rightward by their candidate pool (and in a way that has diminished, not increased, their electoral chances in 2012).