Voters Not Too Impressed With Hillary Clinton's Time At Foggy Bottom
A new poll suggests that Hillary Clinton's record as Secretary of State doesn't impress voters as much as she might hope.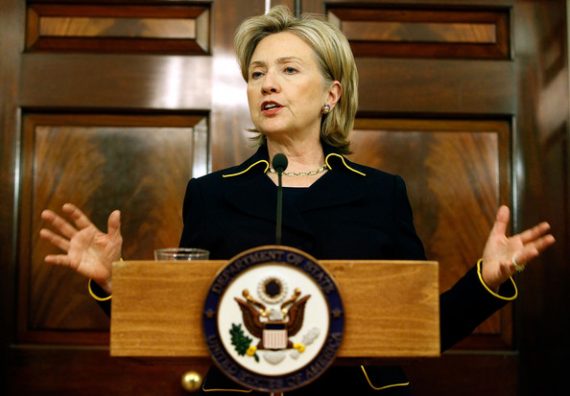 A new poll from Politico suggests that Hillary Clinton's time as Secretary of State may not be as much of an electoral enhancer as her supporters might believe:
A majority of voters are unimpressed with Hillary Clinton's performance as secretary of state, according to a new POLITICO poll.

Just 14 percent described her time at State — she served four years ending in February 2013 — as "excellent," while 28 percent defined it as "good." Twenty-one percent called it "fair," and 32 percent rated her performance "poor." Six percent weren't sure or declined to answer. The survey of likely voters in states and districts with the most competitive House and Senate races was conducted this month as Clinton traveled around the country to promote her new memoir, "Hard Choices," and discuss her time as the nation's top diplomat.

Clinton's ratings did not vary meaningfully across income levels or age, but there was a clear partisan divide over the likely 2016 presidential candidate. Some 79 percent of Democrats viewed her performance as either good or excellent, while just 12 percent of Republicans saw her that way. Only 5 percent of Democrats thought she did the job fairly or poorly, in contrast to 86 percent of Republicans.

Yet, in a potential warning sign for Clinton, independents gave her lukewarm marks by a nearly 2-to-1 margin: 60 percent viewed her performance as "fair" or "poor," compared with just 33 percent who answered "excellent" or "good."

In a February 2013 Quinnipiac University survey, Clinton had a 61 percent favorable rating and a 34 percent unfavorable rating.
This is the same poll that surveyed Americans for the views on foreign policy, so the same caveats apply here as there. Additionally, it's worth nothing a recent Gallup poll found that Clinton was both the most well-known and the most favorably viewed of any of the potential candidates of either party, and recent NBC News/Marist polling showed her with an overwhelming lead over any potential Democratic opponents in both Iowa and New Hampshire.  Judging by those numbers alone, and other evidence, it is fairly obvious that Hillary Clinton is sitting in a very good position should she choose to run for President in 2016, which at this point it seems rather obvious she will end up doing barring some extreme circumstances.
That being said, Clinton will not be able to coast her way to the Oval Office based on goodwill and high poll numbers alone. She'll need to have a campaign message of some kind, and it seems fairly clear that a large part of that campaign will focus on her experience, principally as a Senator and Secretary of State. Her four years at Foggy Bottom, for example, are the subject of her book and a large part of the message that she attempted to convey during the media blitz that accompanied its publication involved the "hard choices" that she was forced to make during that period. At various points in the book, she draws distinctions between herself and the President, such as when she pointed out that she had been among those arguing in favor of arming the Syrian rebels when the rebellion against Bashar Assad first began, but that the President had decided otherwise.
Obviously, if Hillary Clinton does run for President she intends to use her tenure as Secretary of State as an argument in favor of her candidacy. What this poll suggests is that it may not be as impressive to voters as her most ardent supporters seem to think that it is. That doesn't mean that her record will hurt her sufficiently to matter in the end, of course, but it does suggest that, at least by the time the General Election rolls around, 2016 may not be the cakewalk that they seem to think that it is.