Voula Papachristou Thrown Off Greek Olympic Team After Bad Joke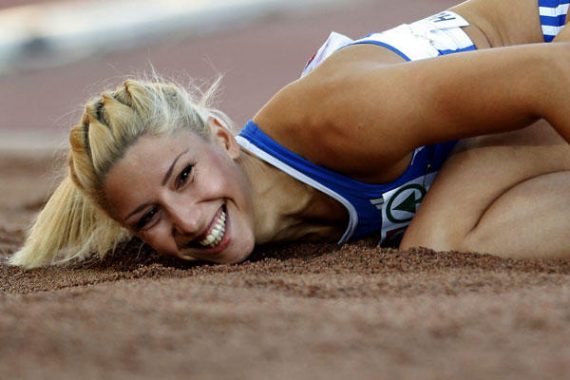 Greek triple jumper Voula Papachristou was expelled from the Olympics over a joke.
CSM ("The tweet that ousted a Greek Olympian: youthful mistake or slur?"):
A controversial tweet by Greek triple jumper Voula Papachristou and her ensuing expulsion from the London Olympics has set off a firestorm in her home country.

On Sunday, Ms. Papachristou tweeted that "With so many Africans in Greece, at least the mosquitoes from the West Nile will be having homemade food."

Her tweet became widely known on Greek social media today, and the Greek Olympic Committee decided she was out, saying that her tweet was "contrary to the values and ideas of the Olympic movement."

To some, it was evidence of racism by an athlete who has shown sympathy in the past by the ultranationalist Golden Dawn party, which many perceive as neo-Nazi for its anti-immigrant rhetoric and the Nazi salutes its followers perform in public. Her actions, which include posting YouTube videos of Golden Dawn and retweeting posts by Golden Dawn members, have made many argue that the mosquito tweet wasn't just a bad joke.

"No matter how old you are, when you offend the Olympic values, you can't be a member of the Olympic team," said head of the Greek Olympic team, Isidoros Kouvelos, in a television interview with Greece's Skai TV.

But others argued that Papachristou's youth should have been taken into consideration.

"She's just a kid that made a mistake," said Papachristou's coach, Giorgos Pomaski, "I respect the Olympic Committee's decision. I just want people to know that Voula doesn't know what racism is. Believe me, I know what racism is, because I'm from Bulgaria."

After her tweet spread, Papachristou followed up with an apology: "I would like to express my heartfelt apologies for the unfortunate and tasteless joke I published on my personal Twitter account," she wrote. "I am very sorry and ashamed for the negative responses I triggered, since I never wanted to offend anyone, or to encroach on human rights."
I'm not sure that making a connection between Africans, some of whom are white, and West Nile mosquitoes is racist or even in bad taste. Out of context, I'm not even sure whether it's funny; it could be if there's an epidemic of such mosquitoes at the Olympic compound. Then again, I'm only vaguely familiar with the various European neo-Nazi parties and had never heard of this woman before yesterday, so that baggage may well deservedly color the interpretation of the tweet.
That said, so what? Surely, there are other racists at the Olympics—and not just from Bulgaria. (Who knew they were world famous for racism?) The fact that Twitter now makes every dumbass thought that goes through these people's heads public shouldn't mean that their political views are part of the Games. The Olympics is about athletic competition, not politics.