VP Debate 2020
Kamala Harris wins by not losing.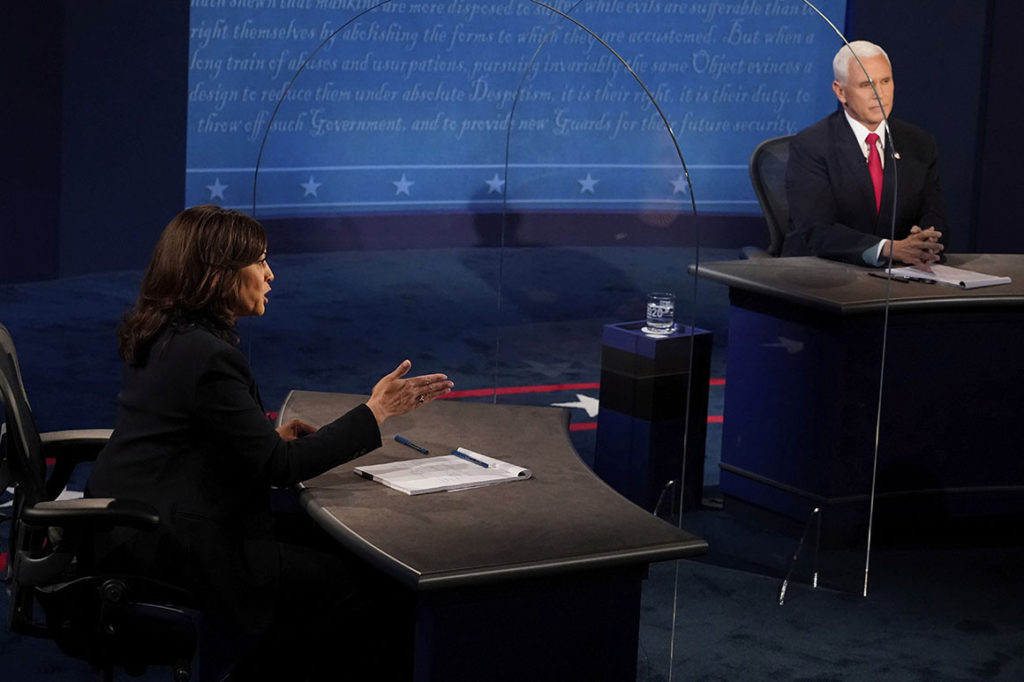 While I didn't watch last night's debate between Vice President Mike Pence and Senator Kamala Harris, Ryan Lizza's summation succinctly captures the consensus:
At one point during Wednesday night's vice presidential debate, Mike Pence answered a question about abortion laws in Indiana by discussing Qasem Soleimani. Kamala Harris responded to a question about whether she and Joe Biden would expand the Supreme Court by invoking Abe Lincoln.

Let's say this at the outset: This was a boring, unfocused debate between two well-prepared and polished candidates who had little interest in answering the questions posed to them — and were under virtually no pressure from the moderator to do so.
While many observers were frustrated by the candidates'—and especially Pence's—refusal to directly answer questions, Lizza found it a refreshing return to normalcy in contrast with the debacle that was the first (and perhaps last) Trump-Biden debate.
[I]t was sort of how debates used to be: professional politicians who are mostly civil to each other making their points, occasionally skirting the rules, and frequently spinning the facts. There was a lot to critique, but the participants were bound by some shared sense of propriety.

That was before Trump came along and turned the first debate into a spectacle, as he did on Sept. 29 by interrupting Joe Biden for 90 minutes. So maybe the way to see the Harris-Pence snooze-fest is as a peek into the future of American politics once this Trump-dominated era is over.

Harris and Pence are both younger, more well-spoken, and closer to the beating hearts of their respective parties.
Neither candidate embarrassed themself or clearly out-pointed the other.
Considering the challenges anyone would have defending the Trump record on the pandemic, Pence's ability to leave the stage after 90 minutes without being gutted by Harris was a bar cleared.

The fly that nested in Pence's hair for more than two minutes was more embarrassing to him — and memorable to viewers — than any of Harris's jabs. That also has to be seen as a kind of accomplishment.

The two plexiglass screens that separated the candidates were visual reminders of the Trump administration's response to the coronavirus. There has never been a debate where one candidate requested that special safety equipment be installed because there was a not-unreasonable concern that their opponent might infect them with the deadly disease they were charged with getting under control. Like the fly, the physical barriers were more memorable and more embarrassing to Pence than anything Harris said.
Of course, a visible reminder of the Trump administration's most colossal failure throughout the debate is something of a win for the opposition on its own. Further, given that Biden-Harris currently have a rather sizable lead over Trump-Pence in all the polls—and have throughout the race—not losing is as good as winning.
Indeed, Harris may well have been looking ahead to 2024, positioning herself as the clear favorite to replace Biden after a single term, than to next month's election.
Harris was well-prepared but restrained. She did not, as previous vice-presidential candidates have — including Joe Biden in 2008 and 2012 — play the role of vicious aggressor. In previous presidential campaigns that role has sometimes diminished the running mate.

Whether by design or happenstance, Harris seemed more interested in coming across as civil and presidential rather than as an attack dog. Considering the dynamics of the campaign that may have been a politically astute decision. She and Biden are well ahead in the polls and defining Harris as someone ready to be president, rather than as a political assassin, may be a more important use of her limited time in the spotlight.
According to CNN's instant polling, both candidates more-or-less met expectations going in.
More Americans said Sen. Kamala Harris did the best job in the vice presidential debate Wednesday night, according to a CNN Instant Poll of registered voters who watched. About 6 in 10 (59%) said Harris won, while 38% said Vice President Mike Pence had the better night.

Those results roughly matched voters' expectations heading into the debate. In interviews conducted before the debate, 61% of those same voters said they expected Harris to win, 36% thought Pence would.
My first thought was that this was simply a reflection of national poll numbers. But Harris' expectations and "win" numbers are somewhat higher than Biden's margins over Trump's in the most recent CNN poll (which is itself higher than the RealClearPolitics polling average.)
And given that this was in some ways Harris' introduction to the nation writ large, it went well for her:
Harris did improve her favorability rating among those who watched, according to the poll, while for Pence, the debate was a wash. In pre-debate interviews, 56% said they had a positive view of Harris — that rose to 63% after the debate. For Pence, his favorability stood at 41% in both pre- and post-debate interviews.

Harris' numbers went up among men (from 49% favorable before to 56% afterward) and women (from 63% favorable before to 70% post-debate), and she even boosted her favorability rating among Trump supporters (from 4% favorable pre-debate to 12% after). Pence's numbers held steady among men and women (50% of men had a favorable view in both pre- and post-debate interviews, among women it was 33% pre-debate and 32% after).
But, as is almost always the case, the VP debate did little to alter the race itself:
As after the first presidential debate, though, most voters who watched said Wednesday's event hasn't changed their minds about whom to support. Overall, 55% say it had no effect on how they are likely to vote, while those who did choose a side tilted narrowly toward Joe Biden.
Which isn't surprising. Again, almost nobody votes on the basis of the vice president. Still, given Biden's advanced age and concerns about his mental health and longevity, that Harris demonstrated herself to be competent was presumably a relief to those voters who definitely don't want to vote for Trump but were reluctant to vote for Biden.
Both vice presidential candidates are broadly seen as qualified to be president: 65% said Pence is qualified to serve as commander in chief should that become necessary, 63% said the same of Harris.
Those are strong numbers, indeed.
Most debate watchers said Harris did the better job defending her running mate (64% Harris to 34% Pence), that she seemed more focused on uniting the country (62% to 34%), was more in touch with the needs and problems of people like you (61% to 38%) and that she expressed her views more clearly (57% to 39%). Most said Pence spent more time attacking his opponent (56%) than thought the same of Harris (36%).
Those numbers essentially mirror the overall support ratings. Still, Pence was in a very different position—having to defend the record of an unpopular sitting President while casting doubt on what a Biden presidency would look like.
The bottom line is that we're inching closer to Election Day—indeed, more than a million Americans have already voted—and Pence did nothing to change the momentum of the race. That, of course, was a tall order.