Wait, I Thought The President Said "No Boots On The Ground" In Libya
Remember when President Obama said there would be "no boots on the ground" in Libya? You didn't actually believe that, did you?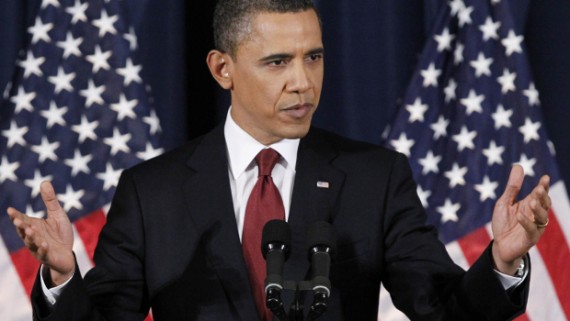 When he first announced American participation in the United Nations sanctioned intervention in Libya, President Obama explicitly promised that there would not be American ground troops used in any operation in Libya:
I also want to be clear about what we will not be doing. The United States is not going to deploy ground troops into Libya.  And we are not going to use force to go beyond a well-defined goal — specifically, the protection of civilians in Libya.  In the coming weeks, we will continue to help the Libyan people with humanitarian and economic assistance so that they can fulfill their aspirations peacefully.
The President repeated that promise when he addressed the nation in March 28th:
I said that America's role would be limited; that we would not put ground troops into Libya; that we would focus our unique capabilities on the front end of the operation and that we would transfer responsibility to our allies and partners.  Tonight, we are fulfilling that pledge.
It's been roughly two weeks now since we intervened in Libya, though, and its becoming clear that Qaddaffi isn't going anywhere anytime soon. Partly, this is because the allied mission is limited to protecting civilians, a fact which has caused the rebels to complain that NATO isn't helping enough. Partly, it's because the rebels themselves are clearly not strong enough to defeat Qaddaffi on their own, although they appear to be strong enough to hold on to their territory in the eastern part of the country. Increasingly the word you're hearing in reference to Libya is stalemate, and even partition of the country. Unless something changes. And that something could be American ground troops.
Yesterday, General Carter Ham testified before Congress and said that American forces could be part of an international force to aid the rebels:
WASHINGTON – The United States may consider sending troops into Libya with a possible international ground force that could aid the rebels, according to the general who led the military mission until NATO took over.

Army Gen. Carter Ham also told lawmakers Thursday that added American participation would not be ideal, and ground troops could erode the international coalition and make it more difficult to get Arab support for operations in Libya.

Ham said the operation was largely stalemated now and was more likely to remain that way since America has transferred control to NATO.

He said NATO has done an effective job in an increasingly complex combat situation. But he noted that, in a new tactic, Muammar Qaddafi's forces are making airstrikes more difficult by staging military forces and vehicles near civilian areas such as schools and mosques.

The use of an international ground force is a possible plan to bolster rebels fighting forces loyal to the Libyan leader, Ham said at a Senate Armed Services Committee hearing.

Asked if the U.S. would provide troops, Ham said, "I suspect there might be some consideration of that. My personal view at this point would be that that's probably not the ideal circumstance, again for the regional reaction that having American boots on the ground would entail."
This, of course, would be an entirely new mission since aiding the rebels is not authorized by UNSCR 1973, which speaks only about protecting civilians. It's worth noting, though, that at the same time he was promising "no boots on the ground," President Obama was also saying that American policy was that Qaddaffi must step down from power:
The United States maintains that Libyan strongman Muammar Qaddafi must give up power, President Obama said today, even as the current United Nations mission — and U.S. military involvement — remains more limited.

"I have… stated that it is U.S. policy that Qaddafi needs to go," Mr. Obama said in a press conference from Santiago, Chile. "But when it comes to our military action, we are doing so in support of U.N. Security resolution 1973. That specifically talks about humanitarian efforts, and we are going to make sure that we stick to that mandate."
Unless Obama is willing to accept a divided Libya with Qaddaffi still in control of a substantial portion of the oil rich parts of the country, he either has to abandon his "Qaddaffi must go" policy, or take some other action. That means ground troops and it means that the illusion that were merely engaged in a humanitarian relief effort over there will be revealed for the disingenuous lie that it is. Clearly, General Ham wouldn't be speaking about ground troops in this manner if they hadn't been already considered the possibility. It's time for the President to be honest with the American people about what he intends for Libya, and to seek explicit Congressional approval if he wants to expand the mission even one millimeter beyond its current parameters.