Want To Understand The GOP Hardliners? Talk To Their Constituents
To borrow a phrase from Stephen Colbert, if you want to understand how Congress works, you better know a District.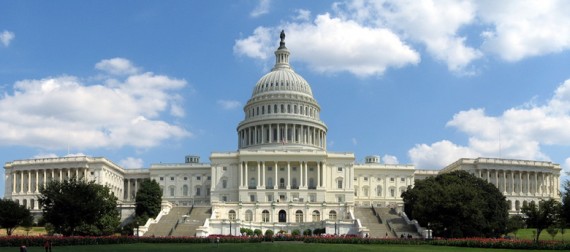 The New York Times has run articles over the past two days that provide an interesting glimpse into the forces motivating Republicans in the House of Representatives to take the hard line stances that they've been taking over the past several years, most notably right now with respect to the shutdown of the Federal Government and the upcoming fight over the debt ceiling. We've discussed many of those factors several times here at OTB and they range all the way from redistricting that results in Congressional Districts that are so dominated by one political party or the other than Members of Congress worry more about primary challenges that challenges in the General Election to the emergence of a new form of conservatism that seems far less interested in compromise and governing than its predecessors. Above everything else, though, I've always thought that one of the most important factors influencing individual Members of Congress is the feedback they get from their constituents, and these two articles are a perfect illustration of that.
First up, there's Iowa's Fourth Congressional District, currently represented by Congressman Steve King, one of the House's most conservative members:
Since no one in Washington seems to be listening to anyone on the other side of the standoff, I spent much of the week on the phone with voters and business people in Iowa's Fourth Congressional District, a sprawling, mostly agricultural region that runs from Sioux City, on the Nebraska border, to Mason City, close to Minnesota in the northwest quadrant of the state. I picked the district because its representative in Congress, the Republican Steve King, has been one of the most outspoken advocates for blocking Obamacare, even if that means shutting down the government or defaulting on the national debt.

In this bedrock conservative district, I found that people were fed up with the gridlock in Washington. But while they are beginning to question Mr. King's tactics, they continue to support his core commitment to cutting the size of government.

Mr. King has certainly staked out some controversial positions, even by conservative standards, and is a frequent target on both the Jon Stewart and Stephen Colbert shows. He claimed that "radical Islamicists" would be "dancing in the streets in greater numbers than they did on Sept. 11" if Obama was elected. He warned that Iowa was in danger of becoming a "gay marriage mecca" and led a successful effort to recall three State Supreme Court judges who ruled in favor of gay marriage. He was one of only 11 members of Congress to oppose aid to victims of Hurricane Katrina, has defended racial profiling and has brushed off concerns about global warming as being "more religion than science." He has drawn the ire of animal rights activists with his support for dog and cock fighting while opposing food safety measures. House Speaker John Boehner described some of his comments on illegal immigrants as "hateful" and "ignorant."

As Steffen Schmidt, a professor of political science at Iowa State University in Ames, which lies in Mr. King's district, put it, "Steve King was Tea Party before there was a Tea Party."

But Representative King has really come to the fore in the current debate over paying for Obamacare and the government shutdown, emerging as a leader of a hard-core group of about two dozen Republican representatives in pursuit of the holy grail of "the end of Obamacare," as Mr. King puts it. He has seemingly been everywhere in the media in recent days, which has fueled talk among some conservatives of a possible presidential run. Mr. King has made visits to New Hampshire and South Carolina, both early primary states.

Voters in his district told me in telephone interviews that they didn't take all he says that seriously. "He's kind of radical in the way he talks about things," said Stan Feekes, assistant general manager of the Farmer's Coop Society in Sioux Center. "We wish he'd be a little more gentle. People don't agree with him on everything, but by and large I'd say he's been in step with people here." (Representative King carried Sioux County with 83 percent of the vote.)

Professor Schmidt said Mr. King shouldn't be underestimated because of his rhetorical bloopers. "He's incredibly charming and engaging. He's a great storyteller," he said. "He runs over every Democrat they throw at him like a bulldozer."

Mr. King carried the Fourth District in 2012 with 53 percent of the vote, a much narrower margin than in his previous races. The district remains the most conservative in Iowa, but a redrawing of the boundaries added the relatively liberal university enclave in Ames as well as some more moderate counties northeast of Des Moines. Professor Schmidt said that, for better or worse, the redistricting hadn't changed Mr. King's conservative views in the slightest. Mr. King "is a hard-core, ideologically committed, very conservative Republican. He doesn't see himself as an extremist. He sees a country that's out of control on spending, on social issues like gay marriage, and he's trying to stop it."

When I reached Brent Geels, co-owner of Geels Glass Inc. in Sioux Center, he'd just finished sending an e-mail to Representative King urging him to, as Mr. Geels put it, "stand firm and not back down." Like many people there I spoke to, Mr. Geels says he thinks the economic harm attributed to a government shutdown, and even that associated with a federal debt default, is overblown by the media, a tactic to get Republicans to cave in. "Look at the sequester," he said, referring to the automatic spending cuts that took effect in March. "That was a lot of hype. They went into effect and two months later everyone forgot about them." Moreover, he feels (as did several other people I interviewed) that there may be a silver lining to the shutdown. "If we can get along without all these nonessential services, then maybe we don't need them," he said. So far, he said, the shutdown has had no impact on his glass business, which he started in May.

I was surprised to hear in nearly all my conversations that the issue for people in this part of Iowa is less Obamacare than it is government spending in general. "We have to sacrifice now so our children will not be drowning in our debt," Mr. Geels said. "Balancing the budget should be a top priority. But Congress can't even pass a budget. The reason we have these stopgap funding measures is that they're not planning ahead. No business could run that way."

As for a debt default, Mr. Geels said he wasn't an expert, and "I'd rather not see it happen." But, he went on, "If it means just continuing to raise the debt ceiling and do nothing to cut spending, then I'd just as soon not raise it. I'm 28, and I have three young sons. We need to start making some sacrifices now if we want them to have the standard of living we have."
Second, we have Georgia's 14th Congressional District, which is represented by Tom Graves, also quite conservative:
FORT OGLETHORPE, Ga. — Just down the road from where Union troops suffered their worst defeat of the Civil War, Jeff Epperson sang the praises of his congressman, Representative Tom Graves, whose Defund Obamacare Act set the table for the partial government shutdown.

Even though business has been slow at Mr. Epperson's sword and knife shop since tourists stopped visiting the historic Chickamauga battlefield, which closed on Tuesday because of the furlough of federal workers in the shutdown, he said the only thing that would weaken his support for Mr. Graves would be if the congressman caved in now. In that case, he might vote for a more conservative choice in the next Republican primary.

"If he backs off, then I would say absolutely I'd be inclined to look for someone else," said Mr. Epperson, whose store flew a Don't Tread on Me flag.

The Republican insistence in the House on tying financing of the federal government to dismantling the Affordable Care Act is being driven by a deeply conservative caucus from places like Mr. Graves's 14th Congressional District, newly created by Georgia's Republican-controlled Legislature.

Even as Republican elders warn that the party is risking a voter backlash that could cost it in future elections, interviews here indicate that hard-liners like Mr. Graves have more to fear, if they waver, from a potential challenger to their right.

Mr. Graves, 43, won 73 percent of the vote in November in a district that is 85 percent white and has a 16.6 percent college graduation rate. A journey through the district, which stretches from the exurbs of Atlanta to the northwest mountains on the Tennessee border, found many voters who, even if they were unfamiliar with Mr. Graves's biography, strongly supported him.

"He represents the people," said Tim Ferguson, a forklift operator who was waiting for a haircut at Paul's Barber Shop in Calhoun. "He's not going to commit political suicide by backing down."

Voters here viewed the Washington stalemate just as Mr. Graves and many of his party members in Congress portray it: a tale of Republicans who have repeatedly shown a willingness to compromise, while Democrats petulantly refuse to meet halfway.

"Obama should not be so dogmatic," said Julia Welch, 82, who runs an antiques store in Dallas, the seat of Paulding County. "He wants his way and no other."

Jon Tripcony, a surveyor in Dallas, recalled a photograph of Republican leaders in shirt sleeves facing empty seats across a table. The photo, which Mr. Graves posted on Twitter, was staged to dramatize Republicans' call for Democrats to discuss a budget passed by the House. It may have been dismissed as a publicity stunt by much of the news media, which noted that House Republicans repeatedly refused to join a conference on a budget the Senate passed earlier. But in northwest Georgia it was taken at face value.

"There was not one single Democrat," Mr. Tripcony said. "They're just spoiled little kids. I don't get it."

Mr. Ferguson, 48, said House conservatives should not shrink from the next fiscal deadline, raising the debt ceiling, even if it means defaulting on government bonds, a prospect that economists overwhelmingly say would bring down catastrophe.

"If it has to happen for the American people to get what's best, defunding Obamacare, so be it," Mr. Ferguson said. "Our credit rating's going to go down, but it went down before. Did the apocalypse come?"
There's much more at each link that's worth checking out, but it's clear what the overall picture here actually is. Obviously, not everybody in either the Iowa 4th or Georgia 14th agrees with the positions that their respective Representatives take. After all, nearly 44% of the people who cast ballots in the Iowa 4th voted against Steve King, while 27% of the people who voted in the Georgia 14th voted against Congressman Graves. However, it doesn't appear that the people that the reporters involved in these two stories talked to are in any way unrepresentative of the electorate in either District, a fact that arguably is confirmed by who those voters sent to office. Moreover, given that 2012 was a Presidential year, of course, it's likely that the opposition vote was somewhat inflated and that 2014 will see both men re-elected by even more comfortable margins.
These are only two Congressional Districts, of course, but I'd suggest if you paid a visit to other Congressional Districts represented by similarly hard line Republicans (and Democrats for the matter), you'd find something very similar. In many respects, these Representatives are reflecting the views of the people who sent them to office, the people most likely to communicate with their Washington, D.C. and local offices when contentious matters are being debated in the House, and the people most likely to show up for those Congressional Town Halls that became so famous back in 2009. Is it really so surprising that the part of Congress that has long been dubbed "the People's House" has members that reflect the views of the people who elect them? If it surprises you, then you're really not paying attention.
All of this leads, of course, to questions about redistricting and the whole issue of partisan control of the drawing of electoral lines, but it's far easier to say that this is a "problem" than it is to come up with a solution. The Constitution leaves the question of how District lines are drawn up to the states, and there are many factors that influence how that process unfolds. Partisanship is obviously one concern, and it has been ever since the first Congressional maps were drawn up more than 200 years ago, but there are a number of other factors at play. The impact of the Voting Rights Act and the desire to create so-called "majority minority" Districts, meaning Districts where African-Americans and/or Latinos end up constituting a majority of the electorate, tend to increase Republican strength in suburban and rural districts, for example. Additionally, quite often the entire redistricting process becomes little more than a rather obvious scheme to protect incumbents regardless of party. This is what happened in Virginia after the 2010 census thanks to the fact that we have a Republican controlled House of Delegates and a State Senate that is, generally, evenly divided between Republicans and Democrats. After much back and forth, and some litigation, the map that emerged for the 2012 election was one that essentially means that every one of Virginia's incumbent Congressman, regardless of party, is in a "safe" or "nearly safe" District for the foreseeable future. Even states that have tried to move to a non-partisan form of redistricting, though, the results tend to be either heavily partisan, or very biased toward Republicans. In the end, there may not be a perfect solution to the gerrymandering problem which isn't surprising considering that "gerrymandering" is a term that stretches back to a Congressional District Map signed into law by Massachusetts Governor Elbridge Gerry in 1812.
So, rather than calling these Congressman crazy, perhaps it makes more sense to look at who they're representing because, once you do, it seems as though they're actually being politically smart.