War Against Youth?
The old have most of the money and power in our society, a trend that is accelerating.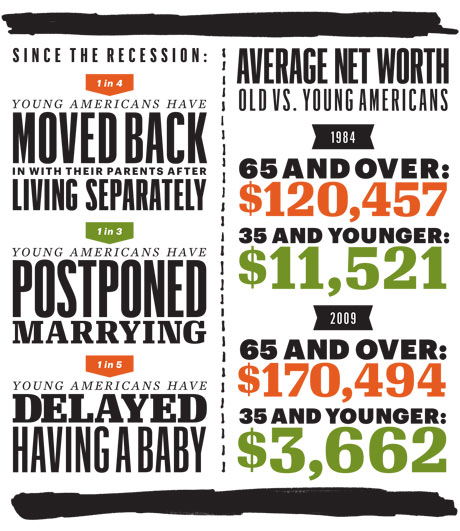 Esquire features a bizarre article titled "The War Against Youth," which has the dark subhed "The recession didn't gut the prospects of American young people. The Baby Boomers took care of that."
The case is . . . thin.
The intro is powerful, indeed.
In 1984, American breadwinners who were sixty-five and over made ten times as much as those under thirty-five. The year Obama took office, older Americans made almost forty-seven times as much as the younger generation.

This bleeding up of the national wealth is no accounting glitch, no anomalous negative bounce from the recent unemployment and mortgage crises, but rather the predictable outcome of thirty years of economic and social policy that has been rigged to serve the comfort and largesse of the old at the expense of the young.
1984 is, coincidentally, the year I graduated high school and started college. So, this enormous change has taken place entirely during my adult life. What, precisely, are these rigged policies? Well . . . author Stephen Marche doesn't really say. The bits and pieces of evidence given are mostly accusatory and nonsensical.
The gerontocracy begins at the top. The 111th Congress was the oldest since the end of the Second World War, and the average age of its members has been rising steadily since 1981. The graying of Congress has obvious political ramifications, although generalizations can be deceiving.
Indeed. Especially since life expectancy has been steadily increasing. While I've argued for term limits and expressed concern about the number of 80-something Representatives and Senators who seem to hang on for the sake of breaking records, I'm not sure we can read much into the fact that Congress is old.
Democrats may not be actively hostile to the interests of young voters, but they are too scared and weak to speak up for them. So when the Boomers and swing voters scream for fiscal discipline and the hard decisions have to be made, youth is collateral damage. Medicare and Social Security were mostly untouched in Obama's 2012 budget. But to show he was really serious about belt tightening, relatively cheap programs that help young people like the Adolescent Family Life Program and the Career Pathways Innovation Fund were killed.
Now, we can argue about whether Social Security and Medicare are sustainable in their present form. And, sure, having guaranteed income and health coverage provides a nice floor on living standards. But our over-65s aren't living high on the hog on either program; they're sustainment measures, not a pathway to luxury.
His intentions may be good — he may want to increase support for AmeriCorps — but the program shrunk last year. Three quarters of the applicants were turned away. He resisted Republican efforts to slash Pell grants by $845 per student, but then made other changes to the program that will save the government — or cost students, depending on your perspective — a projected $100 billion over ten years.
The shrinking of AmeriCorps, which was initiated in 1993 and always very small, hardly explains a trend that began in 1984. Cutting government loans for college might indeed impact the earning power of the young–but, again, cuts in 2009 hardly explain a trend that began in 1984. People who are 35 either finished college before Obama took office or will likely never finish college.
The youth vote still supports Obama, but in a chastened, conditional way. In hindsight, Obama's 2008 campaign looks like an indulgent fantasy in which the major conflicts in life simply don't exist. There may be no white America and no black America, no blue-state America and no red-state America, but one thing is clear: There is a young America and there is an old America, and they don't form a community of interest. One takes from the other. The federal government spends $480 billion on Medicare and $68 billion on education. Prescription drugs: $62 billion. Head Start: $8 billion. Across the board, the money flows not to helping the young grow up, but helping the old die comfortably. According to a 2009 Brookings Institution study, "The United States spends 2.4 times as much on the elderly as on children, measured on a per capita basis, with the ratio rising to 7 to 1 if looking just at the federal budget."
Now, all of that sounds damning and it may indeed reflect skewed priorities and political power. But it's also misleading. The vast bulk of our spending on education is at the state and local level; the federal government's involvement is tertiary. Head Start is a program for disadvantaged preschoolers, not an across-the-board measure. And the prescription drug benefit is a development of the Bush 43 administration–and not one that impacts income but rather discretionary income.
More importantly, to the extent that any of this is a generational transfer of wealth, it's one that hasn't happened yet. All of that money being spent on Medicare, prescription drugs, and the like? It's being borrowed. Now, that contributes of course to the crowding out of government programs for youth. But we're not paying for it with higher federal taxes; quite to the contrary in fact.
The biggest boondoggle of all is Social Security. The management of entitlement programs, already weighted heavily in favor of the older population, has a very specific terminal point that coincides neatly with the Boomers' deaths. The 2011 report by the Social Security trustees estimates that, under its current administration, the fund will run out in 2036, so there's just enough to get the oldest Boomers to age ninety.
That's almost entirely a mattering of accounting. A little jiggering of the eligibility age, payouts, and tax rates would make the program sustainable indefinitely. We can argue about whether that's worthwhile, of course.
If you follow the money rather than the blather, it's clear that the American system is a bipartisan fusion of economic models broken down along generational lines: unaffordable Greek-style socialism for the old, virulently purified capitalism for the young. Both political parties have agreed to this arrangement: The Boomers and older will be taken care of. Everybody younger will be on their own.
That's . . . just not true. My grandparents' generation decided in the midst of the Great Depression that we had to have a federal program to ensure that those too old to work had a little something to live on in their dotage. Over time, people came to rely on that as their sole means of paying for retirement and we got more generous with the benefits. Additionally, the number "65" became sacrosanct and we were too slow to adjust it to the reality of people living much longer and in much greater health. So, yes, people like myself–the earliest post-Boomers–will indeed have to keep working a wee bit longer. From the National Academy of Social Insurance:
The Social Security full-benefit retirement age is increasing gradually because of legislation passed by Congress in 1983. Traditionally, the full benefit age was 65, and early retirement benefits were first available at age 62, with a permanent reduction to 80 percent of the full benefit amount. In 2010, the full benefit age is 66 for people born in 1943-1954, and it will gradually rise to 67 for those born in 1960 or later.
Considering we've had since I was a junior in high school to plan for this, I don't consider it particularly onerous. Even though my dad, born in 1943, died at 66.
Eventually, Marche gets to a real problem:
And yet, at the exact moment when an education has never been more necessary, education is increasingly out of reach. From 1980 on, the price of attending a four-year college has risen by 128 percent. [emphasis added]
We've discussed the reasons for this increase ad nauseum over the years but it's real. I was able to attend my local state university on a pay-as-you-go basis through service in the Army Reserve and Army ROTC, because tuition was $400 a semester when I started for as many credits as one could take. Now, the in-state rate is $226/semester hour. To take 18 hours–six classes–would be $4068 a semester, or more than ten times what it cost in 1986. Inflation accounts for a relatively small part of that. $400 in 1986 is only $786 in 2010 money.
This is also interesting:
Once you're out of college, you'll have to intern. Again, no choice. The practice of not paying young people for their labor has become so ingrained in the everyday practice of American business that we've forgotten how bizarre and recent the development is. In the early 1980s, 3 percent of college grads had had an internship. By 2006, 84 percent had done at least one. Multiple internships are common. According to a survey by the National Association of Colleges and Employers, more than 75 percent of employers prefer students who have interned or had a similar working experience.
I've written about the phenomenon many times in the past and decried it. But I was under the impression that unpaid internships were mostly a function of a few industries and a few major metropolitan areas; I didn't realize that the practice was this widespread.
But maybe you're an overachiever — instead of interning, you want to get a master's or a professional degree. With entry to the professions comes another opportunity to be taken advantage of, and it's not just the inherently ridiculous price of a creative-writing M.F.A. or journalism school, where on some level, everybody understands the students are being played for suckers. The cost of medical school has spiked over the past three decades. In 1981, average medical-school debt was less than $20,000. Today it is $158,000. Law-school tuition rose 317 percent between 1989 and 2009 while American laws schools wildly increased the number of lawyers they graduate. Naturally, a glut of lawyers decreases their value. So kids pay more for a worse education that leads to lesser prospects in order for the schools to prosper temporarily. Even for doctors and lawyers, an accrual of property or any rise in net worth happens much later in life than it did twenty years ago.
Actually, it's worse than that: Internships are common, indeed, for those in graduate and professional school. I've had unpaid interns working for me fresh out of graduate programs much more prestigious than the one I attended. Now, part of the increase in post-college and post-graduate/professional school debt is a function of people living beyond their means, taking out loans to live middle class lifestyles while in school. (I managed to finish my PhD debt-free by living in a crappy apartment across the street from the Section 8 housing.) But, yes, the skyrocketing cost of higher education means that it takes people a lot longer to climb out of the hole if they borrow to pay for it.
Compared with their parents, high school kids who graduated from college into the teeth of the recession are a Republican fantasy. They want a good job in order to raise a family, and it's exactly that arrangement that is going to be denied them. The deal they were promised, that if you work hard and make smart choices you will have a good life, is not working out. A Great Disappointment will no doubt follow.

Everyone currently emerging into the workplace will be economically scarred for life by the misfortune of their timing. The initial wage loss for a worker emerging in a bad economy is 6 to 7 percent for every 1 percentage point increase in the unemployment rate, which means a twenty-one-year-old starting a job today makes about 24 percent less than he or she would have five years ago. After fifteen years, even during the good times, the wage loss still hovers at around 2.5 percent.

A more profound shift is under way, though. Currently the average American parent spends 10 percent of his or her annual income on their adult children, regardless of income. Meanwhile, one in four young Americans recently moved back home with their parents after living apart. Calling them the Boomerang generation implies that it's the irresponsible, feckless children who don't have it together enough to leave the nest. But many children who live at home have jobs. So we have children living with their parents after they have income, just like they did in the early parts of the twentieth century and before. The idea of youth as a time of freedom and self-discovery will last exactly one generation, it seems.
This is largely the vagaries of a global recession, not evidence of a policy to shift wealth to the elderly at the expense of the young. Certainly, multi-generational living was much more common during the Great Depression, the period to which our current era is so often compared. It's a really crappy thing to be coming to adulthood in the face of a lousy economy. But it's not at all clear what it is that the Baby Boomers are supposed to do about it.
People who want to join society will do so through an increasingly lengthy period of humiliation and struggle, and only through the help of their parents. Even before the recession, that was more or less true. It's the dirty little secret of every middle-class person in their mid-thirties: Everybody's parents helped them out. Who do you think is paying for all those summer internships? How many new parents do you think actually have enough money for a Bugaboo stroller, let alone a down payment on a first home? And if you don't have a mom or dad who can help with ballet lessons for the kids or family vacations, God help you. America is becoming what it was founded to reject, what it has resisted throughout its history, a patronage society.
I can't much speak to this, having postponed marriage until I was almost 40 and kids until my mid-40s. But most of this sounds like a complaint that kids can't afford an upper middle class lifestyle right out of the gate.
A Bugaboo stroller is an absurd luxury item and one without which one can certainly raise children. (My late wife really wanted one and, despite a very healthy combined income, we couldn't justify the outlandish cost for a new one, so we found one on Craig's list at a greatly reduced price. We hardly used it and wound up selling it a year or so later for about what we paid.) People in their late 20s and early 30s, in many cases barely out of school, probably can't afford a down payment on a house. But that's not some new phenomenon. Most could afford the sort of family vacations we took when I was a kid; they probably can't afford to vacation in St. Kitts.
That's the problem with so much of the piece: interspersed with real concerns about the problems of getting started in life faced by the younger generation is resentment that the young can't afford the lifestyle it took their parents years and their grandparents decades to achieve.
via Pam Schultz