War On Christmas Update: Dreaming Of A White Santa And Jesus Edition
The Fox News Channel created "War On Christmas" officially entered the absurd zone last week.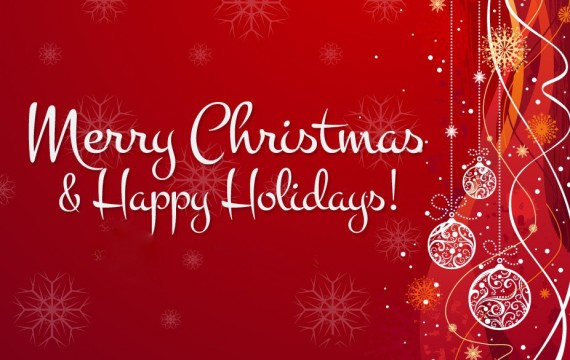 Just when you thought that the "War On Christmas" meme could not possibly get any more ridiculous, it entered completely bizarre territory last week when Fox News host Megyn Kelly, now part of the network's prime time line up, decided to add a racial element to the entire fake controversy:
On Wednesday night Megyn Kelly declared on her Fox News show that both Santa Claus and Jesus were white. Discussing a piece in Slate by Aisha Harris about a black versus white Santa, Kelly that "just because it makes you feel uncomfortable it doesn't mean it has to change."

"You know, I've given her her due. Just because it makes you feel uncomfortable doesn't mean it has to change," Kelly said. "Jesus was a white man, too. It's like we have, he's a historical figure that's a verifiable fact, as is Santa, I just want kids to know that. How do you revise it in the middle of the legacy in the story and change Santa from white to black?"
Here's video of the segment in question:
As noted, the catalyst for the panel discussion on Kelly's show was a piece in Slate by a woman named Aisha Harris where this argument is made:
When I was a kid, I knew two different Santa Clauses. The first had a fat belly, rosy cheeks, a long white beard, and skin as pink as bubble gum. He was omnipresent, visiting my pre-school and the local mall, visible in all of my favorite Christmas specials.

Then there was the Santa in my family's household, in the form of ornaments, cards, and holiday figurines. A near-carbon copy of the first one—big belly, rosy cheeks, long white beard: check, check, check. But his skin was as dark as mine.

Seeing two different Santas was bewildering. Eventually I asked my father what Santa really looked like. Was he brown, like us? Or was he really a white guy?

My father replied that Santa was every color. Whatever house he visited, jolly old St. Nicholas magically turned into the likeness of the family that lived there.
Harris takes this bit of fatherly wisdom and bizarrely turns it on its head by suggesting that, in the future, we should depict Santa Claus as a penguin. You can click on the link to try to figure out the logic of that part of her argument, if you can. However, given the fact that we have already constructed a vast and rich story behind the Santa Claus character to begin with, it doesn't seem all that strange to me that the explanation of Harris's father regarding the physical characteristics of Santa Claus should not be included as part of that myth. After all, the myth itself is entirely cultural to begin with. Go to Europe and you'll find that Santa Claus, or as he's called in other nation's St. Nick or Father Christmas, looks completely different from the character that we are familiar with and, in some cases, even delivers presents on a completely different day of the overall Christmas season. There's surely plenty of room for the idea that the American idea of Santa Claus can be multi-racial. Indeed, as our country become more demographically diverse I predict that we'll see depictions of Santa change accordingly, even if only in a subtle way at first. In any event, Harris's argument is only tangentially related to what Kelly had to say so we'll leave that argument for another day.
Not surprisingly, Kelly's argument that both Santa Claus and Jesus Christ were, or depending on how you want to put it are, white was subjected to no small degree of ridicule. Beginning with this piece on The Daily Show:
Kelly's argument also came under more serious criticism, such as this from Jonathan Merritt with regard to her assertion that Jesus Christ was white:
Setting aside the ridiculousness of creating rigidly racial depictions of a fictitious character that does not actually exist—sorry, kids—like Santa, Kelly has made a more serious error about Jesus. The scholarly consensus is actually that Jesus was, like most first-century Jews, probably a dark-skinned man. If he were taking the red-eye flight from San Francisco to New York today, Jesus might be profiled for additional security screening by TSA.

The myth of a white Jesus is one with deep roots throughout Christian history. As early as the Middle Ages and particularly during the Renaissance, popular Western artists depicted Jesus as a white man, often with blue eyes and blondish hair. Perhaps fueled by some Biblical verses correlating lightness with purity and righteousness and darkness with sin and evil, these images sought to craft a sterile Son of God.

The only problem was that the representations were historically inaccurate.

Modern Western Christians have carried these images over into their own depictions of Jesus. Pick up a one of those bright blue "Bible Story" books in a Sunday School classroom and you'll find white Jesus waiting for you, rosy cheeks and all. Or you could survey the light-skinned Jesus in any number of modern TV or film portrayals, including History Channel's hit series The Bible.

Interestingly, the Bible is far less descriptive on the matter of Jesus' skin color than we are. Christian scriptures say very little about Jesus' physical appearance. They do not comment on his nose, eye color, skin pigmentation, or hair. The glaring exception is Isaiah 53:2, which prophesies that the messiah won't be much to look at, another fact that places the Bible at odds with the "well-groomed surfer-dude Jesus" who's often put forth.
While James Poniewozik makes this point with regard to Kelly's comments with regard to the supposedly lily white Santa Claus:
Santa just is what he is. OK, here's the part where I need to take the argument seriously for a moment. That argument, such as it is, is that Santa Claus is based on a historical figure, Saint Nicholas. True: Nikolaos of Myra was a 4th-century Greek bishop in modern-day Turkey, and according to reconstructions of modern forensic scientists using skull remains, lookedsomething like this-not exactly the jolly North European bowl o' jelly who has ho-ho-ho'ed across popular culture since appearing in early 20th-century Coca-Cola ads.

All that said! Relying on the historical argument to prove or disprove whether Santa is white is essentially insane. Because, and I'm going to go out on a limb here, but I will argue that once you give the guy a workshop of magical elves, eight tiny flying reindeer, and the ability to distend his corpulent body down a billion chimneys in a night, historical verisimilitude no longer obtains. Santa-avert your eyes, kids-is a fictional character, and as such, can plausibly be represented and colored any damn way you want him. (Or her! Yeah, I said it.) To say that he "is just white" because that's the way fictional pictures of him have mostly appeared is to say that your pictures and traditions are solely legitimate, authentic, the cultural default. (A message that seems aimed not so much at the kids as at an audience of adult viewers terrified of cultural change in Obama's America.)
On her show Friday night, Kelly attempted to spin the story claiming that it was all a big joke:
Megyn Kelly said Friday evening she was making off-hand and "tongue-in-cheek"comments about Santa Claus and Jesus Christ being white, and that the controversy over the segment is a result of "race-baiting" while the real debate was lost.

Devoting more than 15 minutes of "The Kelly File" to the subject and bringing on two panelists to discuss the reaction, Kelly said the original Wednesday segment was just a way to bring some humor to her show.

"I realize that the piece by [Aisha] Harris which went on to argue that Santa should be a penguin was also tongue in cheek. That's in part why we covered the story in the first place," Kelly said. "Humor is part of what we try to bring to the show. Sometimes that's lost on the humorless."

Kelly played several clips of other networks and late-night comedians discussing or making jokes about the Santa segment. The frenzied reaction would be funny Kelly said, "if it were not so telling of our society if any the knee jerk instinct to race bait" and attributed part of the blow back to Fox News' popularity.

"This would be funny if it were not so telling about our society. In particular the knee jerk instinct by so many to race bait and to assume the worst in people, especially people employed by the very powerful Fox News channel," she said.
Andrew Sullivan for one isn't buying it:
I'd say two things. The original segment was clearly not as light-hearted and humorous as Kelly now insists it was. She did not originally refer to the Slate piece as "tongue-in-cheek" and responded to its provocation by being offended, not amused. Since both tapes are out there, make your own mind up. But rather than cop to an obvious error – made off the cuff – she made the decision to hunker down and accuse others of persecuting Fox News because it isn't liberal. So the classic and silly notion that white Republicans are somehow an oppressed class – and minorities should just stop whining – became her "correction." But that's not a correction. It's a distraction.

More to the point, the much more disturbing assertion that "Jesus was white" – something Kelly injected into the conversation all by herself – is left hanging. She claims in one aside in her response that the question "is not settled." But it is. Jesus was a first century Jew. He's not a northern European. He was Semitic, not Caucasian. Now maybe Kelly will unpack why she may believe that Jews are somehow "white" in her racial categorization of humanity, while, say, Hispanics are not. But it seems likely she won't. That would open a very large box of premises Roger Ailes prefers to keep vacuum-wrapped.

So she screwed up – which we all do. But on the core measure of whether she could fairly cop to her screw-up, correct and apologize for it, she failed.
Sullivan starts off his piece by noting his impression that Kelly has, in the past been different from other Fox News hosts in that she doesn't neatly fall into the network's habit of putting people on the air who simply parrot the GOP/Tea Party line without question. While I'm not a regular FNC viewer, I have been in locations such as doctors office waiting rooms where her old afternoon show was playing and she was often in the habit of bringing on people with opposing points of view and actually treating them fairly, something you don't often see on that network (or on MSNBC to be honest.) She also has a reputation for putting notable conservatives on the spot, most famously on Election Night 2012 when she pretty much humiliated Karl Rove on the air when he refused to agree with the Fox Network's own decision to call Ohio for President Obama by taking a camera back to the room where the data was being analyzed and having one of their experts refute Rove's arguments point-for-point. After that night, it was at least six weeks before Rove even appeared on a Fox News program again. Moreover, when Kelly's contract was up shortly after the election she was reportedly openly being courted by both CBS News and CNN and the one thing that ended up keeping her at Fox was the promise of a prime time show and, of course, a healthy increase in salary.
In that respect, it surprised more than a few people to see her make comments that would seem more appropriate coming out of the mouths of the hosts of Fox and Friends, The Five, or the Commanding General in the War On The (Fake) War On Christmas, Bill O'Reilly. Perhaps her move to prime time, and specifically the time slot once occupied by the incredibly vapid Sean Hannity made her think she has to appeal to the audience likely to be watching. Perhaps it was just a dumb screw-up. In any case, if there's anything dumber than the War On Christmas, it's turning the War On Christmas into a racial thing by creating a racial debate about the two primary "characters," one cultural the other religious, of the Christmas season into something of a race war. If it weren't for the fact that Fox News continues to be the most watched cable news network in the country, this wouldn't even matter. However, that's not the case unfortunately.
For the record, it doesn't matter what color you think Santa Claus is and, based on all available ethnographic evidence, it is fairly clear that Jesus Christ, his mother Mary, and all of Jesus's disciples were more or less dark skinned in the same manner that those people who live in those parts of Israel/Jordan/Lebanon where there has been very little interaction with Europeans are darker skinned. That's just a fact whether it makes Fox News viewers comfortable or not.