Warren Buffett's Taxes Probably Won't Increase Under The "Buffett Rule"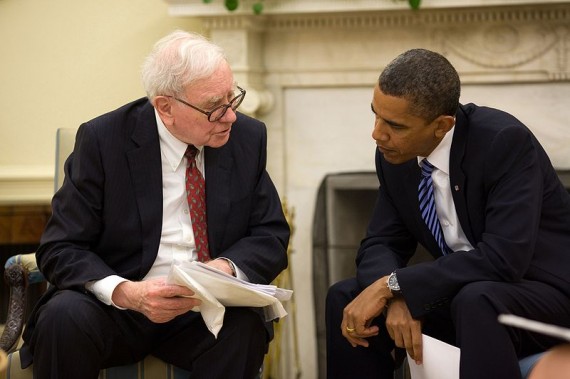 The Wall Street Journal's James Freeman explains why:
Billionaire Berkshire Hathaway CEO Warren Buffett is once again thrilling the political class by volunteering other people to pay higher taxes. Long-time observers recall his opposition to former President George W. Bush's efforts to reduce the tax rate on dividends. Since Berkshire pays no dividends, Mr. Buffett had little at stake but enjoyed the opportunity to pose as if he were a rich guy eager to cough up more dough to Washington.

In the current debate, President Obama is pushing the "Buffett Rule" to ensure that high-income earners pay higher tax rates. But even if it's enacted, don't expect the Buffett Rule to have much impact on Mr. Buffett. By an amazing coincidence, the sage of Omaha is already positioned to shield most of his rising wealth from such a tax.

(…)

This brings us to the Buffett Rule, which at its heart is a way to raise taxes on dividends and capital gains. Berkshire still doesn't pay a dividend, and as for capital gains taxes, well, Mr. Buffett has already made clear that he'll largely avoid them by transferring his fortune to the Gates Foundation and to charitable trusts controlled by his family. In fact, at the 2010 Berkshire annual shareholders meeting, according to Dow Jones Newswires, Mr. Buffett urged attendees to "follow my tax dodging example" and give away their wealth. Democrats in Washington may enjoy using Mr. Buffett as cover to raise taxes, just as long as they understand that he won't necessarily be paying them.
Of course, giving away one's wealth to a charitable foundation isn't necessarily a bad thing. Frankly, it's likely a better use of those resources than putting them in them in the hands of the government. Nonetheless, it's worth noting that Buffett isn't necessarily inclined to practice what he preaches here. Not that I blame him, only an idiot would want to pay more taxes.
H/T: TaxProf Blog