Warriors Win NBA Title, As Expected
There have been dynasties in American team sports before. But this one feels different.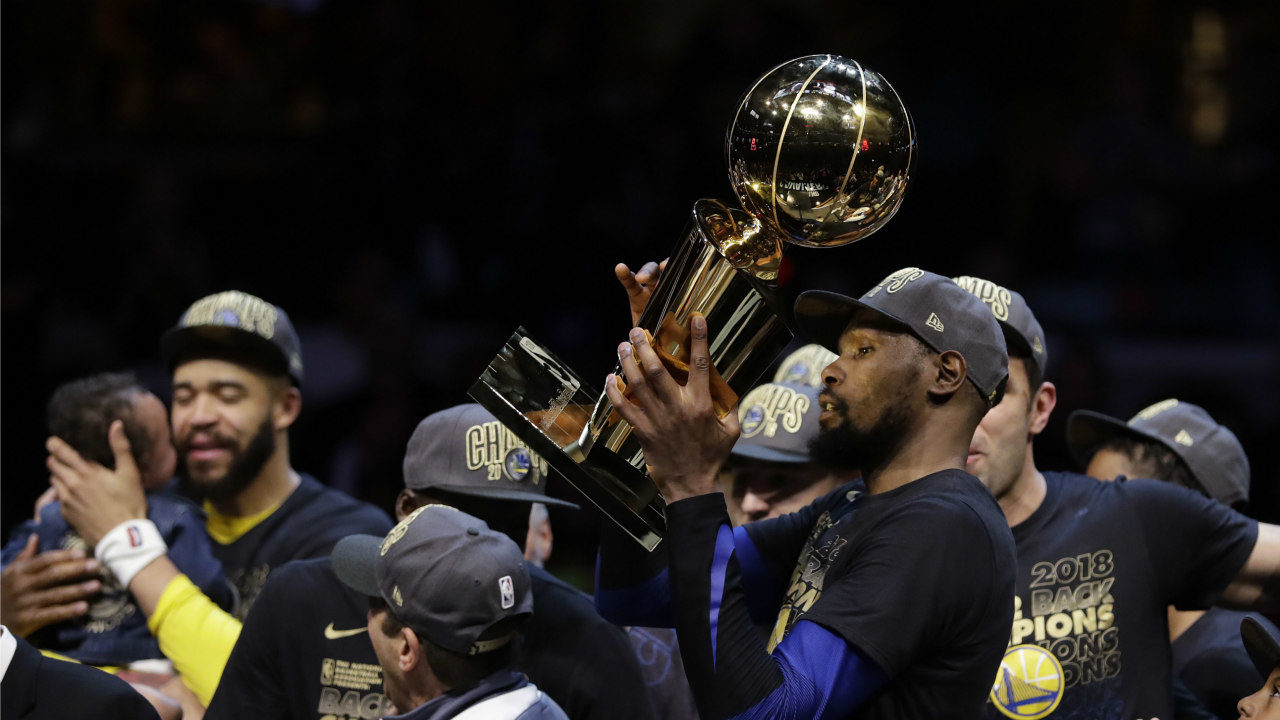 The Golden State Warriors have won their third NBA championship in four years. It would be four straight if Draymond Green had more self-control and hadn't gotten himself ejected two years ago.
We've had dynasties before. Bill Russell's Boston Celtics. John Wooden's UCLA Bruins. Michael Jordan's Chicago Bulls. Terry Bradshaw's Pittsburgh Steelers. The Joe Montana/Steve Young San Francisco 49ers. The Troy Aikman Dallas Cowboys. UConn women's basketball and the New England Patriots are dynasties now, always a heavy favorite to win a title.
But this feels different. The team is stacked in a way that the outcome feels inevitable. They have four likely Hall of Famers on the roster in Kevin Durant, Stephen Curry, Klay Thompson, and Green. When they're all healthy at the same time, they're simply unbeatable.
This isn't really supposed to happen in the modern era. In the old days, a team that consistently drafted well could keep their core players together indefinitely. But the rise of free agency and salary caps was supposed to put an end to that. Indeed, it pretty much broke up the 1990s Cowboys team, as they simply couldn't afford to keep their tertiary stars because other teams could outbid Jerry Jones for them.
Interestingly, LeBron James, who has been on the losing end of all three Warriors championships in this run thus far, initiated the modern "super team" when he got together with Dwayne Wade and Chris Bosh in Miami eight years ago. They were supposed to win not 1, not 2, not 3 . . . titles but only managed two because Wade and/or Bosh were constantly injured in critical stretches. Still, they went to the NBA Finals all four years they were together before James went back to Cleveland.
James himself has been to eight straight finals. But he's done it in the way we were used to: a superstar paired with a couple of star players, albeit in a rotating cast. Because of injuries, the Wade he played with was a pale imitation of who he was in his prime. He had Kyrie Irvin for three years but he, too, is oft-injured. Kevin Love is a five-time All-Star seems to be injured when it counts just about every year.
The Warriors did it the "right" way in assembling the trio of Curry, Thompson, and Green via the draft. Adding Durant, arguably the best of the four, in free agency two years ago feels like it cheapens the last two championships, though. It's well within the rules for players to accept less money than they could get elsewhere to chase rings. And, again, James showed the way eight years ago.
Still, it's seemingly inevitable that they'll be back in the Finals the next several years and as the odds-on favorites. The only obstacles, really, are injury, Father Time, and ego.
James is once again a free agent and most think he'll leave Cleveland. Maybe he'll go form another superteam in Houston, Philadelphia, or L.A. Hell, maybe he'll join the Warriors and turn the whole thing into a farce.