Washington Monument Shorter Than Previously Thought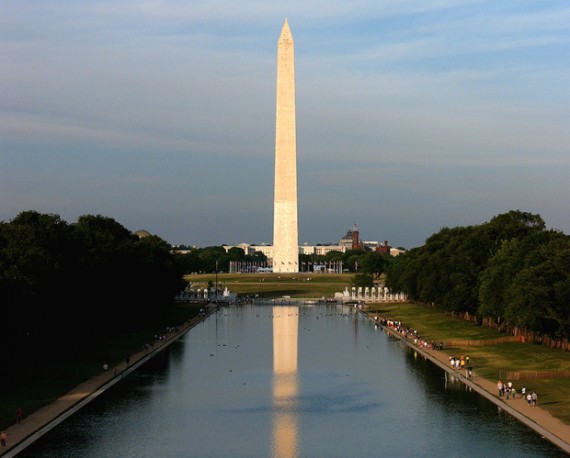 Surveyors have determined that the Washington Monument is shorter than it has been believed to be for the past century:
WASHINGTON (AP) — Government surveyors have determined a new height for the Washington Monument that's nearly 10 inches shorter than what has been thought for more than 130 years, officials will announce Monday.

The new measurement puts the monument at 554 feet, 7 and eleven-thirty-seconds of an inch, as measured from the floor of the main entrance to the top. Ever since the stone obelisk was completed in 1884, however, the historic height has been recorded at 555 feet, 5 and 1/8 inches. It's a number circulated for decades on tours of the capital and in civics classes about the monument honoring the nation's first president.

So could this be a case of an incredible shrinking monument? Has it sunk into the ground more than previously thought? No, not even close, said the chief scientist at the National Geodetic Survey, which conducted the measurement with accuracy to within one millimeter.

Modern international standards from the Council of Tall Buildings and Urban Habitat – an official guideline for building measurements – call for a different base point than what was likely used in the 1880s, said Dru Smith, chief geodesist with the National Geodetic Survey. The standard measures from the lowest open-air pedestrian entrance to the building.

"The building didn't change height because of anything; it is just where you start from," Smith said.

The original measurement conducted in 1884 by Lt. Col. Thomas Casey is believed to have used four brass markers as a base for measurement. Those markers remain in place 9 inches below ground off each corner of the monument. It's possible the markers were at ground level in the past. A new plaza was installed around the monument more recently, and "it's clear that what was ground level has changed over the years," Smith said.

Measurements from the brass markers to the top in 1999 and 2014 essentially reconfirmed the original measurement, showing the 1884 measurement was done with "incredible accuracy."

The only observable height change was the pyramid-shaped tip had been rounded off over time. Surveyors in 1934 also noticed the peak had been rounded and believed it was due to frequent lightning strikes that melted the aluminum tip.

"Well, this time around, we took very careful measurements," Smith said. "We were able to determine about 3/8 of an inch had been melted off from the very top."

That means the original 1884 measurement, completed with much less sophisticated equipment, was within 3/4 of an inch of the findings from the newest survey, using the original brass markers as a base point.
Insert your shrinkage jokes here.