We are not Seeing a Soft Coup in the Trump Admininstration
As problematic as some of what we know about the internal workings of the White House may be, it isn't a coup.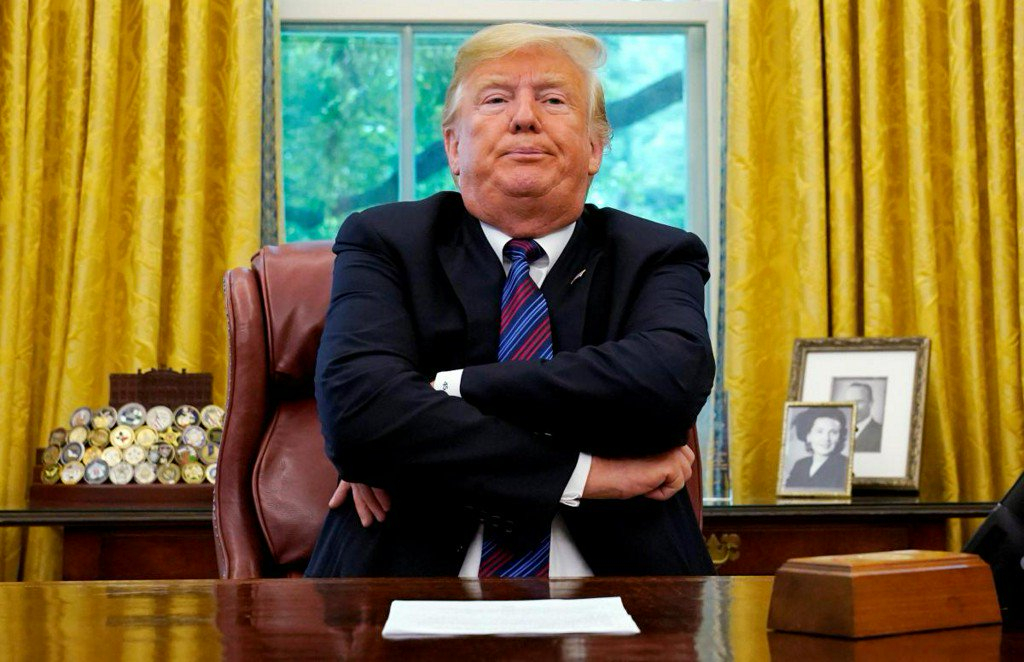 In the rapid-fire nature of our current news environment, I am late to the game in talking about the anonymous op-ed in the NYT and about the initial revelations in the new Woodward book. Still, my initial (but not blogged) reaction to the op-ed remains the same today:  if a member of the administration believes anything like the following then they should resign and hold a press conference detailing their concerns:
The dilemma — which he does not fully grasp — is that many of the senior officials in his own administration are working diligently from within to frustrate parts of his agenda and his worst inclinations.

[…]

That is why many Trump appointees have vowed to do what we can to preserve our democratic institutions while thwarting Mr. Trump's more misguided impulses until he is out of office.

The root of the problem is the president's amorality. Anyone who works with him knows he is not moored to any discernible first principles that guide his decision making.

Although he was elected as a Republican, the president shows little affinity for ideals long espoused by conservatives: free minds, free markets and free people. At best, he has invoked these ideals in scripted settings. At worst, he has attacked them outright.
The essay really confirms what has been discussed from the first days of the administration, that the "adults" (defined as careerist who understand politics and policy, unlike the president and his cronies) would have to manage the president.  Go back and look at coverage of any of the generals in the cabinet (Mattis, Kelly, McMasters) and one will see a raft of such arguments.  It is one thing to think that there are bureaucratic bumper guards in place, it is another to write that one is "thwarting" the President of the United States.  Again:  I think that the person who wrote this piece, if they are sincere about their views, should resign and go before the cameras and report that the president is, in fact, acting erratically and may be unfit for office.  Staying in place and telling the world "don't worry, we've got this" is not appropriate.
In my opinion the author is a conservative ideologue who is self-justifying why they are working for this president, despite his rather obvious shortcomings. Indeed, the piece just reflects the bargain that many Republicans made when backing this president:  the hope that he would, despite his immense baggage, do what they wanted policy-wise.
However, none of this is a coup, soft or otherwise (despite a number of declarations in the wake of op-ed).
To that point, Naunihal Singh, an expert on coups, wrote the following this week at The Monkey Cage:  Steven Bannon is wrong. The White House 'resistance' is the opposite of a coup.
Americans were rightly startled last week by Woodward's reporting here at The Washington Post and the anonymous "resistance" op-ed at the New York Times. Together these revealed that senior Trump administration officials are working to implement Republican policies while preventing President Trump from carrying out what they see as impulsive, poorly considered and contradictory decisions.

But even if all this is true, efforts by high-ranking administration officials to subvert the president's wishes would not constitute a coup of any sort, even a soft or administrative one.

Not all undemocratic subversion of authority is a coup. Using the wrong term obscures a key point about this "two-track presidency": It is intended to prop up the president's administration rather than tear it down, which makes what we're seeing the opposite of a coup.
That point is key:  this is not about removing Trump from power; it is about keeping him in power.  If the op-ed writer's allies wanted Trump out, then they would not be so dismissive of the 25th Amendment (which would also not be a coup if used, as it is a constitutional remedy to an unfit executive).
Yes, it's shocking to hear that the president's own staff may be actively working to frustrate his intentions. But the events we're reading about can also be understood as an extreme form of a fairly common tug-of-war among members of an administration. And, yes, that includes even the president. Assuming reports are accurate, we are seeing a more extreme form of what political scientists call the "principal-agent problem" that inhabits each stage of the executive branch.

A principal-agent problem results when somebody delegates a task to somebody else, but the subordinate doesn't fully agree with the supervisor about how the task should be performed — and the supervisor can only imperfectly see whether the subordinate is carrying out the instructions.

Just because the president is at the apex of the executive branch doesn't mean he can simply issue orders and have them carried out without question. He's simply not omniscient or omnipotent enough to ensure that everybody is moving in lockstep to support his aims.

Because leaders have limited information and time, they delegate. Delegation allows them to rely on others' expert opinions without needing to acquire that expertise themselves. It enables them to have somebody else implement a policy, freeing them from doing it themselves.

However, delegating also allows subordinates to manage their bosses, as well as the other way around. It is not uncommon for subordinates to answer questions with the information they believe their boss needs to know, rather than the information that the boss had asked for. By framing choices to include some options and exclude others, they can shape the menu of options available to a leader.

Subordinates can also shape how a policy is implemented by exercising their own discretion. This is most classically done by "slow rolling" or delaying implementation, hoping that circumstances change.

[…]

while definitely a form of subversion, none of this constitutes a coup. Rather, these are standard bureaucratic bargaining moves taken to an extreme.
Anyone with any managerial experience, either in a direct role or as an observer thereof, will recognize this.
Noting that it is not a coup is not to say that the behavior we are seeing is not problematic.  What is shows, however, is the degree to which the president is over his head in terms of both understanding and managing government affairs (but this is hardly news). Really, in many ways this is what was to be expected when a highly inexperienced person with a profound lack of understanding of government is elected to office:  that person is going to have to rely on others, and is highly likely to be managed by others.
And, of course, another way that this is not a coup is that Trump is still getting quite a bit of what he wants (see, e.g., tariffs).  That he has been derailed from some impulsive notions (pulling out of the South Korea free trade agreement or assassinating Assad) is hardly removal from power. But another way:  it is not unusual for members of an administration to try and manage the president and his decision-making.  It is just that it rarely takes on this kind of methodology. Quite frankly, if the Cohn/South Korea story is true that say far more about the mental state of the president (he can be dissuaded from a major policy decision simply by removing a piece of paper from his desk?) than it is evidence of a soft coup.  To re-iterate:  this all about keeping him in power, not removing him.