We Don't Need a Desert Storm Memorial
The Vietnam memorial helped heal a gaping wound. What purpose will this one serve?
Military Times ("Desert Storm memorial to be built on National Mall near Vietnam Wall"):
The National Desert Storm War Memorial will be located on the National Mall just steps away from the Lincoln Memorial and Vietnam Veterans Memorial Wall, after a federal commission approved the site on Thursday.

The move ends a debate of more than three years over where the newest combat memorial should be located. Supporters have been advocating for a site on the National Mall for years, and earlier this year that plan got support from the National Capital Planning Commission.

But the prominent location still needed approval from the U.S. Commission of Fine Arts to finalize the plan, an agreement that was not guaranteed given that space on the 146-acre site in the center of the nation's capital is closely managed. The panel gave its approval on Thursday.

Scott Stump, the Desert Storm Marine veteran spearheading the memorial project, said his team at the National Desert Storm War Memorial Association was "very pleased and very relieved" by the commission's decision.

"It's in close proximity to the National Mall and the other memorials and commemorative works to where a person could actually access it, could walk to it, easily," Stump told Military Times. "We felt like if you have something that's the most beautiful memorial in the world, but it takes a lot of work for people to get there and people aren't going to visit, then it kind of defeats our purpose."
Here's what it's supposed to look like: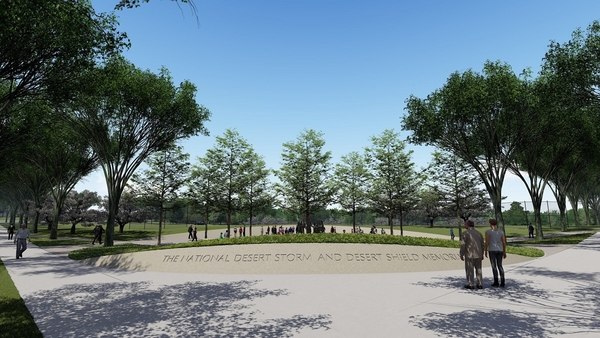 What's the rationale for a prominent memorial for a very short military intervention?
Stump said the time and labor required to get the memorial off the ground is well worth it to accomplish the ultimate mission: honor the troops who served in operations Desert Storm and Desert Shield and educate the public on the continued significance of that war.

"I hope obviously that if they don't know the story, that they will learn about it," Stump said of future visitors to the memorial. "If they kind of remember the story, maybe it will jog their memory and remind them that this was not the 100-hour war that it's so erroneously referred to so many times. This was a big deal – it affected 700,000 people, and it was also one of the most overwhelmingly successful military operations in history."
That's . . . rather a stretch.  I'm a veteran of that conflict and proud of my service there. It's true that it wasn't a "100-hour war," although that was the bulk of the ground combat operation. A couple years back, when people were complaining that we weren't doing enough to commemorate the 25th anniversary of the war, I wrote a piece for RealClearDefense titled "The Forgotten Veterans of Desert Storm" arguing that we got rather a lot of recognition in real time.
There was a ticker tape parade down the streets of New York City for some 200,000 triumphant veterans of the conflict, attended by the President and Stormin' Norman Schwarzkopf, the CENTCOM commander who became an international television star through his daily briefings. While I didn't attend that particular parade, having redeployed with my unit back to Germany, we did march in one there, resplendent in our chocolate chip desert camouflage fatigues issued to us for the plane ride home (we'd fought the war in our woodland camouflage).

Ours was the first major American war fought in the all-volunteer era, and thus the first when its veterans were universally hailed as heroes for the simple act of doing our jobs. We got more medals than my dad's generation did for the far longer and more arduous fight in Vietnam. In addition to a Bronze Star, I was awarded a Southwest Asia Service Medal with two campaign stars and everyone, whether they deployed or not, was given a National Defense Service Medal. After I left the Army, I was awarded a third campaign star (the period during which we were waiting our turn to go back home coincided with Operations Provide Comfort and Southern Watch). A couple years later, we were awarded a Liberation of Kuwait Medal by the Kingdom of Saudi Arabia. Soon thereafter, the Kuwaitis gave us one, too. So, for the five months I was in theater, I received five medals.

Not only is that more than my dad got for eighteen months in Vietnam, it's more than some of my colleagues and students got for multiple tours in Iraq or Afghanistan. While there were more "campaigns" in both those wars, they were longer. So it was possible to deploy to either of them two or three times and only be recognized with one campaign star. And, as of yet, neither of the countries has issued a thank-you medal to American troops; one suspects they're not forthcoming.
While I suppose there's no real harm in having yet another war memorial, as they're mostly funded by private donations, there's no need for this one.
As I noted in a Twitter discussion when the news broke Friday, we got the ball rolling on these war-specific monuments with the Vietnam wall. The circumstances for that were unique. That conflict was, at the time, the longest in US history. We'd lost nearly 60,000 dead in that one, a large number of whom had been conscripted to fight. And, because it became so politically charged toward the end, many were treated very poorly by their society when they returned home. Honoring them was the right thing to do and helped heal a gaping wound.
Naturally, though, that led to veterans of other wars asking, What about us?
Next up was the Korean War Memorial. It wasn't far behind: approved by Congress in 1986, groundbreaking by former President George H.W. Bush in 1993, and opened in 1995. The rationale, presumably, was that Korea was "the forgotten war" and its veterans deserved to be remembered.
Bob Dole was a major force behind getting approval for the National World War II Memorial, which was finally approved by the Congress in 1993. Ground was broken in 2001 and the monument opened to the public in 2004. Unlike Vietnam and Korea, WWII was enormously popular from the day Japan bombed Pearl Harbor. Its veterans were feted with a series of ticker-tape parades, got the G.I. Bill, and were otherwise treated as heroes. The selling point for this one was that those who had fought in it were dying off fast and we needed to get it finished in time for those who remained to visit.
A World War I Memorial has been authorized by Congress. I suppose there's no hurry at this point.
The Gulf War is the largest past conflict with living veterans not to have a memorial. But, again, it was awfully small. Yes, over half a million deployed to fight there. But most of the fighting was done from uncontested airspace and long-range missiles and rockets from the sea or ground-based rocket systems (my own contribution to the effort). We lost fewer than 200 in combat and fewer than 400 counting non-combat accidents. What's next? Monuments for Grenada and Panama?