We Don't Need No Stinking Strategy
Obama's current policy---tactical level strikes with no obvious long-term strategic aim---may well be the best we can hope for.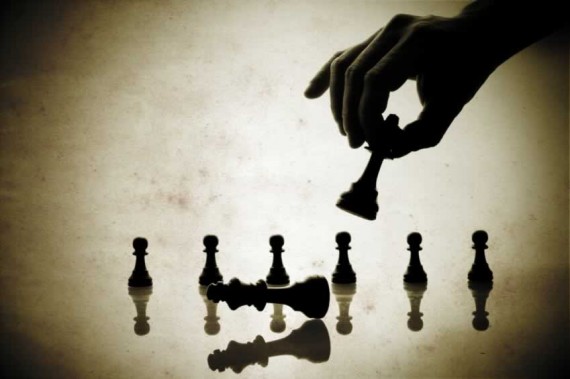 Thomas Friedman persuasively defends President Obama's much-lampooned declaration that "we don't have a strategy yet" for responding to ISIS. While fully acknowledging the crisis, Friedman correctly notes that coming up with an effective strategy in response is a wicked problem:
To defeat ISIS you have to address the context out of which it emerged. And that is the three civil wars raging in the Arab world today: the civil war within Sunni Islam between radical jihadists and moderate mainstream Sunni Muslims and regimes; the civil war across the region between Sunnis funded by Saudi Arabia and Shiites funded by Iran; and the civil war between Sunni jihadists and all other minorities in the region — Yazidis, Turkmen, Kurds, Christians, Jews and Alawites.

When you have a region beset by that many civil wars at once, it means there is no center, only sides. And when you intervene in the middle of a region with no center, you very quickly become a side.

ISIS emerged as an extreme expression of resentment by one side: Iraqi and Syrian Sunnis who felt cut out of power and resources by the pro-Iranian Shiite regime in Baghdad and the pro-Iranian Alawite/Shiite regime in Damascus. That is why Obama keeps insisting that America's military intervention must be accompanied, for starters, by Iraqis producing a national unity government — of mainstream Shiites, Sunnis and Kurds — so our use of force supports pluralism and power-sharing, not just Shiite power.

But power-sharing doesn't come easy in a region where kinship and sectarian loyalties overwhelm any sense of shared citizenship. Without it, though, the dominant philosophy is either: "I am strong, why should I compromise?" or "I am weak, how can I compromise?" So any onslaught we make on ISIS, absent national unity governments, will have Shiites saying the former and Sunnis saying the latter. That's why this is complicated.
To say the least.  Moreover, Friedman notes, the good guys aren't really good guys and some of the bad guys could win regardless of what we do:
While the Saudi, Qatari and Kuwaiti governments are pro-American, wealthy Sunni individuals, mosques and charities in these countries are huge sources of funds, and fighters, for ISIS.

As for Iran, if we defeat ISIS, it would be the third time since 2001 that we've defeated a key Sunni counterbalance to Iran — first the Taliban, then Saddam, now ISIS. That is not a reason not to do it, but it is reason to do it in a way that does not distract us from the fact that Iran's nuclear program also needs to be defused, otherwise it could undermine the whole global nonproliferation regime. Tricky.
My default position in these matters is non-intervention, in that we're not going to be able to solve the problem and may well exacerbate it. It's simply impossible to calculate the second- and third-order effects of various moves, all of which could make an already horrible situation even worse. At the same time, the sheer level of humanitarian and cultural atrocity being perpetrated—and the serious potential for further spillover into Turkey and other American allies—makes doing nothing a non-option.
Friedman concludes,
I'm all-in on destroying ISIS. It is a sick, destabilizing movement. I support using U.S. air power and special forces to root it out, but only as part of a coalition, where everybody who has a stake in stability there pays their share and where mainstream Sunnis and Shiites take the lead by demonstrating that they hate ISIS more than they hate each other. Otherwise, we'll end up in the middle of a God-awful mess of duplicitous allies and sectarian passions, and nothing good we do will last.
Given the insightful setup, that's shockingly Polyannaish. None of the regional actors have either the political will or the military capability to do this. We may be able to get some core NATO allies, including Turkey, on board. And, aside from maybe the Saudis, the notion that anyone besides the US taxpayer will pay for any of this is laugh out loud funny.
Thus, Obama's current policy—tactical level strikes with no obvious long-term strategic aim—may well be the best we can hope for.