Weiner Staying Put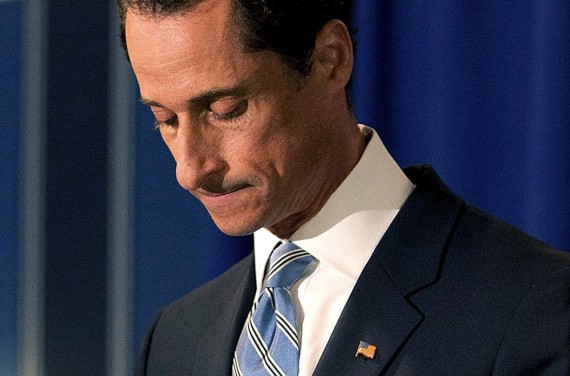 Anthony Weiner said once again today that he will not resign from Congress:
A defiant Rep. Anthony Weiner said today that he's not resigning.

In an exclusive interview with The Post, Weiner, 46, said the sexting scandal that has plagued him for the past week is not reason enough to give up his House seat.

"I'm not," Weiner said when asked by a Post reporter whether he planned to resign.

Weiner also said he planned to get back to work after spending Wednesday holed up in his Forest Hills home.

"I'm going to get back to work as best I can," he said.

"I betrayed a lot of people and I know it and I'm trying to get back to work now and try to make amends to my constituents, and of course to my family of course," he added. "I'm going to go back to my community office and try to get some work done."

Weiner reiterated what he told the media earlier this week.

"As I said when I spoke at the press conference on Monday that I exchanged inappropriate things with people and, I think that I've now got to deal with those consequences," he added.

"I was completely honest on Monday after I hadn't been for a while," Weiner said outside his lawyer's office in Midtown.
At least as far as New Yorkers are concerned, that's just fine:
An exclusive NY1-Marist poll shows that 51 percent of city voters want Weiner to remain in office. Only 30 percent believe he should resign and 18 percent are unsure.

"It spells trouble any way you look at it for Congressman Weiner, especially in the short term and when you look down the road in terms of what his future political aspirations may be," says Marist Poll Director Lee Miringoff.

Weiner's made no secret of wanting to running for mayor in 2013, but 56 percent of those polled, including a majority of Democrats, say he should not even try.

Only 25 percent of registered voters would like him to run and 19 percent were unsure.
So he may not become Mayor, but he might be able to stay in Congress. Again, why should he resign?