Welcome To This Month's Edition Of Congressional Dysfunction
FEMA is about to run out of money, but don't worry your Congressman is getting his vacation time in.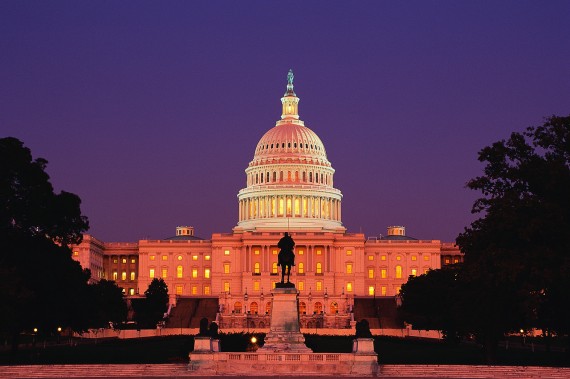 The latest round of back-and-forth on Capitol Hill ended early this afternoon when the Senate rejected a revised Continuing Resolution that had been passed by the House but which contained provisions objectionable to Democrats:
An impasse between the House and Senate over a bill to keep the government open after Sept. 30 and provide financial aid to natural disaster victims got worse on Friday as the Senate easily shot down a House bill passed in the early hours of Friday morning. House members, considering their work done, headed back to their districts for a week's recess.

The Senate voted 59 to 36 to set aside the latest House bill, with a handful of conservative Republicans joining with Democrats to deliver a quick and decisive rejection.

Democrats oppose the House measure on the grounds that it does not provide enough relief for disaster victims, and because that relief was offset by spending cuts to other programs near and dear to them; conservatives appeared to feel their House colleagues had failed to cut deeply enough.

The Senate action left Congress mired in an impasse with serious implications for the financing of federal agencies. The House and Senate were scheduled to begin a week-long recess Friday. But without an agreement on a bill to pay for federal operations beginning Oct. 1, the government would run out of money before lawmakers returned unless some resolution was found.

With House members heading out of town, Speaker John A. Boehner said Friday that the only way to advance the legislation, which would replenish the nearly empty coffers of the Federal Emergency Management Agency and finance the federal government through mid-November, would be for the Senate to capitulate and accept the House bill.

"With FEMA expected to run out of disaster funding as soon as Monday, the only path to getting assistance into the hands of American families immediately is for the Senate to approve the House bill," Mr. Boehner said. "This is no time for delay."

But Senator Harry Reid, the majority leader, said he had been assured that FEMA had enough money to keep operating and set about scheduling further votes for next week unless the Senate agreed promptly to a version that Senate Democrats would find acceptable. Senator Mitch McConnell urged Mr. Reid to try to find a compromise that could win votes from both parties today, but the outlook for that seemed dim.

On Friday, a spokesman for President Obama expressed alarm at the inability of Congress to reach a deal.

"The members of Congress work for the American people," said the spokesman, Jay Carney, in a briefing with reporters. "They work for the constituents who sent them here, in their districts and states. We are absolutely confident that the vast majority of those constituents are not asking very much when they insist that Congress perform the basic functions that they were sent here to perform, and that they do not let politics get in the way of what should be a relatively straightforward exercise of funding the government."

He also criticized House Republicans for pushing a measure that the Senate opposed.

"The House Republicans once again passed something that they know can't pass the Senate and therefore can't become law, which is a perfect indication," he said, that "the fever hasn't broken."
The provision that the Senate and Democrats in the House objected to was one which would have offset the cost of disaster relief by cutting an Energy Department program that subsidizes energy efficient cars. At this point, with Congress headed out of town and the Jewish holidays starting on Wednesday, it's difficult to see how this is going to be resolved unless the Senate does in fact capitulate and pass the House bill. More importantly, though, it appears that Boehner is correct that FEMA's disaster relief fund is about to run out of money:
As of Friday morning, FEMA's Disaster Relief Fund had just $175 million and will likely be empty next week for the first time in its history, the agency said. It is consulting with White House lawyers to determine what to do if funds dry up.

"The administration is committed to doing all it can under current legal authorities to continue vital operations, including assistance to individuals," FEMA spokeswoman Rachel Racusen said in an e-mail. "But there is no question this is a critical situation and one we are watching closely."

The disaster fund pays for all costs associated with presidentially declared disasters, including individual and public assistance payments and operational costs. Agency officials, who prefer to keep the fund flush with about $1 billion, quickly drained the account in late September after Hurricane Irene caused significant damage across 12 states and Puerto Rico.

After the hurricane, FEMA suspended payments for earlier disasters to pay for Irene-related cleanup efforts. Repeating steps that have been taken several times over the last decade, the move means further delay for at least $447 million worth of projects in 42 states, where officials are eager to close the books on long-standing reconstruction and mitigation projects.
Honestly, I'm not sure who qualifies as the "Party of No" in this particular situation. The House GOP has passed a bill that keeps the government funded through November, and rescues the FEMA disaster relief fund. Are the Democrats in the Senate really saying that they're willing to risk a shutdown over cuts to a minor Energy Department program? The left is calling these partisan budget cuts, and perhaps they are. Quite honestly, anyone who's surprised that there's partisan activity going on in Washington is either being incredibly naive, or they're just so blinded by their own partisanship that they can't see the light. Of course the GOP is acting partisan, but so are the Democrats if they insist on risking creating chaos for people relying on FEMA relief over such a minor issue.
Harry Reid's solution to this standoff is for the House to agree to drop the offsets from the bill. In the end, that's probably not a bad outcome either. As Chris Christie noted several weeks ago, we've never worried about offsetting disaster aid with spending cuts before. Why do we have to start now, especially when we're near the end of the Fiscal Year and there are new budgets that still haven't been passed? In all honesty, I don't think the American people care which side "wins" this latest kerfuffle, they just want Congress to get the work done. In the end, what matters for people outside the beltway isn't how Congress does it but the fact that neither side wants to get anything done at all. The people are noticing that, and they're not pleased.