Wendy Davis Down 15 Points In New Texas Governor's Race Poll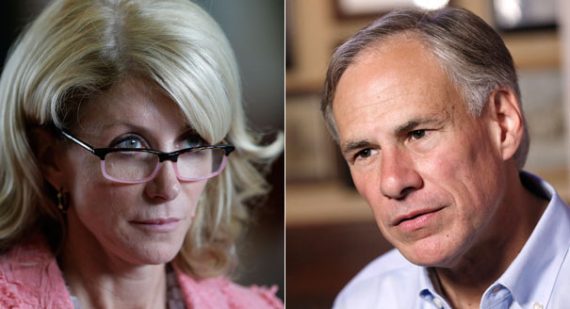 If the new poll from Public Policy Polling is any indication, State Senator Wendy Davis faces an almost insurmountable battle in her bid for the Texas Governor's Mansion:
Republican Greg Abbott leads Democrat Wendy Davis by 15 points in a new Democratic poll of the Texas gubernatorial race, an improvement over his 8-point lead in the same poll in July.

The state attorney general holds a 50-35 advantage over the state senator in the survey, released Tuesday by Public Policy Polling. The poll also found that Davis's favorability rating has worsened, falling to a net negative 6 points, while Abbott's favorability has remained in the positive single digits.

The poll stands in contrast to a survey that found Abbott with a narrower 6-point lead, conducted in the heavily Republican state last month and released Monday by the University of Texas/Texas Tribune.

(…)

The poll also found that if it became a three-way race with former GOP gubernatorial hopeful Debra Medina running as an independent, Abbott would garner 47 percent of the vote, with Davis drawing 37 percent and Medina drawing 9 percent.
This isn't entirely surprising. The current demographics of Texas make it unlikely that someone like Davis will win statewide unless the Abbott campaign makes some monumental error, which seems unlikely at the moment. At best, she's likely to become something of a national star just like she did in the wake of her filibuster, but the odds of winning the election seem to be remote at best.  Indeed, of all the Governor's races on the ballot next year, national Democrats might be advised to concentrate on states where they have a chance of winning, like Florida, Pennsylvania, and Michigan, rather than throwing a ton of money at what is likely going to be a doomed race.