What Could Possibly Go Wrong? Anthony Weiner Edition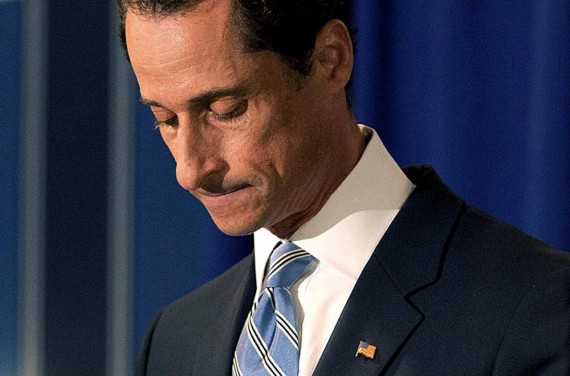 Two pieces of Anthony Weiner news today that just make one go huh?
First, Buzzfeed reports that Weiner has reactivated his Facebook account. And he's been accessing it via a mobile phone. Also, it's worth noting that his infamous Twitter account still exists, although it hasn't been updated in 13 months. Surely, this can't be a good idea.
Second, there are rumors this morning that Weiner is pondering running for Mayor of New York City next year, something that was on his radar before the scandal that forced him from office broke. The story was broken by the New York Post:
Anthony Weiner's not shrinking from elected office.

The disgraced former congressman — who's sitting on a $4.5 million campaign war chest — is mulling a bid for citywide office next year and "seriously considering" a mayoral run, multiple sources told The Post.

The cocky pol is also open to the post of public advocate as a backup plan, said sources, who described the Queens Democrat as "desperate" to get back into politics.

Weiner, 47, has even spoken to former staffers about going back to work for him, according to another source.

And he wants to run soon because the public match on his campaign funds are due to expire after the 2013 election.

"I've heard he is seriously thinking about getting into a citywide race in 2013 and would like it to be mayor," said a source with ties to Weiner. "In his mind, he's trying to figure out how to run for mayor."

He's reached out to politicos to "talk about the landscape," said a former staffer.

The buzz in political circles is that the sext-happy Weiner has a better shot at public advocate — a $165,000-a-year job viewed as a "cleansing" post where he could put his character issues further behind him as he prepped for a 2017 mayoral run.

"The general feeling is that you can't text pictures of your penis to a girl, then lie about it, then get kicked out of the House and then run for mayor right after," said a political consultant. "But people believe there is a way for him to run for a lesser office."
That would be what you'd call Politics 101. The NYC Public Advocate is one of the few citywide elected officials in New York, and is first in line to succeed the sitting Mayor should they vacate office for any reason. As bizarre as it might seem, if Weiner actually managed to win that race (the Mayor's race seems unlikely, I agree) we could see him as Mayor of New York four or eight years down the line. Stranger things have happened.
Al it requires is for Weiner to keep away from smartphones. Oh, wait.