What Does Snack Food Have To Do With Keeping Weapons Out Of Gaza ?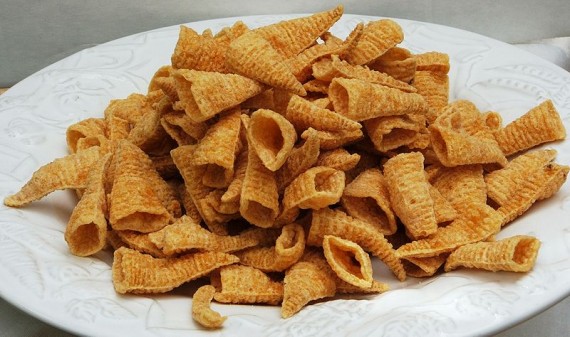 That's the question raised by yesterday's announcement that Israel would now allow snack food and drinks to be imported in to the Gaza Strip:
Israel is easing its Gaza embargo to allow snack food and drinks into the Palestinian enclave, Palestinian officials said Wednesday, following an international outcry over Israel's raid on an aid flotilla.

(…)

An Israeli official said the new product list, announced hours before U.S. President Barack Obama was to host Palestinian President Mahmoud Abbas in Washington, was unrelated to Israel's May 31 takeover of the convoy that challenged its Gaza blockade.

The talks between Obama and Abbas are expected to focus on ways to ease the embargo, which has drawn mounting international criticism since Israeli commandos, who met violent resistance on a Turkish-flagged ship, killed nine pro-Palestinian activists.

The Palestinian officials, based in the West Bank, said that as of next week, Israel will allow a wider variety of food, such as potato crisps, biscuits, canned fruit and packaged humous, as well as soft drinks and juice, into the Gaza Strip.

"They will send the first course. We are waiting for the main course," Palestinian Economy Minister Hassan Abu Libdeh said in Ramallah. "We are waiting for this unjust siege to end."
In a related development, the White House announced last night that the United States would be sending development aid to Gaza:
Washington (CNN) – The United States will contribute $400 million in development aid to the Palestinian territories and work with Israel to loosen its embargo on Gaza, President Barack Obama said Wednesday.

Obama's announcement came after White House talks with Palestinian Authority President Mahmoud Abbas. The money will be used to build housing, schools, water and health care systems in both the Palestinian Authority-controlled West Bank and Gaza, which is ruled by the Palestinian Islamic movement Hamas.
Not surprisingly, this has caused some on the right to go ballistic:
This is why Americans feel deeply suspicious of President Obama and his feelings toward Israel, and by extension, America, herself.

Here's a thought: Every dollar sent to the Gaza strip means it's one less dollar the people there have to spend to take care of themselves. That is, they have zero incentive to stop being death-cult beasts. All their earthly gain can be funneled to the tools for war.

When America sends this savage bunch money, she participates in the arming aiding of our own enemy-of Israel's enemy. It's absurd.

It's absurd unless you hate Israel. It's absurd unless you believe America to be a bunch of terrorists, instead of a force for good in the world
This is the part I don't get at all. I completely support the idea that Israel has the right to ensure that weapons, or material that can be used in the production of weapons or delivery systems, are not imported into a region that is ruled by a government that has declared it's hostility to Israel. What I don't support, and what I don't understand how anyone can support, is preventing other items like food, medicine, or other items that have absolutely nothing to do with weaponry from entering Gaza. As I said in the title to this post — what does preventing the people of Gaza from buying Fritos and drinking Coca-Cola, to take two examples, have to do with protecting Israel ?
The answer, of course, is nothing at all.
As for the rest of the commentary above, all I can say is that the fact that Israel is an ally does not mean that we should not question them when they're wrong and, in the case, of a blockade of Gaza that is clearly aimed at doing more than just keeping weapons out of the country, Israel is wrong.
H/T: Joe Gandelman