What Happened to the Wage and Productivity Link?
What happened in 1970 to decouple wages and productivity?
This chart has been making the rounds: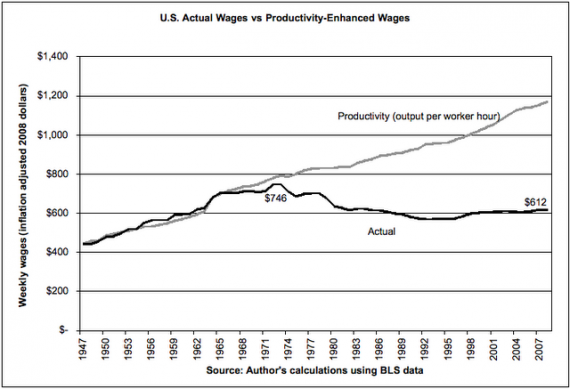 Real (that is, inflation-adjusted) weekly wages have been essentially stagnant since 1970 while productivity has continued its previous trend. This leads to an obvious question: What happened in 1970 to decouple wages and productivity?
This has generated discussion by, among presumably many others, American University doctoral student Daniel Kuehn, University of Michigan doctoral candidate Noah Smith, and NYT columnist Paul Krugman (who may have some economic training as well).  A summary of the more plausible explanations offered by those authors and their commenters:
Changes in technology (robotics, computers, etc.) which accelerated productivity while decreasing the need for skilled labor or, indeed, labor altogether.
The end of Bretton Woods currency peg to gold. Smith:
It ushered in the era of floating exchange rates and ended the de facto gold standard that had prevailed since WW2. Why would this have held down wages in the U.S.? Well, it might have allowed the start of globalization, which began to add labor-rich, capital-poor countries to the rich-country trading system, thus holding down wages via factor price equalization. The catch-up of Europe and Japan in the 70s and 80s, and then of China et al. in the 2000s, might have held down U.S. wages as these countries' catch-up productivity gains outpaced their wages. Alternatively, exchange rate risk must have spiked after the end of Bretton Woods; this could have reduced investment as a percent of GDP, raising the return on capital relative to labor, while simultaneously decreasing nondurables TFP via endogenous growth effects.
Globalization writ large. Whether hastened by Nixon's taking the US off the gold peg or otherwise, the massive US advantage in manufacturing was eroding by the late 1960s and exploded in the 1970s. The German and Japanese economic miracles, the rise of the Asian Tigers, etc.
The collapse of labor unions and the ability of labors to collectively negotiate compensation.
The rise of dual-income households. Dismissed by Smith, it was the factor that immediately sprung to mind when John Personna emailed me Smith's post and I glanced at the chart.  The women's liberation movement and other factors made it the norm for middle class women to take jobs outside the home, both putting downward pressure on wages (by increasing the labor pool) and giving the illusion of higher living standards (while individual wages may have stagnated, household disposable income exploded). But, as Smith and Personna note, the trend was gradual and shouldn't have impacted the trendlines so suddenly and drastically.
While his research has been divorced from the discussion, it appears that the source of the chart is Economic Policy Institute president Lawrence Mishel and his April posting "The wedges between productivity and median compensation growth." He offers, by far, the most detailed analysis of the question.
The hourly compensation of a typical worker grew in tandem with productivity from 1948-1973. That can be seen in Figure A, which presents both the cumulative growth in productivity per hour worked of the total economy (inclusive of the private sector, government, and nonprofit sector) since 1948 and the cumulative growth in inflation-adjusted hourly compensation for private-sector production/nonsupervisory workers (a group comprising over 80 percent of payroll employment). After 1973, productivity grew strongly, especially after 1995, while the typical worker's compensation was relatively stagnant. This divergence of pay and productivity has meant that many workers were not benefitting from productivity growth—the economy could afford higher pay but it was not providing it.

Figure B provides more detail on the productivity-pay disparity from 1973 to 2011 by charting the accumulated growth since 1973 in productivity; real average hourly compensation; and real median hourly compensation of all workers, and of men and of women. As Figure B illustrates, productivity grew 80.4 percent from 1973 to 2011, enough to generate large advances in living standards and wages if productivity gains were broadly shared. But there were three important "wedges" between that growth and the experience of American workers.

First, as shown in Figure B, average hourly compensation—which includes the pay of CEOs and day laborers alike—grew just 39.2 percent from 1973 to 2011, far lagging productivity growth. In short, workers, on average, have not seen their pay keep up with productivity. This partly reflects the first wedge: an overall shift in how much of the income in the economy is received in wages by workers and how much is received by owners of capital. The share going to workers decreased.

Second, as also shown in Figure B, the hourly compensation of the median worker grew just 10.7 percent. Most of the growth in median hourly compensation occurred in the period of strong recovery in the mid- to late 1990s: Excluding 1995-2000, median hourly compensation grew just 4.9 percent between 1973 and 2011. There was a particularly large divergence between productivity and median hourly compensation growth from 2000 to 2011. In sum, the median worker (whether male or female) has not enjoyed growth in compensation as fast as that of higher-wage workers, especially the very highest paid. This reflects the wedge of growing wage and compensation inequality.

A third "wedge" important to examine but not visible in Figure B is the "terms of trade" wedge, which concerns the faster price growth of things workers buy relative to what they produce. This wedge is due to the fact that the output measure used to compute productivity is converted to real, or constant (inflation-adjusted), dollars, based on the components of national output (GDP). On the other hand, average hourly compensation and the measures of median hourly compensation are converted to real, or constant, dollars based on measures of price change in what consumers purchase. Prices for national output have grown more slowly than prices for consumer purchases. Therefore, the same growth in nominal, or current dollar, wages and output yields faster growth in real (inflation-adjusted) output (which is adjusted for changes in the prices of investment goods, exports, and consumer purchases) than in real wages (which is adjusted for changes in consumer purchases only). That is, workers have suffered worsening terms of trade, in which the prices of things they buy (i.e., consumer goods and services) have risen faster than the items they produce (consumer goods but also capital goods). Thus, if workers consumed microprocessors and machine tools as well as groceries, their real wage growth would have been better and more in line with productivity growth.
Despite the generous excerpt, there's actually much more to the post as well as a link to an issue brief at the link. Yet another graphic, though, will be helpful to the discussion: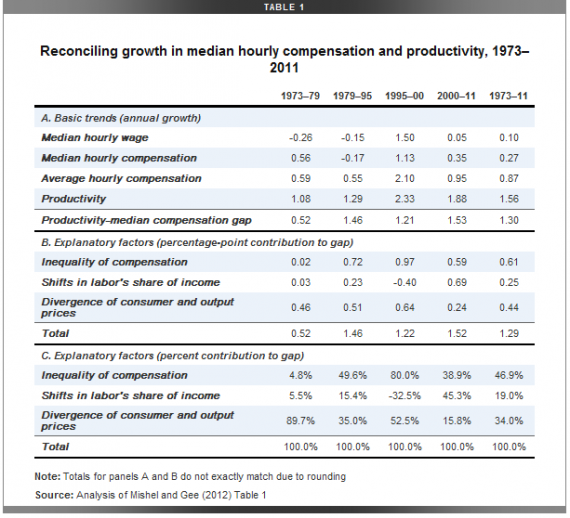 Here, Mishel breaks down various trends both for the overall period (1973 to 2011) and for the major business cycles over that period.
Over the entire 1973 to 2011 period, roughly half (46.9 percent) of the growth of the productivity-median compensation gap was due to increased compensation inequality and about a fifth (19 percent) due to a loss in labor's income share. About a third of the gap has been driven by price differences.
As impressive as all this data is, though, it really doesn't answer the question. Indeed, it essentially restates it: What happened around 1970 (or, if you prefer Mishel's date, 1973) that so radically reduced the bargaining power of labor?
Additionally, as one of Kuehn's commenters (a Mr. or Ms. "Anonymous") observes, there's something odd about the data being compared:
Could this just be a relic of the data and methodology?

The productivity measure is a mean (sum of output divided by number of hours worked). Conversely, the weekly wage measure is probably a median measure. I think it would be more appropriate to compare the mean weekly wages to this productivity measure. As I recall from a review of 'the Great Stagnation,' while median wages are stagnant, mean wages aren't due to increased positive skew in the wage distribution. So, perhaps there is not decoupling between mean productivity and mean wages.
Furthermore, I'm rather suspicious that the charts include only "production/nonsupervisory workers in the private sector" while "productivity is for the total economy." After all, we moved over the period in question—although, again, not suddenly in 1973—away from being a manufacturing economy to an information and service economy. And more of us are now college educated and in white collar "exempt" positions. How much of the productivity gap displayed, then, is an artifact of carving out the best compensated non-owners?
Despite this incredibly long, by blog standards, setup, I don't have any strong opinions on all this. I've got some questions, noted above, about the degree to which the charts show what they purport to show and think it quite possible that all of the factors above contribute to the explanation to whatever actual divergence between worker compensation and productivity has happened over the years.