What If Sarah Palin Had Run?
What would have happened if Sarah Palin had decided to run for the Republican nomination this year?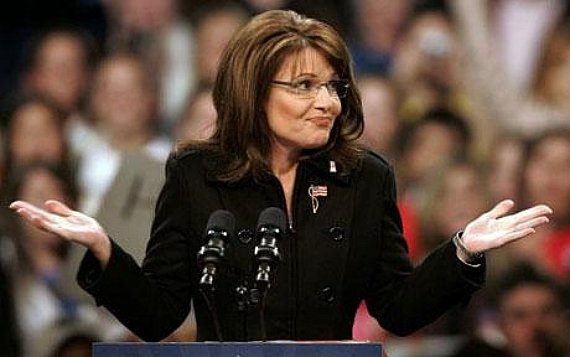 The Washington Examiner's Philip Klein argues that Mitt Romney would have had a much tougher road to the Republican nomination if Sarah Palin had decided to run this year:
As he approaches the task of uniting the Republican party ahead of his all but official general election campaign, Mitt Romney will benefit from the same reality that's worked to his favor the entire race — the composition of the Republican field. Specifically, Romney is fortunate that he had to beat out Rick Santorum to claim the nomination rather than Sarah Palin.

When Romney decided to seek the presidency for the second time, his moderate to liberal record in Massachusetts was bound to trigger a challenge from the right and set up a showdown, framed in shorthand, as the establishment of the party versus the conservative base. Had Palin been in the race as the conservative alternative, it would have been very difficult for Romney to attack her given the passionate following she has among many conservatives, because he wouldn't want to risk alienating them. Even if he had ultimately triumphed after a brutal primary fight, a lot of her loyal supporters would have found it difficult to bury the hatchet for the general election.

By contrast, Santorum came into the race with a very small following and was polling in the low single digits early on. Only when a number of other hopefuls fizzled did he emerge as the conservative alternative to Romney. Don't get me wrong, as I wrote earlier, I think Santorum raised his profile over the course of the race and proved to be a tenacious campaigner. But the point is that Santorum's support was as much about him being a vehicle for those who wanted to stop Romney than it was about a groundswell of support for him personally.
Klein is correct in that last point, of course, which is why I'm skeptical of the idea that Santorum is going to be able to build a real political following out of the surprising success he had in this race. For the most part, the people who supported him did so because he ended up being the most viable, and most likeable (by comparison to Newt Gingrich) not-Romney in the race. He was completely replaceable, though, and if Palin or some other prominent politician that appealed to evangelical voters such as Mike Huckabee had run then he probably would not have made it past the Iowa Caucuses.
I'm not sure that Klein is completely correct about Palin, though.
It's true that she would have entered the race with a ready-made committed base of support, and she clearly would have done a better job raising funds than Santorum, Cain, Bachmann, or Gingrich ever did. However, just as the story in the race that actually occurred turned out to be the slow begrudging acceptance of Mitt Romney by the GOP's race, the story in this alternative universe where Palin ran would have been Palin and the many doubts that were already being expressed about her candidacy a year ago when there was nearly daily speculation about whether or not she would enter the race.
When pondering a conterfactual like this, it's worth remembering what was going on a year ago. When 2011 began, Sarah Palin ended up finding herself the victim of what I considered an unfair attack from the left over the Gabrielle Giffords shooting. In typical Palin fashion, though, she managed to completely bungle her own response to the tragedy and, as a result, public opinion about her took some of the biggest nosedives it had since the 2008 Presidential campaign. By February, early polling was showing her underperforming in early primary states. By March, she began losing support among Republicans, the one demographic group that had remained loyal to her since the end of the 2008 Presidential campaign. By June, 54% of Republicans were saying that they did not want Palin to run in 2012. By September, that number had increased to 74%. The point in reciting these numbers is to make one thing clear. There's no doubt that Sarah Palin would have been a formidable candidate had she run due in no small part to the passion of her supporters. However, the Palin juggernaut itself was far from all powerful last year and there were plenty of Republicans who had doubts about putting such a divisive and polarizing figure at the top of their ticket.
So, let me posit a conterfactual to Klein's counterfactual.
Palin enters the race in late Spring 2011 amid much fanfare, supporter enthusiasm, and of course the requisite media circus. Almost immediately she skyrockets to the top of the polls in a head-to-head confrontation with Mitt Romney, leaving all the other conservative candidates (Cain, Santorum, Bachmann, Gingrich) in the dust. Klein is right that Romney himself  wouldn't directly go after Palin, at least not initially, but that wouldn't stop any number for establishment surrogates from beginning to work behind the scenes to prevent the nightmare scenario of a Palin nomination. Just as conservatives tried to unleash a "Stop Romney" movement over the past year, establishment and mainline Republicans would look at the polls and unleash a "Stop Palin" movement, and my bet is that it would be fare more successful. Moreover, at some point, the voters would get to see Sarah Palin and Mitt Romney on a debate stage together and, for all his flaws, Mitt Romney would look like a freaking genius standing next to her. The entire race would have unfolded in a completely different manner, and not necessarily one that would have favored Palin at all.
In the end, I think Romney would have beaten Palin although it would've been a far tougher fight. The other possibility, of course, is that Palin would have imploded in much the same way that Perry, Bachmann, Cain, and Gingrich did, and that's entirely possible. Feel free to come up with your own scenario, but my point is that I think that there's a reason that Sarah Palin didn't run in 2012. And that reason is because she knew that there was a very good possibility that she would have lost.