What is Infrastructure, Anyway?
We can all agree that it's important but not what it is.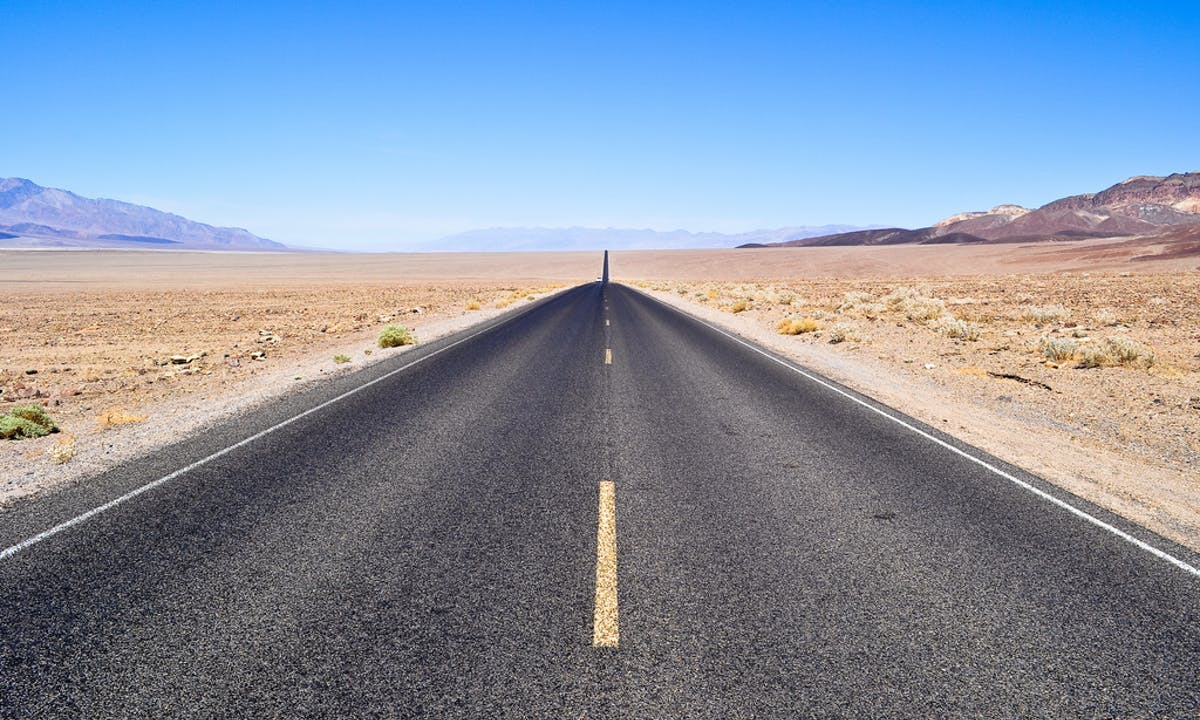 Our former President's attempt to use "Infrastructure Week" to distract from his various scandals became a recurring joke but never materialized in any actual infrastructure. His successor wants to spend a mind-boggling amount of money on 'infrastructure' and seems very much not to be joking. Yet critics argue that much of what he proposes isn't actually infrastructure and, besides, who's going to pay for it?
The rollout has been rather slow but WaPo's Heather Long has the gist of the latest proposal:
When the White House released what it hailed as its historic infrastructure plan Wednesday, it said corporate tax changes would "more than pay for the mostly one-time investments in the American Jobs Plan."

But there's a catch: The $2.3 trillion in spending would take place over the next eight years. It would take until 2036 — 15 years — for President Biden's proposed corporate tax hikes to generate that much revenue.

The disconnect is one of several controversies that Biden's proposal is already facing, especially as the president tries to garner bipartisan votes at a time when the federal deficit is already at its highest level since World War II. While there's widespread support across the political aisle to upgrade the nation's infrastructure, critics of Biden's plan ― and even some of its supporters ― have raised questions whether all the spending in the plan is truly needed, whether the tax increases on corporations are excessive and why the White House is using an unusual accounting approach to capture the deficit impact.
Whether there's "widespread support" among Republicans depends on which Republicans we're talking about. Kevin Drum points to a new Morning Consult poll that shows 74% of self-identified Republicans supporting "improvements in U.S. infrastructure," with the divide on how (or whether) to pay for it: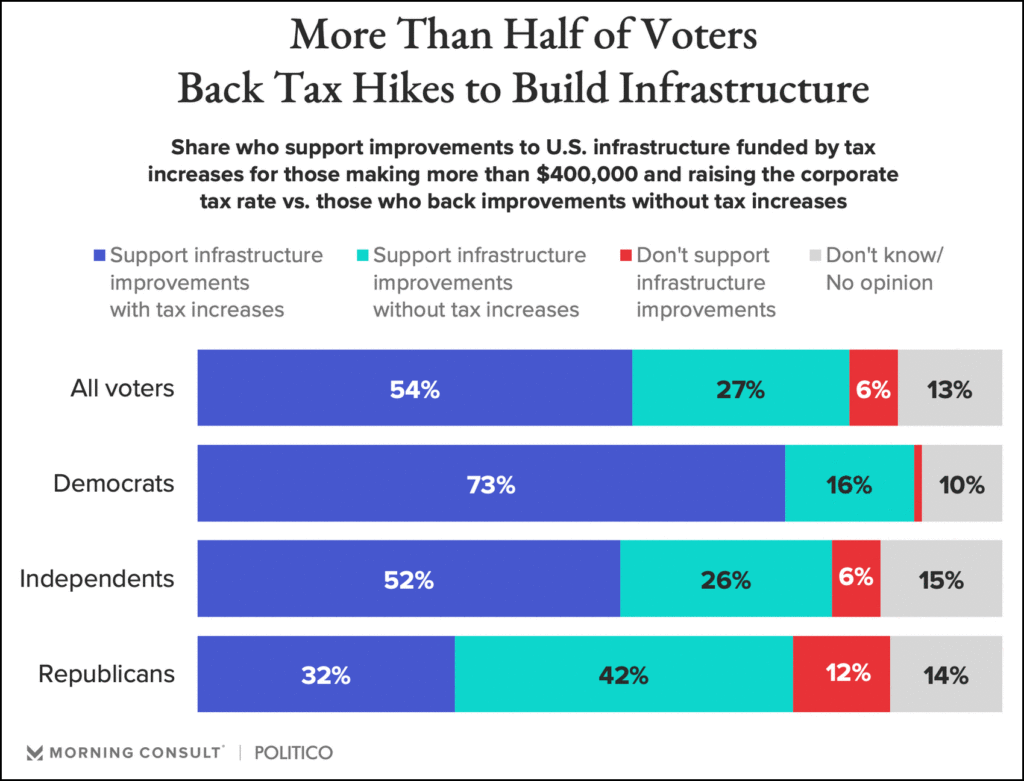 But, of course, that doesn't mean they support this infrastructure bill. And, more importantly, it doesn't mean Senate Republicans will go along with it. Indeed, if I had to bet money on it, almost none of them will—even though Republicans in both Houses helped overturn Ronald Reagan's veto of a large infrastructure bill way back in 1987.
Much of Long's report focuses on the politics of this—who will vote for it, how to pay for it, and whether we need to "pay for it" at all. Those are all interesting but let's focus, for now at least, on the narrower issue of what the bill proposes to do:
Many economic experts agree that significant investments in roads, bridges and other infrastructure is necessary for the country's long-term health, and spending when interest rates are this low is a wise idea. But some were surprised to see that only about 5 percent of the bill is directed toward roads and bridges, and they question why the administration is mixing other types of policies into a bill designed to upgrade the nation's infrastructure.

For example, nearly 20 percent of the bill goes toward expanding caregiving for the elderly and disabled by building more care centers and expanding access to home-based care, and another 13 percent goes toward boosting the U.S. manufacturing sector with large investments in semiconductors and green energy. Those investments aren't typically seen as traditional infrastructure but align with the administration's focus on caregiving and reviving U.S. manufacturing.

"They have a giant definition of infrastructure," said R. Richard Geddes, an infrastructure economist who advised President George W. Bush. "These social issues are very important, but they aren't nuts and bolts. We need to focus like a laser beam."

But Democrats argue that the nation needs not only to upgrade outdated infrastructure but to make strategic investments to build the economy of the future with electric-vehicle charging stations, high-speed broadband, child care, upgraded schools and more money for clean energy research.

"It's going to create the strongest, most resilient, innovative economy in the world. It's not a plan that tinkers around the edges," Biden said Wednesday in Pittsburgh. "It's a once-in-a-generation investment in America unlike anything we've seen or done since we built the interstate highway system."

Democratic leaders in Congress are trying to figure out how many more major pieces of legislation they can pass this year. The Senate reconciliation process they used to pass the $1.9 trillion covid-19 relief package with only Democrats can be used only one or possibly two more times. Analysts say the White House wants to get as many policy wins as possible into this infrastructure package, given that it might be the last big victory Biden can get.
So, infrastructure wonks are dubious that much of the spending being promoted is actually infrastructure. Many Democrats disagree with that. The administration, however, seems not to care: they just want to do good things and see a huge infrastructure bill as a means of doing it.
In another post, Drum breaks down another WaPo article from the previous day and creates this color-coded chart: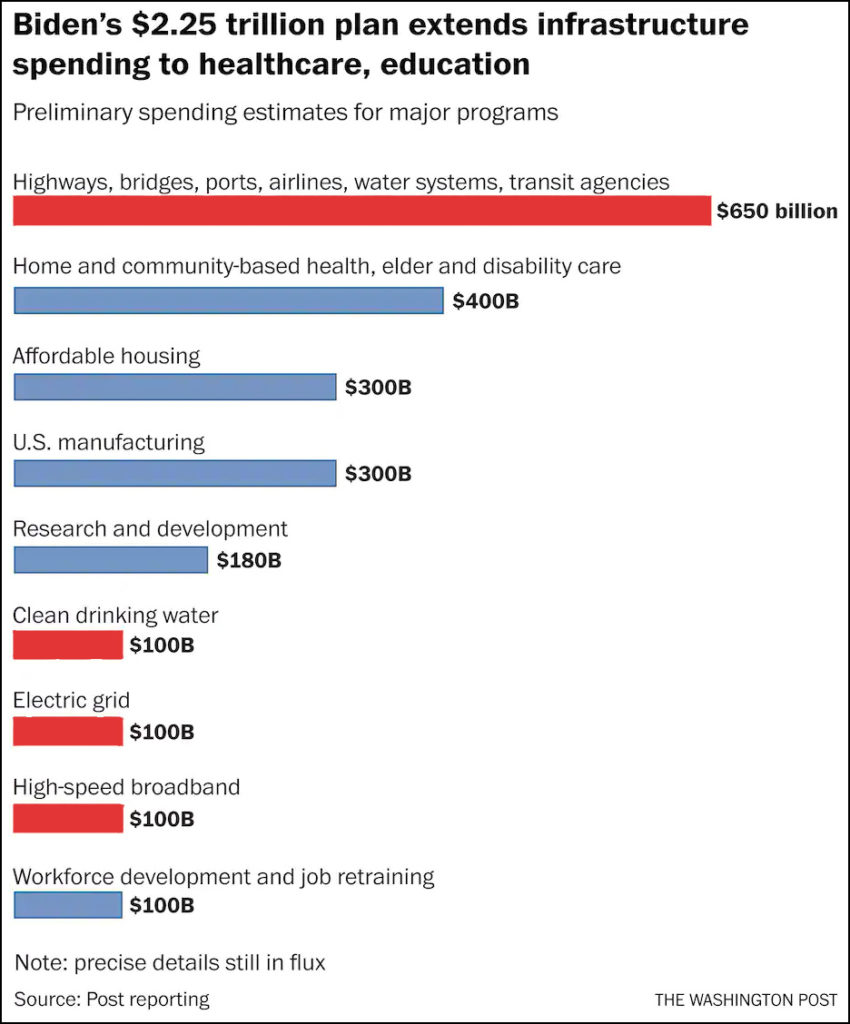 For him, the $950 billion in red is legitimately "infrastructure" and the $1.28 trillion in blue is "a bunch other stuff." He caveats that this is imprecise because we lack the details.
Interestingly, while he tends to be to my left on these issues, I think that's too stingy an assessment. With the same caveat about details, it's actually plausible to call just about all of this "infrastructure."
Historically, only the top line (transportation) was considered "infrastructure." As we've modernized, electric grids and telecommunications networks became an essential part as well. High speed broadband, which didn't exist 30 years ago, has now been lumped in, along with cellular towers, while landline telephone wires are increasingly obsolete.
We've long considered schools, hospitals, and the like as "infrastructure," too. Some term them "soft infrastructure" to distinguish from the traditional "hard infrastructure." If we expand the definition to include these things—and I'd argue they're vital in a modern society—then other investments in human capital, like job training, fit. And most, if not all, of our OECD competitors invest much more than we do in things like subsidizing childcare and eldercare, recognizing that doing so is necessary to free people up to go to work.
It's harder to fit "affordable housing," which we've traditionally viewed as "welfare spending," into the mix. But, certainly, as we become increasingly urbanized, the supply of housing affordable to those we have recently discovered to be "essential workers"—grocery store stockers and cashiers, nurses, first responders, schoolteachers, and others—is a huge problem. Whether this is something we should spend $300 billion of taxpayer money on is simply beyond my scope of expertise. But I'm persuadable that it's an infrastructure, or at least infrastructure-adjacent, issue.
That leaves R&D and "US manufacturing." Whether those fall into the infrastructure basket really depend on what we're researching and developing and what sorts of subsidies/investments are being proposed for manufacturing—and what kind of industries, for that matter. So, for example, spending to return manufacturing to US shores for vital industries, especially if we're currently dependent on China, could well be considered infrastructure spending.
I will note, however, how little attention any of this got during the campaign. We're talking about a massive investment (albeit one over a period that will well exceed Biden's administration, even if he serves two terms) and it seems to be coming out of the blue. I'm sure some of this was broadly hinted at on a campaign website or in various white papers but I don't recall this is a significant topic in the debates, which devolved into contrasting styles and personalities.