What Is The World Coming To?
Better or worse?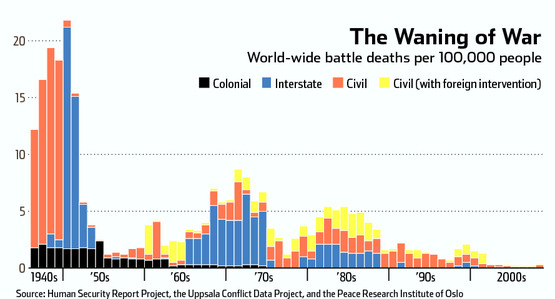 In a mass media environment where we hear about horrible events from all over the world every day, it's easy to think the world is falling apart. Or at least getting worse. But, according to Harvard Prof. Steven Pinker, the world has been becoming more peaceful and less violent throughout the history of civilization–and continues to do so:
Believe it or not, the world of the past was much worse. Violence has been in decline for thousands of years, and today we may be living in the most peaceable era in the existence of our species….

These investigations show that, on average, about 15% of people in prestate eras died violently, compared to about 3% of the citizens of the earliest states. Tribal violence commonly subsides when a state or empire imposes control over a territory, leading to the various "paxes" (Romana, Islamica, Brittanica and so on) that are familiar to readers of history.

It's not that the first kings had a benevolent interest in the welfare of their citizens. Just as a farmer tries to prevent his livestock from killing one another, so a ruler will try to keep his subjects from cycles of raiding and feuding. From his point of view, such squabbling is a dead loss—forgone opportunities to extract taxes, tributes, soldiers and slaves….

Another pacifying force has been commerce, a game in which everybody can win. As technological progress allows the exchange of goods and ideas over longer distances and among larger groups of trading partners, other people become more valuable alive than dead. They switch from being targets of demonization and dehumanization to potential partners in reciprocal altruism.
I've long thought that the perception that the world is getting worse than in previous generations arises at least in part from the fact that we hear about a lot of tragedies we'd never have known about then. An earthquake across the world that kills hundreds makes the nightly news today. A few centuries ago, if we heard about it at all it would have been months or years later–and wouldn't have pictures. Now we can follow the tragedy in real time. And, of course, there are a lot more people around to whom such things can happen.
Which is not to say that unrestrained growth of government or even commerce is without its own risks. The newest phase of violence reduction Prof. Pinker identifies is, for instance, a direct result of the collapse of totalitarian communist states. By contrast, China's one-child policy has created a volatile social environment in which there are millions more men than women, meaning there are vast numbers of of men reaching adulthood and unlikely to find mates. In an earlier era, that would almost certainly have resulted in large scale war. But China's deep commercial ties to the West make that considerably less likely now.
There are always groups (especially in government and the media) who benefit from the perception that the world is getting more dangerous, not less. And, of course, Prof. Pinker's conclusions are subject to all of the usual caveats about academic theories and research. But he has provided a healthy dose of perspective.