What Juan Williams Has In Common With Shirley Sherrod
NPR says it fired Juan Williams for remarks that were "inconsistent" with its editorial standards. In reality, it appears that Williams was the victim of the same convenient editing that cost Shirley Sherrod her job earlier this year.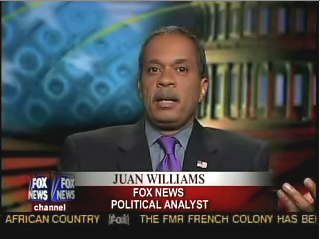 I'm generally in agreement with James Joyner's take that NPR had every right, legally and most likely under the terms of their contract with him, to end its relationship with Juan Williams after a controversy arose, mostly on the left, over comments he made on The O'Reilly Factor on Monday. However, after actually listening to what Williams said, it seems to me that he has been treated unfairly and that, much like this summer's Shirley Sherrod incident, he has been the victim of rather unfair editing of his remarks.
Let's start with the 46 second clip that started this controversy:
Now, if you just go by the clip that Think Progress gave us, you might easily draw the conclusion that Williams was endorsing bigotry against Muslims. The conversation enters a totally different light, however, when you watch the entire, nearly seven minute segment:
Based on that clip, it seems to me as though Williams' remarks as publicized are being taken dramatically, and unfairly, out of context, as the panel on Morning Joe noted this morning:
To call Williams' remarks an example of bigotry, as some lefty blogs have done, strikes me as simply absurd once you watch the whole segment. In fact, it seems to me that Williams was making, in a different context, pretty much the same point that Shirley Sherrod was about how we all need to get beyond our irrational prejudices.
And that's what he got fired for ?
Ridiculous.
So, yes, NPR had every right, legally, to fire Juan Williams, but it seems pretty clear to me that he was the victim of the same unfair editing and rush-to-judgment that Shirley Sherrod was and that their decision to do so says as much about the biases at NPR as it does about any bias that Williams may have.
William Salaten at Slate makes the same argument:
I'm not saying Williams is the world's most enlightened guy. He's wrong, for example, about the proposed Islamic Center near Ground Zero. And it's certainly unsettling to hear him admit that he worries when he sees Muslims in distinctive dress. But admitting such fears doesn't make you a bigot. Sometimes, to work through your fears, you have to face them honestly. You have to think through the perils of acting on those fears. And you have to explain to others why they, too, should transcend their anxieties or resentments and treat people as individuals.

That's what Shirley Sherrod did in her speech to the NAACP. It's what Juan Williams did in his interview on Fox News. It was wrong of conservatives to take Sherrod's remarks out of context. It's just as wrong of liberals to do the same to Williams. The USDA, after reviewing Sherrod's remarks in their entirety, offered to rehire her. Now it's your turn, NPR.
It's time for a little test of intellectual honesty, folks.
Update The analogy to the Shirley Sherrod story gets even more exact as Williams described how he was fired over the phone: