What Lessons Has The Economy Learned From 2008? Apparently None.
The systemic risks of financial institutions haven't changed much since 2008.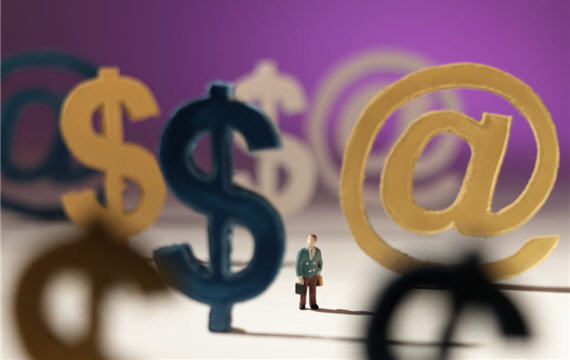 Robert Lenzer notes that the despite the hard lessons of 2008, the financial industry is still concentrated, meaning that the same systematic risks that led to the Financial Crisis are still with us.
All told, the 6 largest US financial institutions scrutinized by [Robert] Wilmers have 35% of all deposits and 53% of assets. The danger lies in their trading revenues, accomplished with borrowed funds, which amounted in 2010 to $56.1 billion- or 93% of ALL trading revenues by ALL banks.

But, get this- 'the combined trading revenues of the 4 largest banks represent more than the pre-tax income of all the other banks.' herein lies the risk. these large institutions have as their chief counter-parties in all their derivative trading each other.

In other words Goldman Sachs has JP Morgan Chase and Morgan Stanley on other side of their big trades, and those others have Goldman Sachs. So, should there be a problem with one institution, instantly the wherewithal of the others would be impacted. This is not a perpetually safe arrangement. Another 2008 would be worse than the last.
It wasn't too long after the Financial Crisis that lots of people were predicting that the exposure of the flaws in the financial industry, though wreaking economic havoc in the short term, could potentially lead to long term benefits. It was assumed that the economy would learn it's lesson and start moving towards more focus on "making things" rather than just "managing money." I remember Doug Rushkoff, Chris Anderson and others pointing out that the ubiquity of the web should make this more possible.
So far, though, the evidence doesn't seem to be supporting that conclusion. Not only is the financial industry basically intact and back to turning record profits, but it's business models have barely been tweaked. In the meantime, as the Federal Reserve of Atlanta reports, the past three years have shown no growth in the number of businesses — the trendline has been flat. And that's happening at a time when the numbers of employees per business has plummeted (except for health care), as you can see on the chart below: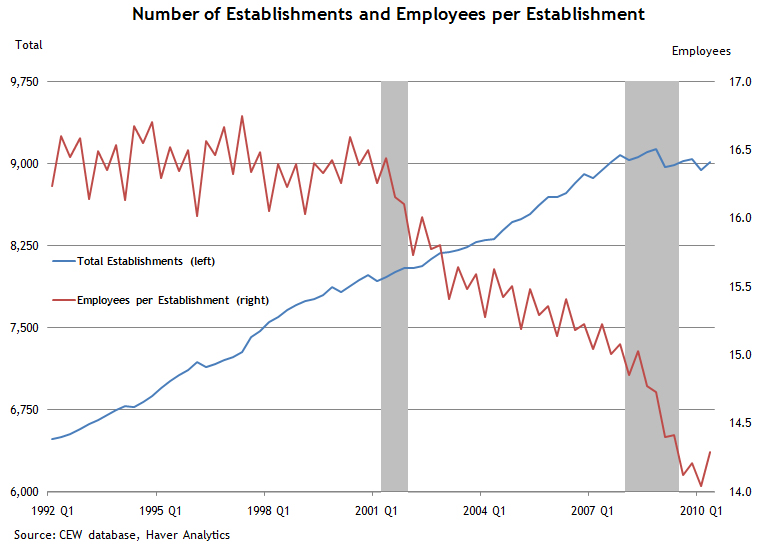 I think that the economy is in for a long, hard slog over the next few years. Market corrections only lead to economic improvements when people learn their lessons.