What "Occupy Wall Street" Is Missing
By looking only in one direction, Occupy Wall Street is missing the big picture.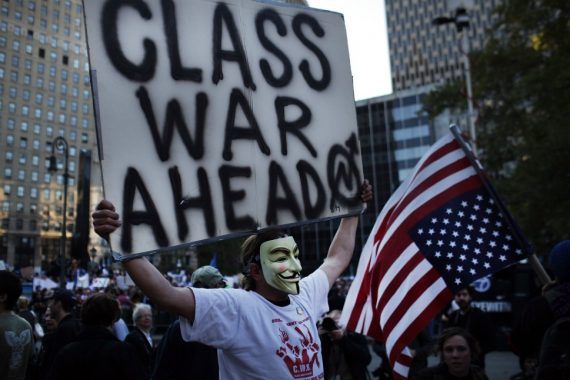 David Brooks argues in an Op-Ed today that the Occupy Wall Street crowd, and its progeny, are missing a crucial part of the problems we face by focusing their argument on a virtuous 99% allegedly being taken advantage of by the evil 1%:
The country has been wasting this winter of recuperation. Nothing of consequence has been achieved over the past two years. Instead, there have been a series of trivial sideshows. It's as if people can't keep their minds focused on the big things. They get diverted by scuffles that are small, contentious and symbolic.

Take the Occupy Wall Street movement. This uprising was sparked by the magazine Adbusters, previously best known for the 2004 essay, "Why Won't Anyone Say They Are Jewish?" — an investigative report that identified some of the most influential Jews in America and their nefarious grip on policy.

If there is a core theme to the Occupy Wall Street movement, it is that the virtuous 99 percent of society is being cheated by the richest and greediest 1 percent.

This is a theme that allows the people in the 99 percent to think very highly of themselves. All their problems are caused by the nefarious elite.

Unfortunately, almost no problem can be productively conceived in this way. A group that divides the world between the pure 99 percent and the evil 1 percent will have nothing to say about education reform, Medicare reform, tax reform, wage stagnation or polarization. They will have nothing to say about the way Americans have overconsumed and overborrowed. These are problems that implicate a much broader swath of society than the top 1 percent.

They will have no realistic proposal to reduce the debt or sustain the welfare state. Even if you tax away 50 percent of the income of those making between $1 million and $10 million, you only reduce the national debt by 1 percent, according to the Tax Foundation. If you confiscate all the income of those making more than $10 million, you reduce the debt by 2 percent. You would still be nibbling only meekly around the edges.

The 99-versus-1 frame is also extremely self-limiting. If you think all problems flow from a small sliver of American society, then all your solutions are going to be small, too. The policy proposals that have been floating around the Occupy Wall Street movement — a financial transfer tax, forgiveness for student loans — are marginal.

The Occupy Wall Street movement may look radical, but its members' ideas are less radical than those you might hear at your average Rotary Club. Its members may hate capitalism. A third believe the U.S. is no better than Al Qaeda, according to a New York magazine survey, but since the left no longer believes in the nationalization of industry, these "radicals" really have no systemic reforms to fall back on.
Not only that, but the sad truth of the matter is that, to no small extent, many of the problems that some of the individuals that have been highlighted as members of the 99% are ones that cannot easily be explained away by blaming "the rich." It wasn't the rich, for example, that led people to run up huge amounts of student loan debt pursuing a degree that wasn't likely to bring in a good income even in a good economy. That's not to say that there aren't solutions for some of these problems, of course. I highlighted one of them earlier today. However, casting blame on one small segment of society for a problem that is really everyone's fault strikes me as both far too easy and intellectually dishonest. We live in a country where everyone has wanted to have their cake and eat it too for far too long, and we're coming to the point where the bills are going due. As much as it feels good to be able to say your problems are all the fault of the "monied interests" and absurdly characterize them as some kind modern day version of the French Bourbouns, that simply isn't accurate and it isn't going to do anything to solve the myriad of problems that this country has.
Rod Dreher agrees with Brooks:
If it's going to get fixed, it's going to hurt all of us. I really do believe that those whose wealth puts them in a position to weather the pain better than most should have to bear a greater share of the burden. But let's get real: occupying Wall Street isn't going to pay off one's credit card, or obviate the spendthriftiness that may have led one to run it up. And so forth. Not saying that to let Wall Street off the hook, but only to underscore Brooks's depressing and unromantic point that the true nature of the problem is radical and widespread, not simply concentrated in the top one percent.
Nor are they concentrated, as the Tea Party crowd argued, solely in government spending, although that is certainly part of the problem. There's been much debate over the past two weeks over whether or not Occupy Wall Street is some kind of left-wing version of the Tea Party movement. The only way we'll know that is when that movement, if it survives, puts forward a coherent political agenda and does the same kind of hard political slogging that the Tea Party has done to advance it. As I've said previously, hanging out in a park in New York City isn't going to change the world, and the longer the movement does that and nothing else the less serious they are going to end up being taken. There is one way that the Tea Party and Occupy Wall Street are alike, though, both of them make the mistake of only focusing on one thing that they claim is the cause of all our problems. What they both need to do is wake up, look in the mirror, and realize that we call got into this together, and we're going to have to get out of it together.
Photo via Foreign Policy