What Recovery?
Following on Doug's cheery post about the weak state of the economy here are some more things to consider.
Following on Doug's rather depressing post about the economy, here are some more things to consider regarding the economy.
Phil Izzo has a big round up of economists and their view on the economy. The view is rather grim, that the recovery is very weak.
Some of the views expressed,
– Consumer spending was essentially unchanged versus [the first quarter]. With roughly 70% of real GDP not growing, and government spending shrinking and subtracting from growth in the span, it was up to capital spending and exports to do the heavy lifting in [the second quarter]. Partly offsetting these contributions, in addition to the aforementioned government sector, was an increase in imports. All in all, we do not believe that the composition of today's report alters the likelihood that real GDP growth in the second half and into 2012 will be modest at best as the economy continues to struggle with the aftermath of the credit/asset price bubble. -Joshua Shapiro, MFR Inc.

– The bright spot is better capital expenditures (business, non-residential property and housing) than we expected, but overall this is grim. Expect better in [the second half] — debt ceiling permitting.-Ian Shepherdson, High Frequency Economics

-Final sales to domestic producers increased only 0.5% in the quarter, compared with 0.4% in the first – such sales grew 1.8% last year. Real growth in business spending on equipment and software was up only 5.7% compared with 8.7% in the first, [at a seasonally adjusted annual rate] — it grew 14.6% last year. In other words, after the recession catch-up, growth in business spending is running about equal to depreciation. Not the stuff off of which dynamic recoveries are typically built. -Steven Blitz, ITG Investment Research
In looking at the Bureau of Economic Analysis Personal Consumption Expenditure (PCE) data we also see that PCE is declining in real terms since March of this year. Considering that PCE makes up well over 70% of GDP such a declines do not bode well for future growth unless that trend changes.
On July 29 James Hamilton had this post.
The Bureau of Economic Analysis reported today that U.S. real GDP grew at an annual rate of 1.3% during the second quarter of 2011, and revised down its estimate of first-quarter growth to an even more anemic 0.4%. We knew the first half of the year was disappointing, but this is even weaker than most of us were anticipating.
From the Economics Roundtable we get the following graphic.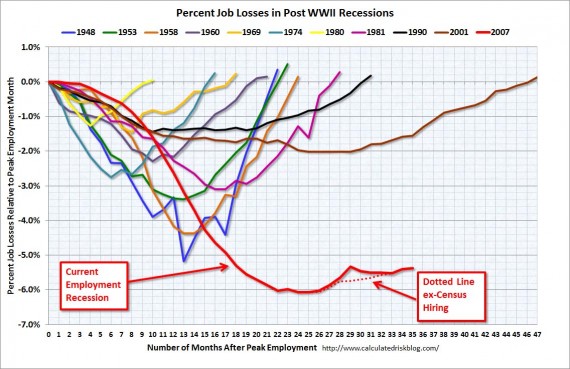 Clearly there is a long rough road ahead.