What To Do About North Korea?
North Korea continues to advance its nuclear program but it's unclear what anyone can do about it.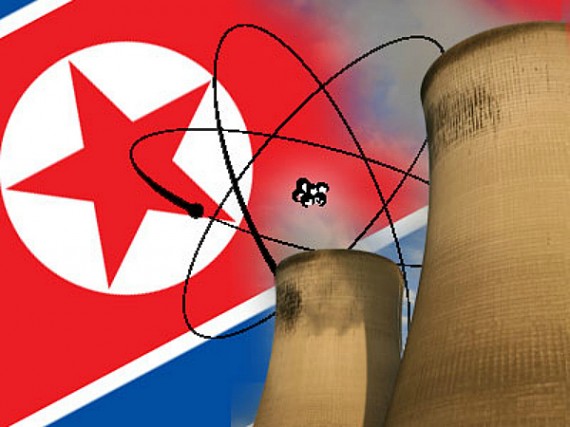 The news yesterday about North Korea's fifth nuclear test has quickly become an issue in the U.S. Presidential election, but it seems clear that neither major party candidate has any real idea what to do about it, or what to do if North Korea, as it inevitably will, continues down this path toward what could become a real nuclear threat to the region and the world,
Donald Trump, for example, was quick to blame President Obama and Hillary Clinton for the current state of affairs, but his campaign refused to provide any concrete details about what Trump himself might do:
If North Korea had weapons that could reach the United States, Donald Trump will make sure they don't use them. How exactly? That's a secret.

Trump campaign manager Kellyanne Conway appeared on CBS This Morning and was asked about the nuclear test that North Korea conducted Friday.

How would a President Trump react if North Korea had nuclear weapons that could make it to the U.S.?

Conway's short version: "North Korea and the rest of the world would know, Charlie, that President Trump and Vice President Pence aren't messing around with anybody who is trying to threaten our lives."

The anchors pressed on. But what would he do to make sure they knew the U.S. wasn't messing around?

"He's not going to reveal all of his plans and he's made that very clear and maybe someone can ask him in a debate. But the fact is that this entire world would be put on notice that there's a strong leader in the White House," Conway said. "There would be no failures inSyria, in Libya, in Benghazi. There would be no Russia reset. There would be no advance of ISIS, who our own President called the JV team," she continued.

But before the nuclear test Tuesday, Trump seemed to have a plan of his own — get China to deal with it.

"What I would do very simply is say, China, this is your baby," Trump said during a campaign appearance in Virginia Beach, Va. "This is your problem. You solve the problem. China can solve that problem."
In other words, you'll have to elect Donald Trump to find out what Donald Trump's North Korea strategy is, but it may just boil down to hoping the Chinese do something about it.
Hillary Clinton, meanwhile, talked about getting tougher on sanctions:
NEW YORK — Democratic presidential nominee Hillary Clinton suggested Friday that she would adopt a tougher stance against North Korea that could approximate the global ring of sanctions and pressure she credits with drawing Iran to the nuclear negotiating table.

"It's clear that the increasing threat posed by North Korea requires not only a rethinking of the strategy but an urgent effort to convinced the neighbors, most particularly China, that this is not just a U.S. issue," Clinton said.

She did not dispute that the current policy of sanctions on North Korea and pressure on its ally and protector China has failed to stop North Korean aggression, including the country's fifth nuclear test Friday.

"I think we have an opening here that we haven't had in the last several years that I intend to do everything I can to take advantage of," Clinton said of the test and the international dismay it caused.

The remarks put Clinton on record seeking a tougher line on North Korea than has been pursued by President Obama, whom she served as secretary of state.

Three presidents, beginning with Bill Clinton, have sought without lasting success to prevent or curb nuclear ambitions by North Korea.

In her remarks, Hillary Clinton pledged help for U.S. allies in the region — principally Japan and South Korea — in the form of U.S. missile defense systems.

"That is not something that North Korea or the Chinese or the Russians in the region are particularly pleased about, but what is the alternative?" she said. "We are not going to let anyone who is a treaty ally or partner of ours be threatened, and we are not going to let North Korea pursue a nuclear weapon with a ballistic-missile capacity to deliver it to the United States' territory. That is absolutely the bottom line."
As Clinton herself acknowledged yesterday, though, we've followed a strategy of ever-increasing sanctions for twenty years now, and it hasn't really accomplished anything in terms of deterring the North Koreans from achieving their goal of developing a nuclear arsenal. Even leaving aside the obvious concerns about the sanity and motivations of the current leadership of the country, it is arguably understandable that efforts to deter Pyongyang have failed to accomplish anything notwithstanding the fact that it has essentially successfully cut North Korea off from the world economy. Additionally, other than the aid it receives from China and apparent clandestine ties with the Iranian regime, Pyongyang has few ties left with the rest of the world that can be cut off as further punishment for its behavior. Taking that into account, it's clear that while the world is outraged at North Korea's latest provocation, it's unclear what anyone can do about it:
[T]he sanctions have done nothing to stop the government's determination to further its quest to develop ballistics missiles with nuclear warheads. Nor is it clear that further sanctions would be a deterrent.

"The current sanctions-only approach, however tough, is simply not working, and continuing on that track is a recipe for even greater failure," said Daryl Kimball, executive director of the Arms Control Association. "The next president, even before Inauguration Day, will have to have a strategy in place to try to effectively engage with the North to try to leverage the sanctions regime in place to achieve some restraint on North Korea's nuclear missile activities."

(…)

So far, nobody has come up with a policy or reaction likely to convince Pyongyang to stop or slow down its nuclear program. Scott Snyder, director of the Program on U.S.-Korea Policy at the Council on Foreign Relations, said the threat is growing as the strategy of patience is proving futile and the potential for confrontation grows.

"The current administration's policy has been pursued because of the perception that there was still time to turn North Korea around," he said. "But the closer Kim Jong Un gets to having a direct-strike capability, the greater the pressure will be, presenting a new administration with only two options — acquiescence to North Korea as a nuclear state, and use of military force in order to deprive North Korea of that capability. That's basically the territory we are entering."
David Ignatius notes that North Korea could end up being the first big test that the next President faces upon entering office. It's hard to argue with this conclusion when nuclear weapons  experts are estimating that North Korea will have developed warheads small enough to be delivered on missiles that can reach at least part of the continental United States by 2020 and the current advances we know about only seem to confirm that conclusion. The problem is, as I've said, it's unclear exactly what can be done at this point. Additional sanctions are, of course, an option, but the success rate there is hardly something to be impressed with. Unilateral military action by the United States and South Korea, while it likely would ultimately be successful in destroying the Kim Regime, creates the significant risk of collateral damage to the civilian and industrial infrastructure of South Korea, along with the significant casualties that would entail. One option that may have some hope is the current plan to move forward with a missile defense system that would be aimed at protecting South Korea, and potentially Japan, from a North Korean attack. This is an option that the Chinese have long objected to because they fear the impact it could have on their own nuclear weapons capability. Potentially, this could become the basis for a bargain with the Chinese in which they agree to put increased pressure on Pyongyang in return for scaling back the missile defense systems, but this assumes that the Chinese still have sufficient influence over North Korea to have an impact on their behavior. Another idea, which was touched on in the comments to my post yesterday, is the idea of South Korea and Japan developing their own nuclear weapons programs. Both nations are certainly wealthy enough to do so and have the technological know-how to accomplish the task if they really wanted to do it. The problem with this option is the same one that has motivated efforts at limiting nuclear proliferation since the 1950s, namely that the more nations that have nuclear weapons the more likely those weapons will fall into the wrong hands. The final option, of course, is the one noted above, that we acquiesce to the idea of a nuclear armed North Korea and hope that they (1) don't use the weapons or (2) don't sell their technology in an effort to stave off the latest famine. Given the manner in which the Kim Regime has acted since the nation's founding, though, that requires a level of trust to which they arguably aren't entitled.
So, there you have it. The world's options when it comes to North Korea are exceedingly limited, and anyone who tells you otherwise doesn't really know what they're talking about.