What's Kyrsten Sinema's Game?
The political calculus of Arizona's senior Senator is unclear.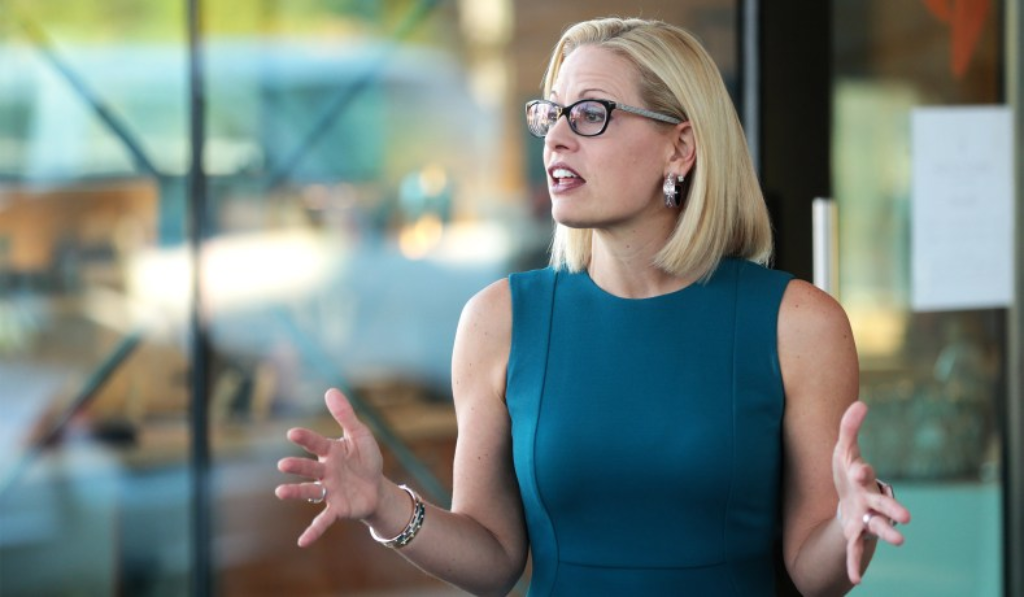 While West Virginia's Joe Manchin gets markedly more press, his colleague from Arizona is equally out of step with the rest of the Democratic caucus. Further, while one easily understands why a septuagenarian from a deep red state votes the way he does, it's harder to explain why a youngish, bisexual woman from a purple state is so adamantly against the Biden agenda. Certainly, TPM's Josh Marshall has been struggling to figure it out.
In a Monday afternoon post titled "Kyrsten Sinema's Final Senate Term," he wondered whether she simply has no interest in getting re-elected:
[A]s near as I can see, unless she shifts her stance pretty dramatically the odds of Sinema being elected to a second Senate term in 2024 are pretty poor. And that's made me consider another question: does she just misread the politics of her situation that badly or is she not planning on running?

[…]

2020 was the last election cycle in which it was possible to run for Senate as a Democrat and support retaining the legislative filibuster in something like its current form. That may not apply in West Virginia. But I'm pretty sure it applies in the 49 other states. Sure, not every Democrat cares a lot about the filibuster. Some don't know what it is. But certainly among active politically engaged Democrats it is close to the central issue of politics. And it's really not a left-right thing. It's that central because pretty much whatever your big issue is it's the filibuster that stands in the way – whether it's climate, jobs and fiscal policy, choice, immigration, labor. Anything and everything.

[…]

Let's say things more or less come together on infrastructure but voting rights and a bunch of other stuff goes down in flames. She and Joe Manchin will be the main reasons for that. How well will Sinema be able to sell that record in a Democratic primary? I wouldn't want to be in charge of running that campaign. What's her argument exactly? This is wildly more so if her antics crater this infrastructure package.

Now, does she win that primary? It's really hard to knock off an incumbent. So I figure she probably does – depending on who challenges her. But primaries aren't free. Any political professional will tell you that an incumbent who goes into a general election after a bruising and hard fought primary goes into a general election with real problems. That's not so bad if you're from a blue state. But Arizona is not a blue state. It's purple and even that is pretty new and tenuous.

[…]

There's little about Sinema that makes her uniquely suited to hold or win a Senate seat from Arizona. The fact that she accomplished it is a big deal – the first in a generation. But Mark Kelly managed it two years later. I also don't have the sense that she's uniquely popular among Democratic activists or elected officials in the state. I could go through various ways of looking at this. But Joe Manchin is sui generis as a Democrat in West Virginia. Kyrsten Sinema just isn't that in Arizona at all.
Yesterday, in "Sinema Cueing Up To Go Indy (Must Read)," he offered an alternate explanation: she sees herself, ala the previous holder of the seat John McCain, as a nonpartisan maverick. He posts a lengthy email from a local reader that includes this:
There's no reason for her to change her approach because in all of her electoral races since her first state legislative ones, the independents have been the key to her winning elections. Democrats will vote for her in the general election, even if they hold their noses doing it, so she's going to do everything possible to appeal to the disaffected Republicans who became Independents during the Trump era.

[…]

[L]ocal election law allows every single Independent to request a primary ballot for either one of the two parties. Whether voting in person or by permanent early voting (mail), they get to vote in one of the two party primaries without changing their permanent party registration. It's really easy to do so in her view she's not truly running in a Democratic Party primary. She's running in a Democratic and Independents primary.

Since she thinks she knows how to win a primary without overwhelming Democratic party support, it's not an outrageous approach to focus on appealing to Independents. Especially since the Republican Party here has become extravagantly radicalized. It's run by people who supported and potentially helped plan the January insurrection. The only person who will get through a Republican primary in Arizona will not only have to say they believe in all of that, but they'll have to give a full-throated defense of it and promise to bring the hammer down on the opposition.
Marshall observes,
I've heard various stories of her fairly dramatically misreading rooms and making jarring or ill-timed comments. My sense is that now she's just misreading the national room. The ambition part is key to appreciate since some people seem to think she's bored with the Senate and ready to move on or angling for a high priced lobbying gig. That's clearly not the case. She's just as focused on advancement within elected politics as most other pols. The DGAF theory doesn't fly. She clearly thinks this is her path to national office.
I have no insights into Sinema's thinking but, if this is it, she is indeed "dramatically misreading the room." Despite Hollywood fantasies of mavericks winning the White House the independent route, our system makes that all but impossible in reality.
The two major parties have an all but mathematical lock on the Electoral College. While Ross Perot got a significant number of popular votes in 1992 (18.9%) and 1996 (8.4%) he won zero Electoral votes. The last third-party candidate to win any Electors was George Wallace in 1968. Despite winning 13.5% of the national popular vote and carrying five states, he only received 46 Electoral votes (including a faithless North Carolina elector), far fewer than Hubert Humphrey's 191 and Richard Nixon's 301. Before that, the last third-party candidate to have a major impact on the race was Teddy Roosevelt in 1912. Roosevelt came in second, pushing Republican incumbent William Howard Taft to third place. But, because TR and Taft essentially split the Republican vote, the result was a blowout win for Democrat Woodrow Wilson.
And, to borrow a line from the late Lloyd Benson, Sinema is no Teddy Roosevelt.
Nor, for reasons outlined in the first of Marshall's posts highlighted above, is it plausible for Sinema to get the nomination of either of the two major parties. The Democratic primaries are dominated by progressives and the Black caucus, neither of which are enamored of Sinema. And, certainly, a bisexual with a lifetime 100% rating from Planned Parenthood would face long odds in the GOP.
So, honestly, I have no idea what her end game is.