What's Next for Stanley McChrystal?
Is political office in Stan McChrystal's future?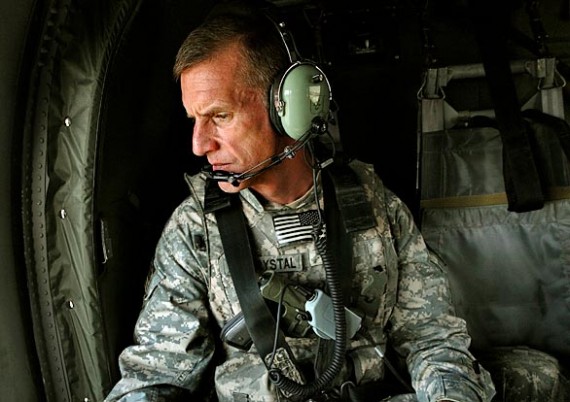 Andrew Malcolm, responding to news that General Stanley McChrystal is retiring from the military (which, frankly, isn't news:  There aren't a lot of four-star billets for guys relieved for cause by the commander-in-chief) speculates that he'll wind up in politics.
Allahpundit speculates McChrystal could eventually set his eye on a Senate seat, maybe in 2014. The Atlantic's Marc Ambinder notes McChrystal is a political liberal who rejected the Navy POW John McCain in 2008 and voted for the cool guy who would fire him.

Hmm. Clearly the aging Biden served his gravitas purpose in 2008 and will not make the 2012 Democrat ticket, finally hanging up his Gaffe-ometer.

So, what about an Obama-McChrystal ticket? The current president did go out of his way to heap praise on the soldier he had just canned. And having a war general as partner would certainly undercut the Republicans' ancient political patent on the national security issue.

But c'mon. That's preposterous — the smooth-talking ex-state senator who still smokes and did drugs before he learned how to salute and the blunt-spoken, killer general who runs seven miles for breakfast and tells it like it is, no matter the cost?

Why, that scenario would be as impossibly unexpected as Obama appointing a bitter political opponent as his secretary of State.
Right . . . . because what better way to send a message that it's unacceptable for officers to publicly belittle the chain of command than firing a guy and then promoting him?  Indeed, replacing the senior guy he was belittling?
We're more likely to see Stan McChrystal Bud Lite Lime ads.