When Compromise Is Impossible
The President Obama lost his cool with Speaker Boehner on debt negotiations is not nearly as important as the underlying reason a deal couldn't be reached.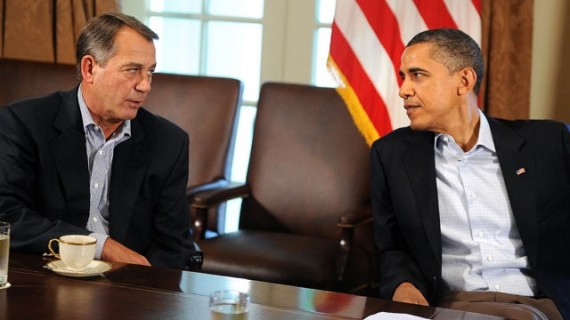 Bob Woodward is once again making news, this time with revelations about President Obama losing his famous cool. But that's not the real story.
ABC News ("Bob Woodward Book: Debt Deal Collapse Led to 'Pure Fury' From President Obama")
An explosive mix of dysfunction, miscommunication, and misunderstandings inside and outside the White House led to the collapse of a historic spending and debt deal that President Obama and House Speaker John Boehner were on the verge of reaching last summer, according to revelations in author Bob Woodward's latest book.

The book, "The Price of Politics," on sale Sept. 11, 2012, shows how close the president and the House speaker were to defying Washington odds and establishing a spending framework that included both new revenues and major changes to long-sacred entitlement programs.

But at a critical juncture, with an agreement tantalizingly close, Obama pressed Boehner for additional taxes as part of a final deal — a miscalculation, in retrospect, given how far the House speaker felt he'd already gone.

The president called three times to speak with Boehner about his latest offer, according to Woodward. But the speaker didn't return the president's phone call for most of an agonizing day, in what Woodward calls a "monumental communications lapse" between two of the most powerful men in the country.

When Boehner finally did call back, he jettisoned the entire deal. Obama lost his famous cool, according to Woodward, with a "flash of pure fury" coming from the president; one staffer in the room said Obama gripped the phone so tightly he thought he would break it.

"He was spewing coals," Boehner told Woodward, in what is described as a borderline "presidential tirade."

"He was pissed…. He wasn't going to get a damn dime more out of me. He knew how far out on a limb I was. But he was hot. It was clear to me that coming to an agreement with him was not going to happen, and that I had to go to Plan B."

[…]

While questions persist about whether any grand bargain reached by the principals could have actually passed in the Tea Party-dominated Congress, Woodward issues a harsh judgment on White House and congressional leaders for failing to act boldly at a moment of crisis. Particular blame falls on the president.

"It was increasingly clear that no one was running Washington. That was trouble for everyone, but especially for Obama," Woodward writes.
Woodward has famously been covering presidential politics for four decades now; I'm flummoxed that he's maintained this level of naivete about the process.
It's certainly true that "no one was running Washington." But that's simple the nature of our system: it's specifically designed to make it next to impossible to get anything done when there's no consensus between the White House and Capitol Hill. Which, of course, there hasn't been since a few weeks after the 9/11 attacks—nearly eleven years ago.
Last summer, the president's party was still stinging from defeat in the midterm elections the previous November. The House was now controlled by not only the opposition party but a wing of it that that were True Believers on low taxes and massively reduced spending. Senate Republicans had enough votes to stop the majority Democrats at every turn as well and were bound and determined to do so.
On the surface of it, then, Obama would seem to have miscalculated by coming back at the eleventh hour demanding yet more tax increases—let alone blowing his stack when he was inevitably turned back. One suspects Bill Clinton would have figured out how to make it work. But, as poisonous as the atmosphere was in 1995, compromise was not yet widely seen as treason by the base of both parties.
Had Obama capitulated and let the deal go through minus the additional cuts, he'd have been excoriated by a progressive coalition already bitter that he wasn't doing enough for their agenda. And, while that might have been a political risk worth taking, it probably wasn't if the White House was skeptical of Boehner's ability to get even that deal through the House.
Similarly, it's hard to blame Boehner, either. He was going to have hard enough a time selling the deal to his caucus with any tax hikes at all. Recall that, months later, not a single Republican presidential candidate allowed that they would take a deal of even 10-t0-1 spending cuts to tax increases. Boehner would have been a fool to agree to a deal that would put his job in peril with no hope of success.
The bottom line, then, is a deal that both sides could live with simply wasn't in the cards. So, they didn't reach a deal.