When Donald Trump Calls, The Chinese And Russians Are Listening In
President Trump's private phone calls are apparently a major source of intelligence for foreign nations.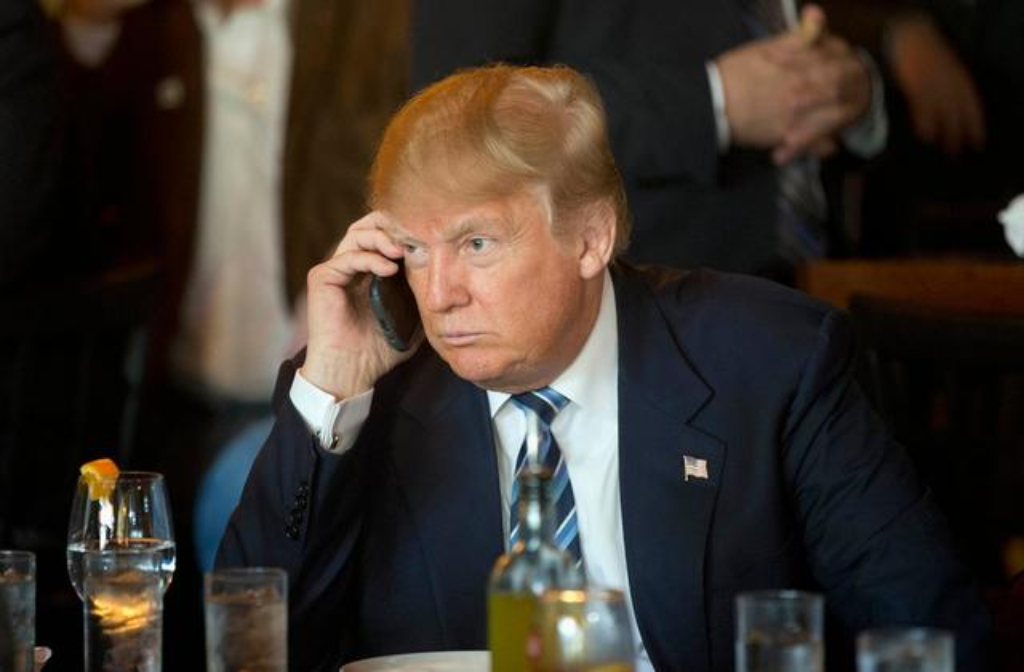 The New York Times is reporting that President Trump's use of an unsecured iPhone to communicate with friends and family is being monitored by the Chinese, Russians, and other foreign nations:
WASHINGTON — When President Trump calls old friends on one of his iPhones to gossip, gripe or solicit their latest take on how he is doing, American intelligence reports indicate that Chinese spies are often listening — and putting to use invaluable insights into how to best work the president and affect administration policy, current and former American officials said.

Mr. Trump's aides have repeatedly warned him that his cellphone calls are not secure, and they have told him that Russian spies are routinely eavesdropping on the calls, as well. But aides say the voluble president, who has been pressured into using his secure White House landline more often these days, has still refused to give up his iPhones. White House officials say they can only hope he refrains from discussing classified information when he is on them.

Mr. Trump's use of his iPhones was detailed by several current and former officials, who spoke on the condition of anonymity so they could discuss classified intelligence and sensitive security arrangements. The officials said they were doing so not to undermine Mr. Trump, but out of frustration with what they considered the president's casual approach to electronic security.

American spy agencies, the officials said, had learned that China and Russia were eavesdropping on the president's cellphone calls from human sources inside foreign governments and intercepting communications between foreign officials.

The officials said they have also determined that China is seeking to use what it is learning from the calls — how Mr. Trump thinks, what arguments tend to sway him and to whom he is inclined to listen — to keep a trade war with the United States from escalating further. In what amounts to a marriage of lobbying and espionage, the Chinese have pieced together a list of the people with whom Mr. Trump regularly speaks in hopes of using them to influence the president, the officials said.

Among those on the list are Stephen A. Schwarzman, the Blackstone Group chief executive who has endowed a master's program at Tsinghua University in Beijing, and Steve Wynn, the former Las Vegas casino magnate who used to own a lucrative property in Macau.

The Chinese have identified friends of both men and others among the president's regulars, and are now relying on Chinese businessmen and others with ties to Beijing to feed arguments to the friends of the Trump friends. The strategy is that those people will pass on what they are hearing, and that Beijing's views will eventually be delivered to the president by trusted voices, the officials said. They added that the Trump friends were most likely unaware of any Chinese effort.

L. Lin Wood, a lawyer for Mr. Wynn, said his client was retired and had no comment. A spokeswoman for Blackstone, Christine Anderson, declined to comment on Chinese efforts to influence Mr. Schwarzman, but said that he "has been happy to serve as an intermediary on certain critical matters between the two countries at the request of both heads of state."

Russia is not believed to be running as sophisticated an influence effort as China because of Mr. Trump's apparent affinity for President Vladimir V. Putin, a former official said.

China's effort is a 21st-century version of what officials there have been doing for many decades, which is trying to influence American leaders by cultivating an informal network of prominent businesspeople and academics who can be sold on ideas and policy prescriptions and then carry them to the White House. The difference now is that China, through its eavesdropping on Mr. Trump's calls, has a far clearer idea of who carries the most influence with the president, and what arguments tend to work.

The Chinese and the Russians "would look for any little thing — how easily was he talked out of something, what was the argument that was used," said John Sipher, a 28-year veteran of the Central Intelligence Agency who served in Moscow in the 1990s and later ran the agency's Russia program.

(…)

Officials said the president has two official iPhones that have been altered by the National Security Agency to limit their abilities — and vulnerabilities — and a third personal phone that is no different from hundreds of millions of iPhones in use around the world. Mr. Trump keeps the personal phone, White House officials said, because unlike his other two phones, he can store his contacts in it.

Apple declined to comment on the president's iPhones. None of them are completely secure and are vulnerable to hackers who could remotely break into the phones themselves.

But the calls made from the phones are intercepted as they travel through the cell towers, cables and switches that make up national and international cellphone networks. Calls made from any cellphone — iPhone, Android, an old-school Samsung flip phone — are vulnerable.

The issue of secure communications is fraught for Mr. Trump. As a presidential candidate, he regularly attacked his Democratic opponent, Hillary Clinton, during the 2016 campaign for her use of an unsecured email server while she was secretary of state, and he basked in chants of "lock her up" at his rallies.

Intercepting calls is a relatively easy skill for governments. American intelligence agencies consider it an essential tool of spycraft, and they routinely try to tap the phones of important foreign leaders. In a diplomatic blowup during the Obama administration, documents leaked by Edward J. Snowden, a former contractor for the National Security Agency, showed that the American government had tapped the phone of Chancellor Angela Merkel of Germany.

Foreign governments are well aware of the risk, and so leaders like Mr. Xi and Mr. Putin avoid using cellphones when possible.
For his part, the President is denying the report:
President Trump on Thursday denied a report that he often calls friends to gripe or solicit advice on his unsecure iPhones, allowing Chines spies to listen in and gain valuable insights into how to deal with the U.S. administration.

"The so-called experts on Trump over at the New York Times wrote a long and boring article on my cellphone usage that is so incorrect I do not have time here to correct it," Trump said in a predawn tweet. "I only use Government Phones, and have only one seldom used government cell phone. Story is soooo wrong!"

The Times reported that Trump's aides have repeatedly warned him that his cellphone calls are not secure, and they have told him that Russian spies are also routinely eavesdropping on the calls. The Times said that American intelligence reports have indicated that Chinese spies are listening.

A Chinese official also denied the Times report, dismissing it as "fake news."
Here's the President's Tweet:
The so-called experts on Trump over at the New York Times wrote a long and boring article on my cellphone usage that is so incorrect I do not have time here to correct it. I only use Government Phones, and have only one seldom used government cell phone. Story is soooo wrong!

— Donald J. Trump (@realDonaldTrump) October 25, 2018
The Chinese and, meanwhile, are mocking the report:
BEIJING — China on Thursday ridiculed but did not exactly deny an article in The New York Times detailing how Chinese intelligence agents eavesdropped on cellphone conversations President Trump had with friends in hopes of gaining insights into the administration's policies.

A spokeswoman for China's Ministry of Foreign Affairs, Hua Chunying, suggested that "some people in the United States" were competing for "the Academy Award for Best Original Screenplay," and even used a familiar Trump trope, warning the newspaper that it risked being called "fake news."

She went on to warn that the most secure way to avoid telephone intercepts was not to use "any modern communication devices."

Almost certainly prepared for questions about the matter, Ms. Hua seemed to be enjoying the opportunity to discuss the article's details. She even offered a plug for a Chinese competitor of the iPhones that Mr. Trump favors — to the apparent dismay of his security advisers.

"If they are very worried about iPhones being tapped, they can use Huawei," she said, referring to the telecommunications giant that has itself raised security concerns in the United States as potentially vulnerable to Chinese intelligence agencies.

In Russia, the Kremlin's spokesman, Dmitri S. Peskov, responded similarly, treating the article with humor while not denying it.

"The newspaper probably has some detailed information on this subject that can be a justification for publishing such information," he said, according to Ria Novosti.
Trump isn't the first President in the smartphone era, of course, but he is the first who appears to be sidestepping the urges of his security advisers and continuing to use unsecured phones for personal calls and, perhaps, texting, although that has not been confirmed. When former President Obama entered office in 2009, of course, he already had a reputation of being inseparable from his Blackberry phone, which was still considered a state of the art device at the time. In public comments, he expressed regret at the fact he was being told that he could no longer be as free with his smartphone used as he had been as a civilian and as a candidate for office. As a result, during his first term, Obama gave up his private phone for a specially designed Blackberry that had been changed by intelligence engineers to make it secure, something that largely limited its use to making phone calls and even then only from a pre-approved list of friends and family. In his second term, Obama traded in the NSA-modified Blackberry for a modified iPhone that lacked the ability to download apps, did not have a camera or microphone, could not be used to send text messages, and from which he could make phone calls and send and receive email from only a select group of people.
Trump has been different when it comes to phone use. While the President apparently did agree to give up the Android-based device he had been using as a businessman and Presidential candidate in favor. He also apparently has two separate phones, one that he uses for Twitter and one that he uses for phone calls. Both phones are iPhones, but apparently only one of them is fully secured, and it is the unsecured iPhone that the President uses to make after-hours calls to longtime friends as well as to certain media figures such as Fox News Channel host Sean Hannity and others known to have the ear of the President, such as those referenced in the article excerpted above. This is obviously a potential point of vulnerability since it gives foreign nations, both friend and foe alike, the potential ability to listen in to Presidential phone calls that they otherwise would not be able to gain access to if the calls were being made through the secured White House phone system.
The intelligence advantages of being able to have access to this kind of information seem obvious. Even if Trump is careful not to discuss classified information on the unsecured phone, listening in on the conversations potentially gives adversarial, and friendly, countries access to information they otherwise would not have. First, it gives them access to the identity of people outside the White House that the President is talking to and seeking advice from outside of his White House staff. As noted, in Trump's case this includes people who already have extensive business dealings in China and extensive contacts with Chinese government officials. This raises the possibility that foreign powers could seek to influence the President's thinking by influencing the people he talks to. Second, being able to listen in to Presidential phone calls, even if it doesn't reveal classified information, is a potentially valuable tool for foreign nations to understand the leader of the United States. Just as with his Twitter feed, access to such calls provides foreign nations with access to information about the President's psychology and his way of thinking, giving them tools that can potentially be used to manipulate the President, or used by their own leaders in their interactions with the President.
Ideally, of course, the President would listen to his advisers and only communicate using secure devices. As we've learned in so many other ways, though, this President doesn't really listen to anyone.