When Government Hands You Lemons
According to health inspectors in Portland, Oregon, this little girl is potentially a threat to your health and safety.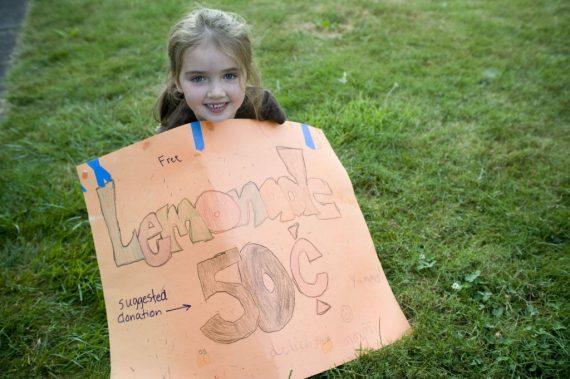 Late last month a seven year old girl in Portland, Oregon got a lesson in what it means to encounter a petty bureaucrat:
It's hardly unusual to hear small-business owners gripe about licensing requirements or complain that heavy-handed regulations are driving them into the red.

So when Multnomah County shut down an enterprise last week for operating without a license, you might just sigh and say, there they go again.

Except this entrepreneur was a 7-year-old named Julie Murphy. Her business was a lemonade stand at the Last Thursday monthly art fair in Northeast Portland. The government regulation she violated? Failing to get a $120 temporary restaurant license.

Turns out that kids' lemonade stands — those constants of summertime — are supposed to get a permit in Oregon, particularly at big events that happen to be patrolled regularly by county health inspectors.

"I understand the reason behind what they're doing and it's a neighborhood event, and they're trying to generate revenue," said Jon Kawaguchi, environmental health supervisor for the Multnomah County Health Department. "But we still need to put the public's health first."

(…)

Technically, any lemonade stand — even one on your front lawn — must be licensed under state law, said Eric Pippert, the food-borne illness prevention program manager for the state's public health division. But county inspectors are unlikely to go after kids selling lemonade on their front lawn unless, he conceded, their front lawn happens to be on Alberta Street during Last Thursday.

"When you go to a public event and set up shop, you're suddenly engaging in commerce," he said. "The fact that you're small-scale I don't think is relevant."

Kawaguchi, who oversees the two county inspectors involved, said they must be fair and consistent in their monitoring, no matter the age of the person. "Our role is to protect the public," he said.
Yes, because seven year old girls are a well known threat to the health and safety of the public.
I understand the need for health inspectors, especially at large public events like this apparently was, but there's such a thing as common sense and discretion, even among government bureaucrats. When you see a little girl with her Mom selling lemonade and Kool-Aid, the proper response isn't "Where's your permit ? ", it's "Yes, I'll take two."
This isn't the first time something like this has happened over the past few years. A quick Google search reveals similar incidents over the past few years in Massachusetts and California. It isn't a big problem, obviously, but it is an indication of bureaucrats applying rules that give them broad discretion without using the slightest degree of common sense. If this is how they treat seven year olds, one wonders how they treat adults.
There is good news in Portland, though, cooler heads have prevailed and it seems the lemonade stand has won:
No need to jack up the price of a glass of lemonade. Turns out kids won't have to shell out $120 for a health permit to run their lemonade stands after all.

Multnomah County's top elected official apologized Thursday for health inspectors who forced a 7-year-old girl to shut down her stand last week because she didn't have a food-safety permit.

Chairman Jeff Cogen also said he has directed county health department workers to use "professional discretion" in doing their jobs.

(…)

Cogen said the inspectors were "following the rule book," but should consider that food-safety laws are aimed at adults engaged in a professional food business, not kids running lemonade stands.

"A lemonade stand is a classic, iconic American kid thing to do," he said. "I don't want to be in the business of shutting that down."
Gee, do ya think ?