When Is Obama Going To Fire Somebody?
It is clear the President has been failed by those under him. So, when is someone going to pay the price?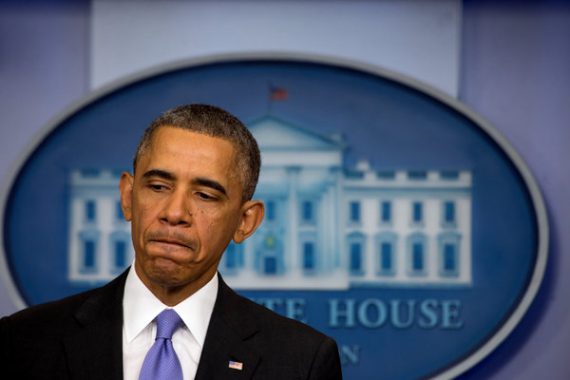 Perhaps the most interesting part of yesterday's press conference at which President Obama announced his "administrative fix" to the Affordable Care Act, came during this segment with CBS News Chief White House Correspondent Major Garrett:
MAJOR GARRETT, CBS NEWS: Thank you, Mr. President. You say, while the law was being debated, if you like your plan you can keep it. You said, after the law was implemented or signed, if you like your plan you can keep it. Americans believed you, sir, when you said that to them over and over.

Do you not believe, sir, the American people deserve a deeper, more transparent accountability from you as to why you said that over and over when your own statistics published in the Federal Register alerted your policy staff — and, I presume, you — to the fact that millions of Americans would in fact probably fall into the very gap you're trying to administratively fix now? That's one question.

Second question. (Laughter.) You were informed or several people in this building were informed two weeks before the launch of the website that it was failing the most basic tests internally; and yet a decision was made to launch the website on October 1st. Did you, sir, make that test (sic)? And if so, did you regret that?

PRESIDENT OBAMA: OK. On the website, I was not informed directly that the website would not be working as — the way it was supposed to. Has I been informed, I wouldn't be going out saying, boy, this is going to be great. You know, I'm accused of a lot of things, but I don't think I'm stupid enough to go around saying, this is going to be like shopping on Amazon or Travelocity, a week before the website opens, if I thought that it wasn't going to work.

So, clearly, we and I did not have enough awareness about the problems in the website. Even a week into it, the thinking was that these were some glitches that would be fixed with patches, as opposed to some broader systemic problems that took much longer to fix and we're still working on them.

So you know, that doesn't excuse the fact that they just don't work, but I think it's fair to say, no, Major, we — we would not have rolled out something knowing very well that it wasn't going to work the way it was supposed to, given all the scrutiny that we knew was going to be on — on the website.
There are a couple things that stand out here. The most obvious, of course, is the President's assertion that he was never informed that there were potential problems with the website before it was scheduled to go live on October 1st. This is something that I take the President at his word for because, as he put it, it's simply not conceivable that he would be going around up to two weeks prior to the roll out date talking about how easy the website was going to be to use if he had any real indication that there could be problems with the site. It's the kind of a lie that would just be stupid on his part and, whatever one thinks about Barack Obama, he is clearly not a stupid man who would deliberately go talking up a potentially defective website while at the same time not making sure that his subordinates were doing everything they could to fix the potential problems that he was aware of. What that suggests, then, is that he really wasn't aware that the Federal Exchange website was in danger of being a massive failure that would be politically damaging to his Administration.
So, that leaves us with a question. Namely, what exactly did the people responsible for this part of the program know prior to the October 1st roll out?
While evidence in this regard remains limited in that regard because both the Administration and the contractors responsible for building the site are remaining very tight lipped, there's at least some evidence that there were indications that the site would not be ready by the October 1st deadline. Two weeks ago, for example, CNN reported that Administration officials did receive warnings from CGI, the main contractor responsible for building the site, that the Federal website was not ready to go live. There were also reports that last minute changes that were required by the Center for Medicare and Medicaid Services, the Dept. of Health and Human Services office responsible for administering the PPACA, made the site less stable and that contractors complained that they were not being given sufficient time to conduct the kind of load testing that one would normally conduct on a website of this type prior to the roll out date. This week, we learned of emails from as early as July that expressed similar concerns that don't seem to have been followed up on.  Obviously, if the website is a bust then a considerable amount of the blame for that rests on the shoulders of the contractors that were hired to do the job. However, those contractors act under the supervision of people appointed by the President, and ultimately the President himself. So, while we're likely to see legal claims asserted by the Federal Government against CGI and the other contractors, the ultimate responsibility for this as a political matter rests with the President and his team.
To his credit, the President acknowledged this fact repeatedly during yesterday's press conference, but that's really only the beginning of solving his political problems. Clearly, the President has been failed by the people underneath him significantly. Either they were aware of potential problems with the website and they both didn't tell him about it and the led him to believe that everything was going to work fine, their supervision of the project was so deficient that they had no idea that there were going to be problems, or they had no real idea how to properly supervise a project of this scope. Whichever one it is, it was a failure on their part. Ordinarily, when something like this happens in an Administration you start seeing heads roll, but there's absolutely no indication of that happening in this case at this point. Instead, the Administration seems to be standing resolutely by people such as Marilyn Tavenner, the head of CMS, and Kathleen Sebelius, the Secretary of Health of Human Services. This despite the fact that either one of these people would logically be the person most directly responsible for what either was a case of not informing the President of things he clearly ought to have known, or one of the more incompetent cases of project management the Federal Government has seen in quite some time. Additionally, one can point some blame at people in the White House Staff who either weren't keeping themselves well enough informed of the status of Healthcare.gov, or were similarly keeping the President in the dark about potential problems. In either case, we seems to be getting to the point where the only way the President is going to start righting the ship is if he starts reshuffling a staff that has quite clearly failed him.
So, when does that start?