Where Are The Rational People In The Debt Ceiling Debate?
The participants in the debt negotiations are being led by constituencies that have little interest in compromise.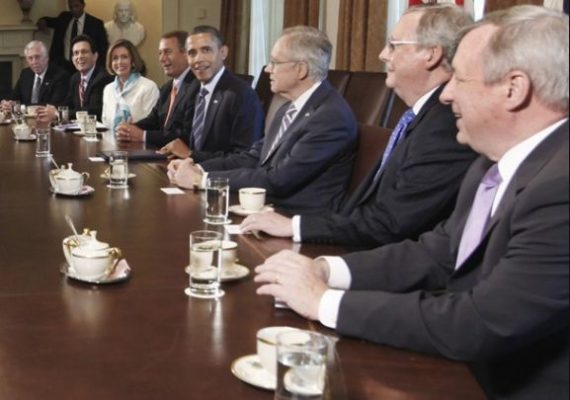 In a column out today at National Journal, Charlie Cook comes up with the best explanation I've seen so far for why the debt ceiling negotiations are floundering:
Republican members of Congress and presidential candidates are hearing almost exclusively from tea party activists and other vocal conservatives, who are saying, "Don't do anything that would raise taxes or even close tax loopholes." Democratic lawmakers are hearing from activists on the Left and their own constituencies, who are saying, "Any reduction of any kind in Social Security, Medicare, or Medicaid would be absolutely unacceptable."

The bases on both sides view any deviation or compromise as blasphemy. The astute veteran political columnist Mark Shields likes to say that he would rather belong to a church that is seeking converts than one intent on driving out heretics. But that's not the approach that many rank-and-file Republicans and Democrats in Congress are taking these days.
This observation comes on the same day that The Washington Post reports that the partisan divide over the debt ceiling has deepened over the past couple days:
Talks between President Obama and congressional Republicans grew increasingly contentious on Monday, as GOP leaders flatly rejected his call to raise taxes on the wealthy as part of a bipartisan agreement to restrain the nation's mounting debt.

Dueling news conferences by Obama and House Speaker John A. Boehner (R-Ohio) served as a testy prelude to an afternoon bargaining session that only emphasized the partisan divide, according to people on both sides with knowledge of the closed-door discussions.

During the meeting, Obama challenged Boehner to buck the anti-tax hard-liners in his party, who, the president suggested, are blocking the path to a landmark compromise to reduce borrowing by as much as $4 trillion over the next decade. Boehner and House Majority Leader Eric Cantor (R-Va.) responded by urging Democrats to settle for a more modest reductions-only deal that would save $2.4 trillion but would not touch tax breaks for the nation's richest households.

(…)

At a White House news conference hours earlier, a clearly exasperated Obama said he has "bent over backward" to meet Republican demands for sharp cuts in government spending, citing his offer to trim Social Security and Medicare benefits — an offer that has drawn howls from liberal Democrats. That offer included raising the Medicare eligibility age, said the official, who spoke on the condition of anonymity to discuss the talks.

Unless Republicans are willing to make the same ideological concession on taxes, Obama said, "I do not see a path to a deal."

"We keep on talking about this stuff and we have these high-minded pronouncements about how we've got to get control of the deficit and how we owe it to our children and our grandchildren. Well, let's step up. Let's do it," Obama said. "I'm prepared to take significant heat from my party to get something done. And I expect the other side should be willing to do the same thing."

Republicans fired back that they already are taking plenty of heat for considering an increase in the legal limit on the debt, which stands at a record $14.3 trillion. In a sign of deepening tensions, Boehner suggested that the only concession Obama should expect from Republicans is a vote to allow the Treasury to continue borrowing.

"Most Americans would say that a 'balanced' approach is a simple one: The administration gets its debt-limit increase, and the American people get their spending cuts and their reforms," Boehner told reporters at a news conference before heading to the White House. "Adding tax increases to the equation doesn't balance anything."

Obama and Boehner took pains to express their admiration for each other, but the prickly rhetoric suggested that hope has faded for a far-reaching $4 trillion agreement. After a friendly game of golf and three weeks of secret talks, the two had hoped to forge a historic deal to tackle the biggest drivers of the debt, including health-care and retirement programs, military spending and an inefficient tax code.
However, when one reads the accounts of what occurred at yesterday's meeting, it seems as though it isn't really a conflict between Boehner and Obama that's driving this right now:
Boehner hardly said a word in the meeting. His stance seems to be: if Cantor didn't like the grand bargain, he's welcome to negotiate one on his own. Republicans left the meeting noticeably subdued. Few had anything they wanted to say about it. And Cantor may have just jumped from the frying pan of Biden's debt talks and into the fire of Obama's. He has little experience hammering out legislative deals — particularly at this level. He wanted a smaller deal, and now Boehner's sitting back and watching silently as Cantor flounders. A deal without at least some symbolic revenue increases, even if they're offset with an Alternative Minimum Tax or another fix, cannot pass the Senate. Cantor is quickly learning that the purism that plays with the freshmen doesn't work in the Oval Office. It will be interesting to see how long he lasts as the loudest negotiator, especially if the markets start to freak out. The Dow dropped nearly 200 points on Monday. Give it a week and we'll be near TARP levels of panic.
There are other reports of tension between Cantor and Boehner, and when Cantor walked out of the Biden debt talks last month, there was some speculation that what he was really doing was throwing the negotiations to Boehner in order to force him to make the deal. The thing to keep in mind is that, although he's been in Congress himself since 2001, Cantor is much closer to the GOP base and the Tea Party than Boehner is. Boehner has been around since 1985 and is much more comfortable with the dealmaking side of Congressional business than Cantor. In essence, then Cantor represents the base that Cook speaks of above and its his intransigence that is driving the GOP debate right now and it was reportedly his objections that were responsible for Boehner rejecting the "grand bargain" that he and President Obama had been discussing this past weekend. Based on the excerpt above, one could theorize that Boehner is giving Cantor some rope right now and waiting for him to hang himself so that he can step in finish the deal that he and the President had been talking about.
House Democrats, meanwhile, are engaging in their own intransigence with their insistence that neither Medicare or Social Security cuts be part of any deal to raise the debt ceiling.
Cook's hypothesis that both sides in the negotiations are being driven primarily by their respective bases strikes me as largely accurate, and it provides a good answer to the questions raised by Robert Samuelson and my c0-blogger Steven Taylor about why the negotiations don't seem to be getting anywhere. Republicans, especially in the House, are beholden to the "no tax increases" meme pushed by people like Grover Norquist, while Democrats are refusing to budge on anything that they can characterize as a "benefit" cut to Medicare, which happens to be one of the biggest line items on the Federal Budge and one which must be brought under control if we are ever to return to fiscal sanity.  More importantly, the fact that they are being driven by the base gives them the incentive to remain intransigent and engage in hyperbolic rhetoric about what the other side is proposing.
A deal will be made when the adults in the room finally take over and tell the base on both sides that they're going to have to accept the fact that, in an era of divided government, they're not going to get everything they want, and they're going  to have to give in on something. Boehner pushing Cantor to the forefront of negotiations could be part of a strategy to bring that moment about, we'll see. As the next few days unfold, however, remember one thing — most of what you're hearing in public statements from both sides is posturing for the sake of the base, or a desire not to be seen as weak. What matters is what's happening once the doors closed, and if the people in the room can figure out a way to deal with this issue rationally then we may just avoid a fiscal crisis that makes us look like history's most technologically advanced Banana Republic.
Photo via The Washington Post