Where In The World Is Kim Jong Un?
The mystery continues.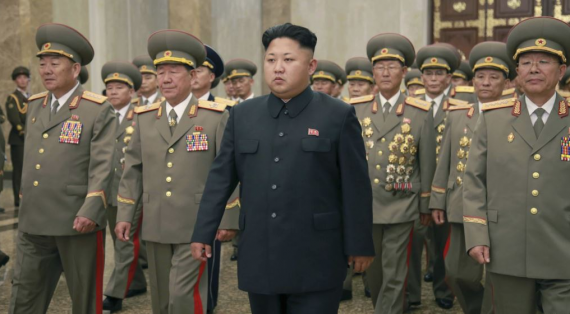 The mystery surrounding the whereabouts of North Korean dictator Kim Jong-Un continues to deepen now that he has missed what is widely considered one of the most important national days on the regime's calender:
SEOUL, South Korea — North Korea's leader,Kim Jong-un, who has been absent from public view for more than a month, skipped an important annual ritual on Friday, a development likely to fuel further speculation about whether he has lost his grip on power.

The state news media hinted Friday that he might be ill though still in charge, lending support to one of the many theories swirling among analysts, the media and others who closely watch the nuclear-armed and notoriously opaque nation. Friday was the anniversary of the founding of the governing Worker's Party and he ordinarily would have been expected to visit the mausoleum where his grandfather — the country's founder — and his father lie in state.

(…)

he recent flurry of rumors over Mr. Kim's whereabouts were fueled in part by footage showing him limping. But because there is often political intrigue in North Korea, much of the speculation has centered on whether he lost out in a power struggle to disgruntled generals or other elites. Officials and analysts in South Korea and the United States have so far cast doubt on that theory, since there have been no signs of unrest or unusual troop movements in the North.

The White House said Friday that rumors of a military coup in North Korea appear to be "false," the South Korean news agency Yonhap reported.

Mr. Kim in the past has celebrated the anniversary of the Workers' Party by paying a visit to the Kumsusan mausoleum. But on Friday, the North's state-run Korean Central News Agency did not list Mr. Kim among the top officials who had paid tribute at the site, one of the most sacred places in a country that is ruled with a personality cult surrounding the Kim family.

lthough the North Korean news media did not call attention to Mr. Kim's absence, the country's main state-run newspaper, Rodong Sinmun, suggested that he was ill. It carried an article saying that pro-North Korean figures from abroad had sent Mr. Kim baskets of flowers for the anniversary and that ribbons attached to the flowers "wished for Marshal Kim Jong-un's good health."

Cheong Seong-chang, an analyst at the Sejong Institute research group in South Korea, said it was highly unusual for such ribbons to mention Mr. Kim's health, rather than congratulating him on the party anniversary.

"Given that the ribbons carried exactly the same message, it was clear that the message was dictated by the party," said Mr. Cheong. "Unlike his father, who used to keep his health problems secret, he is letting his people know so that he can win sympathy from them."

When the North's state-run Korean Central Television confirmed late last month that Mr. Kim was "not feeling well" and showed him limping during a visit to a factory in August, it cited that as an example of his hard-working style.
The fact that the media and the party continue to reference Kim and treat him as if he is in charge suggests that the rumors of a coup, or that he had otherwise been replaced as sole leader of the country, are not true. Of course, the other possibility is that the media is doing this to keep up appearance domestically and internationally and that there is much more going on behind the scenes. It could be political, with Kim engaged in some kind of power struggle with other forces, most likely in the military, or it could be that Kim is indeed sick, so sick that he's unable even to appear in public for nearly the past two months. As with all things North Korea, though, what's really going on is shrouded in mystery and propaganda, and the truth will likely only be revealed when there's some need for it to be announced. Either Kim returns to power, and a more public face, or eventually we may wake up to the news that someone else is in charge in Pyongyang.
Of course, there is another alternative. Neither Kim's father nor his grandfather were known to be people who appeared in public on a regular basis. Instead, their appearances were always carefully choreographed and what the North Korean public, and the world, saw was usually obviously staged and, in some cases, obviously photoshopped. Indeed, the practice of altering photographs is something that has continued under the younger Kim, although the efforts are sometimes so amateurish that one wonders if the domestic audience that they are meant for even believes them.  The point, though, is that the government controlled media could continue with the illusion that nothing is wrong and even enhance it with staged photos of the leader to make it appear as if he's in charge. It's a bit harder, obviously, to make those kind of alterations to video, which is obviously problematic for a propaganda machine in this day and age. Nonetheless, it's entirely possible that the North Korean regime could keep up the illusion that Kim Jong Un is in charge for quite some time even though he isn't.