Where Is Transnistria?
The future may hold a lot of vehement arguing over insignificant bits of territory.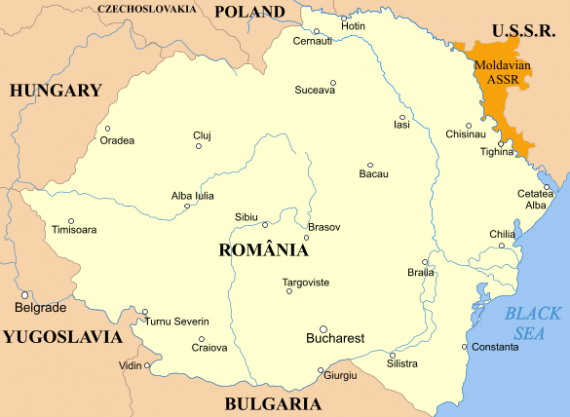 As Russian troops reportedly mass on the border with Ukraine and in the interest of subject enrichment, I thought it might be worthwhile to talk about Transnistria a little. In the map above (of Romania and the Moldovian ASSR) Transnistria is a fraction of the little tail part in the south of the dark orange Moldovian ASSR. It's about 4,000 square kilometers in size, roughly the size of Cook County. That map is historic: it was only good from 1924 to 1940 but I use it to give some perspective on the matter.
Transnistria or Pridnestrovie as it's known in Russian (the name means roughly "that place on the banks of the Dniester") is, along with Nagorno-Karabakh, Abkhazia, and South Ossetia, what's referred to as a "breakaway state". They have their own little club called the "Community for Democracy and Rights of Nations". When the Soviet Union collapsed, Transnistria refused to federate with Moldova and became a nominally sovereign state on its own.
About a half million people people live there, many of them ethnic Russians. Many Transnistrians have double or even triple citizenship (Moldovan, Russian, Ukrainian) and that doesn't even include Transnistrian citizenship.
Other than, perhaps, the Russians nobody recognizes Transnistria's independence. There's a contingent of Russian military stationed there. It has a good deal of emotional significance for the Russians but not much strategic, economic, or, frankly, any other kind of significance for them.
The reason I bring up Transnistria is that, after eastern Ukraine, if Putin is, indeed, expansion-minded Transnistria is a very likely next move. Like Crimea its population is mostly Russian and Russians, essentially, consider it rightfully theirs. Unlike Crimea it's not really that important.
Update
Here's an even better map of where Transnistria is:
As you can see it's a small strip of land sandwiched between Ukraine and Moldova.