Which State Has The Worst Elections?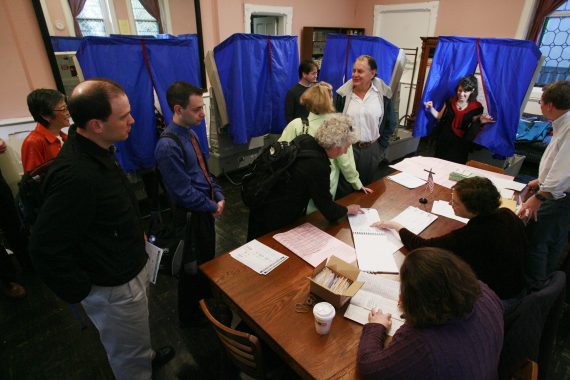 A new study ranks the 50 states based upon how well their election system functions:
How did each state's election apparatus perform in the 2012 election? Better than 2008 but still not all that well, according to the annual study, conducted by the Pew Charitable Trusts, of state-by-state elections.

"Overall, 40 states and the District improved their scores in the 2012 election, compared with 2008," reads the report. "The scores of 21 states and the District rose at a rate greater than the national average, 19 states' averages improved but didn't keep pace with the national average, and 10 states' performance declined. The District improved the most — 20 points — from 2008 to 2012 but still remained among the lower performers."

(…)

North Dakota is the shining star of election performance, with an 86 percent score in 2012 and an 84 percent score in 2008.  Mississippi brings up the rear again with a 44 percent score in 2012 and a 40 percent rating in 2008. Alabama was the only other state to come close to Mississippi's poor performance with a 56 percent score in 2012 — although the the Yellowhammer State deserves some credit since its score was a lowly 42 percent in 2008.

Of the 22 states whose EPI score ranked below the national average in 2012, 16 were carried by Mitt Romney in 2012. Of the 17 states whose EPI was below the national average in 2008 and 2012, 16 were carried by Romney in the last presidential election. (California was the lone two-time low performer won by President Obama.)
Perhaps most problematic is the fact that the most populous states seem to fall so far down the list as this chart demonstrates.  The larger the circle, the larger the states population: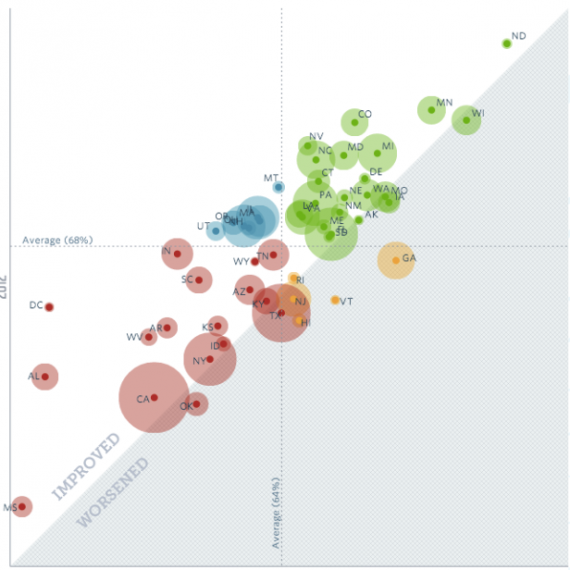 Nearly all of the states with large populations fell below the national average, and many of them saw their performance worsen in 2012 as compared to 2012.  Given the fact that we are supposedly one of the most advanced nations on the planet, the fact that we seem to have so much trouble conducting elections, and show so little willingness to fix what is so obviously broken, is really quite frustrating.