White House: Federal Exchange Website Won't Be Ready By December 1st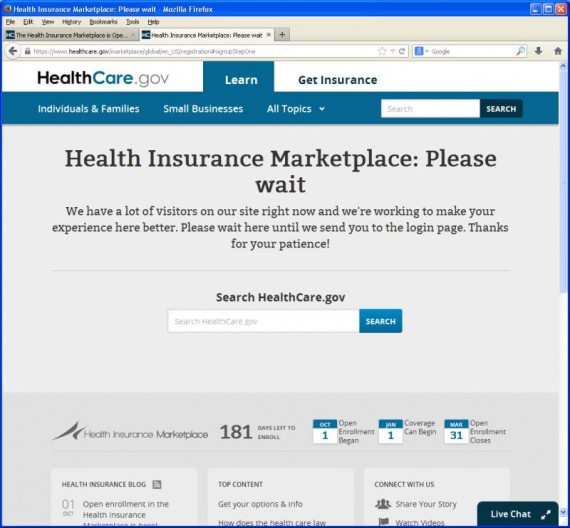 The White House is using the opportunity of a slow news week when many people are already beginning their Thanksgiving holiday to announce that they Federal Obamacare Exchange won't be completely ready by November 30th as previously promised:
Obama administration officials said Monday that some visitors to HealthCare.gov will experience outages, slow response times or try-again-later messages in December.

The Centers for Medicare and Medicaid Services (CMS) delivered the message in the latest attempt to downplay expectations for Nov. 30, the administration's self-imposed deadline for fixing ObamaCare's federal enrollment site.

CMS spokeswoman Julie Bataille said errors that persist past this weekend would be "intermittent" and, in line with a promise made by the White House, would not affect the vast majority of the site's users.

But Bataille acknowledged that some would still experience "periods of suboptimal performance" by the system due to either heavy traffic or technical issues that are still being addressed.

"The system will not work perfectly on Dec. 1, but it will work much better than it did in October," Bataille said.

The comments came after HealthCare.gov experienced an unscheduled outage on Monday for one hour. The CMS had recently touted the site for not randomly crashing. Bataille said the problem was remedied quickly by the site's tech team.

Administration officials are facing a challenge in how to describe the system's status.

It's clear from user reports that HealthCare.gov has improved substantially in the last month, and the administration is eager to tout their progress amid anecdotes about persistent errors.

But the site is still far from perfect and could remain problematic on and off for the foreseeable future.

The White House said Monday the repair effort is "on track" to meet the Saturday deadline thanks to steady technical improvements.

Seeking to strike a balance, spokesman Josh Earnest said the site remains a "work in progress" but touted metrics showing that its error rate and page load times are now far below where they started.
The big test, of course, is likely to come next week after people are back from Thanksgiving break and begin trying to access the website ahead of the December 15th deadline for coverage that would start on January 1st.  If things go smoothly, then perhaps they'll be able to weather the criticism. If, however, there is another round of reports similar to those we saw early in October, then it's going to be another political firestorm for an Administration, and a health care law, that has already spent almost two months under fire for what everyone agrees has been an abysmal roll out in nearly all respects.