White House: Possible Military Strikes Not Aimed At Regime Change In Syria
The White House confirmed today that the goal of any military intervention in Syria would be very limited. Which makes one wonder what the point of doing anything actually is.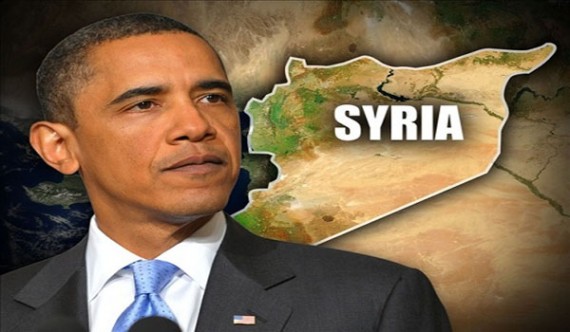 As some form of military action against Syria seems to become more likely by the hour, the White House is making clear that its goals are very limited:
The White House said Tuesday that President Obama is not seeking "regime change" in Syria from any military strikes launched in response to President Bashar Assad's alleged use of chemical weapons.

"The options we are considering are not about regime change," White House press secretary Jay Carney said. "That is not what we are contemplating here."

The White House spokesman said that the administration was instead simply weighing a reaction to the violation of "an international standard" barring the use of chemical weapons.

"It is not our policy to respond to this transgression with regime change," he said.

The comments by Carney came as the White House attempts to decouple the response to last week's chemical attack in the Damascus suburbs from broader support for the rebel forces challenging Assad in Syria.

While the United States has repeatedly said that Assad would and must fall from power, the Obama administration has also said that transition needs to come internally. Carney reiterated on Tuesday that there was "no military solution to the conflict in Syria," giving credence to reports that a U.S. military response would be limited in scope.

"We are very engaged in the process of pursuing a political resolution to this conflict," Carney said. "We have stated it for a long time, that there is no military solution available here, that the way to bring about a better future in Syria is through negotiation and a political resolution."

Still, Carney said that "there must be a response" to the rocket attack in the suburbs of Damascus last week. Rebel groups on the ground have estimated that more than 1,000 Syrians died in the chemical weapon attack.
Statements like this make clear that we're not likely to see a broad ranging attack against Syria. Instead, we're likely to see the kind of limited strikes that James Joyner wrote about this morning, targeting chemical weapons depots and military facilities involved in the transportation and delivery of such weapons. Of course, it's quite probable that the Syrians will have done everything they can before any such attacks occur to try to protect their stockpiles, or move them to other locations in the hope that the U.S. won't be able to detect the transfer in time. In any case, even if such strikes do succeed in causing damage to Assad's chemical weapons stocks, it doesn't seem likely that they're going to do much of anything to alter the balance of forces on the ground in the civil war.
All of which leads one to ask, what, exactly, is the point of these strikes? And, if we stood by and did nothing while Syria descended into chaos over the past two years, why must our policy change now merely because chemical weapons have been used? Quite honestly, I don't see the justification.