White House Pushing Congress To Revisit Failed Effort To Repeal And Replace Obamacare
Faced with the fact that it has little to show for its first 100 days in office, the Trump Administration is pressuring Congress to come up with a new health care reform bill before the end of next week.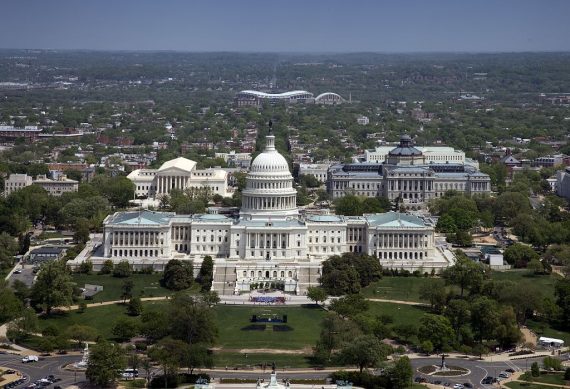 Less than a month after seeing the American Health Care Act die in the House, the White House is pressuring Republicans in Congress to pass a new health care bill to repeal and replace the Affordable Care Act, preferably before the expiration of the Presidents first 100 days in office:
President Trump is pushing Congress toward another dramatic showdown over the Affordable Care Act, despite big outstanding obstacles to a beleaguered revision plan and a high-stakes deadline next week to keep the government running.

The fresh pressure from the White House to pass a revision was met with skepticism by some Capitol Hill Republicans and their aides, who were recently humiliated when their bill failed to reach the House floor for a vote and who worry now that little has changed to suggest a new revision would fare any better.

The effort reflects Trump's sense of urgency to score a victory on Obamacare replacement and move on to other legislative objectives, notably tax restructuring. Passing an Affordable Care Act revision would also allow the president to show progress toward a major campaign promise as he completes his first 100 days in office.

"The plan gets better and better and better, and it's gotten really good, and a lot of people are liking it a lot," Trump said at a news conference Thursday. "We have a good chance of getting it soon. I'd like to say next week, but we will get it."

Congressional Republicans also worry that they must attract Democratic support to fund the government past the month's end — a step they must take by midnight April 28 to avoid a shutdown. That could become difficult if Democrats grow alienated by the effort to alter former president Barack Obama's key domestic policy achievement, which some White House officials said they hope will come up for a vote as early as Wednesday.

Several congressional GOP aides, who spoke on the condition of anonymity to talk openly about the ongoing negotiations, said they worry that the rushed process threatens to create another embarrassing public failure over health care. The schedule would also make it nearly impossible for lawmakers to finish their work in time for official scorekeepers to provide a clear estimate of how much the legislation would cost or how it would affect coverage numbers.

House GOP aides in Washington worked furiously to scale back expectations for a quick vote on the legislation, citing the fact that lawmakers have not been fully briefed on the discussions. There was no deadline for finishing the legislation as of Thursday evening, and GOP leaders have not committed to plans for a Wednesday vote, according to one House GOP leadership aide.

The fresh hopes for resuscitating the American Health Care Act are pegged to an amendment being offered by Rep. Tom MacArthur (R-N.J.) that aims to attract enough conservatives and moderates that the measure can pass in the House. White House officials said language would be circulated among members in the next few days, and the modifications will be discussed Saturday in a conference-wide call as Republicans prepare to return to Washington next week.

The MacArthur amendment would allow states to obtain permission from the federal government to write their own list of essential health benefits and allow insurers to charge people with preexisting conditions higher premiums, as long as they also make a high-risk pool available to those patients — a change conservatives have demanded.

As a concession to moderates, the amendment would also add back federal requirements for essential health benefits, which the measure's current version instead leaves up to states.

House leadership and committees are taking a secondary role in the negotiations, which are being largely carried out by MacArthur, head of the moderate Tuesday Group, and Rep. Mark Meadows (R-N.C.), chairman of the conservative House Freedom Caucus. Members from both groups had balked at voting for the bill last month, forcing leaders to pull it from the floor at the last minute.

Meadows was silent Thursday on whether he supports the proposed changes.
As Politico notes, this pressure from the White House is coming at the same time that Congress, which returns from its two-week Easter recess on Monday, is seeking to make a deal by the end of the month that funds the government through the end of the current Fiscal Year and avoids a government shutdown that neither Republicans nor Democrats want:
Congressional leaders' efforts to hatch a massive spending deal have been thrown off course by the Trump administration's 11th-hour intervention, leaving the bipartisan bill teetering on the brink of collapse just a week before a government shutdown deadline.

The hard line taken by White House officials, particularly Office of Management and Budget Director Mick Mulvaney, has strained an emerging deal between House and Senate leaders that would skirt hot-button issues that could shut down the government. In particular, administration officials' hopes of giving President Donald Trump a win during his first 100 days, such as border wall funding or a crackdown on sanctuary cities, have complicated what had been a relatively smooth, bicameral, bipartisan negotiation, according to staffers in both parties.

But Democrats are taking an aggressive stance, too, flatly insisting that Trump or Senate Majority Leader Mitch McConnell and House Speaker Paul Ryan make a commitment to funding Obamacare's cost-sharing subsidies as a precondition to voting for any bill to fund the government through September. Democrats have also talked tough on ruling out funding for a wall or a provision restricting billions in federal grants from cities that don't enforce federal immigration laws.

"Negotiations are slow-going," said a Republican aide familiar with the bargaining. "There is a deal to be had — a good one with wins for both parties, but I think with a new minority leader and a new president, anything can happen. … If we don't get much progress by this weekend, bad news."

Republican leaders are desperate to avoid a shutdown after April 28, and Trump himself said on Thursday, "We wanna keep the government open." But productive talks among McConnell, Ryan, Senate Minority Leader Chuck Schumer and House Minority Leader Nancy Pelosi stalled over the last 24 hours after administration officials signaled they would dig in over wall funding.

Legislative text detailing the agreement that some lawmakers expected to be released late this week is now not expected until next week — if ever. To avoid a shutdown, Congress could also pass a one-week extension to give negotiators more time.

Congressional leaders "could have struck a deal" on a larger package, said a Senate Democratic aide. The White House's involvement means hopes for a bipartisan agreement are "just getting murkier."

Republicans are mulling a fallback plan that would keep the government operating at current funding levels through September, known as a continuing resolution, aides said. That bill would likely contain some new money for fighting terror, a priority of both parties.

However, some Republicans doubt a long-term patch can pass the House. And both parties want to avoid a stopgap spending bill that would amount to a major disappointment for both parties and do little to change Washington's reputation for gridlock, even with a new president.

Some hope rose on Thursday when Mulvaney signaled openness to allowing Obamacare's subsidies to continue flowing to Americans of low income for one to two years on Thursday at a forum hosted by the Institute of International Finance, intriguing some Republicans.

But House Democratic leadership told the White House they want a permanent fix included in the spending bill that would ensure Obamacare subsidies are deemed mandatory government spending, rather than subject to the yearly whims of Congress, a source familiar with the conversation said.

And just as he appeared open to cutting a deal, Mulvaney also told The Associated Press that "elections have consequences" and Trump must receive funding for the planned border wall in the spending bill.

"There are a lot of people on the Hill, especially in the Democratic Party, who don't like the wall, but they lost the election," Mulvaney told the AP.

Republican said privately it would be helpful for Mulvaney and the White House to concede that the Democrats are not going to fund the wall and move on. But there is a combative element to the divided Trump White House that believes otherwise.

"There are people in the West Wing who want the shutdown fight because they think that's how you get things done. And there is another faction in the White House that knows that's a bad idea," said a senior House Republican aide.
The odds of Congress being able to handle both health care reform and getting a budget measure passed prior to the end of the month are, of course, somewhere close to impossible.
As far as health care is concerned, for example, we've already seen that it's nearly impossible to reconcile the competing demands of conservatives in the House Republican Caucus such as the House Freedom Caucus and those of the moderates led by the so-called Tuesday Morning Group (a name derived from the day of the week on which they typically meet when the House is in session) and it seems unlikely that these hastily arranged meetings and arbitrary deadlines are going to help the process. In addition to the problems of putting together something that would have even a slight chance of passing the House, drafters also have to remain wary of the Senate in two regards. First of all, whatever bill they put together would need to be structured in such a way that it could be considered under the Senate's budget reconciliation rules. If they fail to do so, then the legislation would be subject to being blocked by expected Democratic opposition in the form of a "no" vote on a cloture motion. Since it's incredibly unlikely that Mitch McConnell would be able to keep his caucus together to eliminate the legislative filibuster, that would mean that the repeal and replace effort would die in the Senate. Second, even if they can put together a House bill that can get through under reconciliation, there's still no guarantee that it can pass the Senate given the fact that several Senators have voiced objections to what the House is even considering. For some, such as Senator Rand Paul, it's because the bill doesn't go far enough in repealing the PPACA. For other, more moderate Republicans, it's because of the threat that the bill poses to Republican-controlled states such as Ohio and others that chose to take advantage of the PPACA's expansion of Medicaid. Taken together, it's entirely possible that the House bill would not survive a Senate floor vote and that whatever changes the Senate will be unacceptable to the House.
Getting a budget measure passed, meanwhile, has complications of its own. Even if Republicans agree to rely on Democratic support to get it done, especially in the House, there are still potential problems facing both the House and the Senate that will likely mean that Congress goes down to the wire in an effort to get something passed by a week from Sunday. The most pressing appears to be the issue of continuing the subsidies provided under the Affordable Care Act, with Democrats saying that they will insist that Republicans agree to keep them on long-term rather than using this part of the budget as a backdoor way to undermine the PPACA. Additionally, as noted above, the funding of the President's so-called border wall is likely to be an issue that many Democrats, and likely some Republicans will disagree with and it's clear that many Republicans would just as soon let the issue die for purposes of getting this budget finalized and deal with it in the process of putting together a new budget for the coming Fiscal Year over the summer. The Trump Administration, though, is pushing in the other direction on both issues, and any Congressional reluctance to provide even minimal funding for the wall would likely result in an outburst by Trump. Add into this the fact that Congress also has to keep its eye on an impending necessity to raise the debt ceiling, and it promises to make what should be a routine budget measure far more complicated.
With these competing pressures, it seems not only unlikely that the House can address both health care reform and the budget in the coming week, meaning that choices will have to be made in order to avoid a government shutdown. Good luck with that, guys.