White House To America: Pay No Attention To Those Bad Economic Numbers
The White House would really appreciate it if you didn't pay attention to all that bad economic news.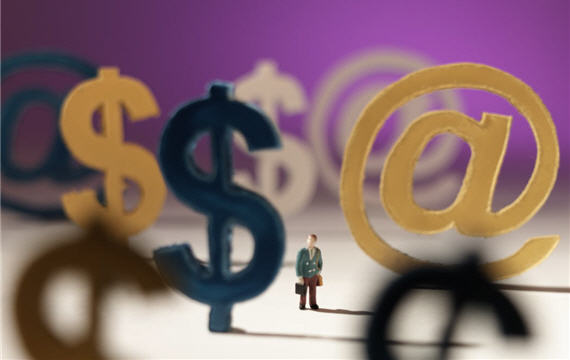 David Plouffe's comments earlier this week that American voters don't really care about things like high unemployment numbers and slow economic growth is apparently an official White House talking point, as this exchange between Jake Tapper and Press Secretary Jay Carney makes clear:
TAPPER:  OK.  And lastly, comments by Senior Adviser David Plouffe were criticized today.  Earlier this week, he said, quote, "The average American does not view the economy through the prism of GDP or unemployment rates or even monthly jobs numbers.  People won't vote based on the unemployment rate, they're going to vote based on how do I feel about my own situation:  Do I believe the president makes decisions based on me and my family?"

And Republican frontrunner Mitt Romney said that those comments were — he suggested they were out of touch, and he said that if Plouffe worked for him, he would fire him.

CARNEY:  Well, I understand that we're engaged in the – or rather, the Republicans are engaged in a primary campaign, trying to get some media attention.  I don't know where, you know, the voters that some other folks might be talking to — but — or — but most people do not sit around their kitchen table and analyze GDP and unemployment numbers.  They talk about how they feel their own economic situation is.  And they measure it by whether they have a job, whether they have job security; whether their house – whether they're meeting their house payment, whether their mortgage is underwater; whether they have the money to pay for their children's education or they don't; whether they're dealing with a sick parent and can afford that, or whether they can't.

They do not sit around analyzing The Wall Street Journal or other — or Bloomberg to look at the — you know, analyze the numbers.  Now, maybe some folks do, but not most Americans.  I think that's the point David Plouffe was making; that's the point the president was making just moments ago in his statement in the Rose Garden.
Now on some level, Carney is correct, and so is Plouffe, that the average American does not spend their day sitting around discussing the latest economic statistics and whether they are good, bad, or indifferent. However, that doesn't mean that those numbers are totally without meaning to them, especially when it comes to the important numbers like the Unemployment Rate and GDP. Given the fact that they get so much play in the news media, people are at least aware of these numbers, and I would think its fair to say that most Americans have a fair understanding of what they mean. Of course, it doesn't take an economic genius to realize that something like today's dismal unemployment report is bad news, and the fact that it was followed by a somewhat disjointed, hastily prepared, Rose Garden speech by the President and a stock sell-off likely got the point across pretty well.
Carney also has a point that people look t their individual circumstances primarily, but they also clearly take note of what's going on around them. What they see right now is high unemployment, low job growth, slow economic growth, a housing market that has yet to fully recover from the natural result of an irrational asset bubble, and politicians in Washington who are more concerned with scoring partisan political points than solving the nations fiscal and economic problems. The result? Economic pessimism so bad that large numbers of people say they think we're headed for another Great Depression, a general impression that economic conditions won't get better any time soon, and, of course this: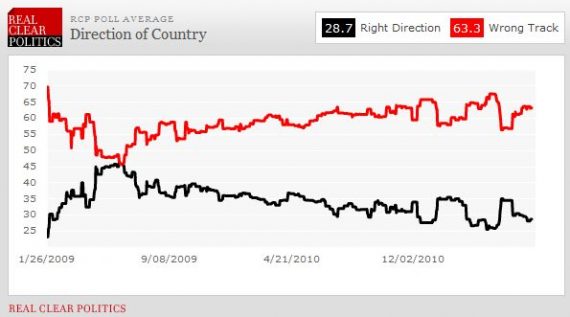 Numbers like this aren't just influenced by people's individual economic circumstances, they're influenced by what people see going on around them.
Of course the White House wants to put out the idea that the economic data isn't important, because their only other option would be to try to defend their record and, judging by that same data, their record is one of failure.