White Male Privilege Exists, Defense Department Points Out
A Pentagon Equal Opportunity training manual points out the obvious.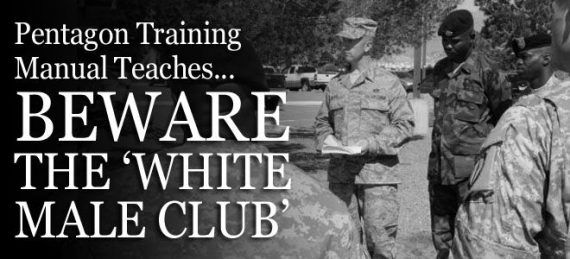 Trending on memeorandum is a Fox News story titled "Pentagon training manual: white males have unfair advantages."
A controversial 600-plus page manual used by the military to train its Equal Opportunity officers teaches that "healthy, white, heterosexual, Christian" men hold an unfair advantage over other races, and warns in great detail about a so-called "White Male Club."

"Simply put, a healthy, white, heterosexual, Christian male receives many unearned advantages of social privilege, whereas a black, homosexual, atheist female in poor health receives many unearned disadvantages of social privilege," reads a statement in the manual created by the Defense Equal Opportunity Management Institute (DEOMI).
Where they get this idea is beyond me. I mean, just look at all the unhealthy black lesbian atheist women in positions of power!
The manual, which was obtained by Fox News, also instructs troops to "support the leadership of people of color. Do this consistently, but not uncritically," the manual states.
That's just blatant discrimination right there. Usually, we teach troops to disobey orders from their leaders. Well, no, we don't.
The 637-page manual covers a wide range of issues from racism and religious diversity to cultural awareness, extremism and white privilege.

I obtained a copy of the manual from an Equal Opportunity officer who was disturbed by the course content and furious over the DEOMI's reliance on the Southern Poverty Law Center for information on "extremist" groups.

"I'm participating in teaching things that are not true," the instructor told me. He asked not to be identified because he feared reprisals.

"I should not be in a position to do that," he said. "It violates Constitutional principles, but it also violates my conscience. And I'm not going to do it – not going to do it."
What Constitutional principles are being violated? What's untrue or violates this individual's conscience? We're not told.
DEOMI instructors were also responsible for briefings at bases around the country that falsely labeled evangelical Christians, Catholics and a number of high-profile Christian ministries as domestic hate groups.
No information is given in the piece about any of that. An earlier report from the same reporter, however, notes that some Army EO instructors were freelancing and using SPLC materials that labeled the likes of the American Family Association as "hate groups" on the basis of virulent anti-homosexual teachings. The Secretary of the Army has personally ordered that practice stopped.
Otherwise,
The subject of white privilege emerged in a 20-page section titled, "Power and Privilege."

"Whites are the empowered group," the manual declares. "White males represent the haves as compared to the have-nots."

The military document advises personnel to "assume racism is everywhere, every day" and "notice code words for race." They are also instructed to "understand and learn from the history of whiteness and racism."

"Assume racism is everywhere, everyday," read a statement in a section titled, 'How to be a strong 'white ally.'"

"One of the privileges of being white is not having to see or deal with racism all the time," the manual states. "We have to learn to see the effect that racism has."
That's a bit pedantic, perhaps, but hardly objectionable. The whole point of the "privilege" argument is that those in historically powerful groups are less likely to even notice subtle differences in treatment. While it can be, and often is, taken too far, the premise is demonstrably true.
On page 181 of the manual, the military points out that status and wealth are typically passed from generation to generation and "represent classic examples of the unearned advantages of social privilege."

"As such, the unfair economic advantages and disadvantages created long ago by institutions for whites, males, Christians, etc. still affect socioeconomic privilege today," the manual states.
Is this even debatable?
The guide also points out that whites are over-represented and blacks are underrepresented in positive news stories, that middle class blacks live in poorer neighborhoods than middle class whites and that even though there are more white criminals than any other race, the news coverage of black criminals is about equal to the news coverage of white criminals.
This is both undeniably true and debatable. That is, the fact that whites, which comprise 77.9% of the society, comprise a larger percentage of the criminal population than blacks, who comprise 13.1% of the society, isn't the whole story. At the same time, though, constant reporting on even a disproportionate violent criminal element among a minority group skews the perception of that group in the majority population.
The military manual goes into great detail about a so-called "White Male Club."

"In spite of slave insurrections, civil war, the 13th, 14th, and 15th amendments, the women's suffrage movement leading to the 19th amendment, the civil rights movement, urban rebellions and the contemporary feminist movement, the club persists," the document states.

DEOMI states that "full access to the resources of the club still escape the vision of equitable distribution."
Well, yeah.
Ladies and gentlemen, I give you Louis C.K . (NSFW, strong language):
Sorry I'm being so negative. I'm a bummer. I don't know–I shouldn't be. I'm a very, you know, lucky guy. I've got a lot going for me: I'm healthy, I'm relatively young, I'm white …which, thank God for that shit, boy. That is a huge leg up. Are you kidding me? Oh, God, I love being white. I really do. Seriously, if you're not white, you're missing out. Because this shit is thoroughly good. Let me be clear, by the way. I'm not saying that white people are better. I'm saying that being white is clearly better. Who could even argue? If it was an option, I would re-up every year.

"Oh, yeah, I'll take 'white' again, absolutely. I've been enjoying that. I'm gonna stick with white, thank you."

Here's how great it is to be white: I can get in a time machine and go to anytime, and it would be fucking awesome when I get there! That is exclusively a white privilege. Black people can't fuck with time machines! A black guy in a time machine's like, "Hey, anything before 1980, no thank you. I don't want to go."

But I can go to any time! The year 2. I don't even know what's happening then, but I know when I get there…

"Welcome, we have a table right here for you, sir."

"Thank you. Oh, it's lovely here in the year 2."

I can go to any time–in the past. I don't want to go to the future and find out what happens to white people because we're gonna pay hard for this shit, you got to know that. We're not going to just fall from number one to two. They're gonna hold us down and fuck us in the ass forever. And we totally deserve it. But for now, wheeeeeeee!

Now, if you're white and you don't admit that it's great, you're an asshole. It is great. And I'm a man. How many advantages could one person have? I'm a white man. You can't even hurt my feelings! What can you really call a white man that really digs deep?

"Hey, cracker."

"Uh. Ruined my day. Boy shouldn't have called me a cracker. Bringing me back to owning land and people, what a drag."