Whitewashing Evil
The capacity of some people to look the other way in the face of evil is astounding.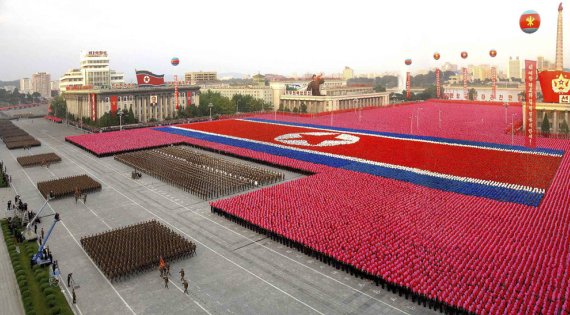 Alex Massie passes along this quote from Simon Winchester's column (£) in today's (London) Times:
The State's founder, Kim Il Sung, claimed that all he wanted for North Korea was to be socialist, and to be left alone. In that regard, the national philosophy of self-reliance known in North Korea as "Juche" is little different from India's Gandhian version known as "swadeshi". Just let us get on with it, they said, and without interference, please.

India's attempt to go it alone failed. So, it seems, has Burma's. Perhaps inevitably, North Korea's attempt appears to be tottering. But seeing how South Korea has turned out — its Koreanness utterly submerged in neon, hip-hop and every imaginable American influence, a romantic can allow himself a small measure of melancholy: North Korea, for all its faults, is undeniably still Korea, a place uniquely representative of an ancient and rather remarkable Asian culture. And that, in a world otherwise rendered so bland, is perhaps no bad thing.
The "faults" of North Korea, of course, include being the most totalitarian state on the planet, if not in all of human history. A state where those who are not part of the party and military apparatus are mere cogs in a machine. Where each home has a loudspeaker that broadcasts propaganda into the home every morning and and every night. Where people starving to death is considered a cost of doing business by the Korean Workers Party. Leaving aside the notion that Winchester's claim that there is something more authentically Korean about a slave state ruled by a family of megalomaniacs than the prosperous, relatively free society to its south is simply false, the authors willingness to white wash totalitarianism ranks him right up there with the apologists for Hitler, Stalin, and Mao that populated the world in the 20th Century. It reminds one of Walter Duranty, the Pulitzer Prize winner New York Times reporter who reported as fact the propaganda Moscow was spreading about the Ukrainians dying as a result of Stalin's forced farm collectivization program. It's wrong, it's disgusting, and it quite honestly reveals a man whose sense of morality is so perversely warped that one wonders why The Times even gives him columns space.
Massie comments:
Newspapers, of course, are free to publish whatever they like but one does wonder if anyone at the Times paused to think, "Hang on, we don't have to publish a piece that doesn't just defend the Kims from their detractors but actually makes some kind of fucking "case" for them."

Plucky little North Korea going it all on her lonesome? Please. Get a grip.
Indeed.
I'm willing to bet that Winchester has never been to North Korea, because if he had, he would have seen what Christopher Hitchens did:
North Korea is a famine state. In the fields, you can see people picking up loose grains of rice and kernels of corn, gleaning every scrap. They look pinched and exhausted. In the few, dingy restaurants in the city, and even in the few modern hotels, you can read the Pyongyang Times through the soup, or the tea, or the coffee. Morsels of inexplicable fat or gristle are served as "duck." One evening I gave in and tried a bowl of dog stew, which at least tasted hearty and spicy—they wouldn't tell me the breed—but then found my appetite crucially diminished by the realization that I hadn't seen a domestic animal, not even the merest cat, in the whole time I was there. (In a Pyongyang restaurant, don't ever ask for a doggie bag.) Nobody knows how many North Koreans have died or are dying in the famine—some estimates by foreign-aid groups run as high as three million in the period from 1995 to 1998 alone—but the rotund, jowly face of Kim Il Sung still beams down contentedly from every wall, and the 58-year-old son looks as chubby as ever, even as his slenderized subjects are mustered to applaud him. Kim Jong Il, incidentally, has been made head of the party and of the army, but the office of the presidency is still "eternally" held by his adored and departed dad, who died on July 8, 1994, at 82. (The Kim is dead. Long live the Kim.) This makes North Korea the only state in the world with a dead president. What would be the right term for this? A necrocracy? A thanatocracy? A mortocracy? A mausolocracy? Anyway, grimly appropriate for a morbid system so many of whose children have died with grass in their mouths.

(…)

Sooner or later, all talk among foreigners in Pyongyang turns to one imponderable subject. Do the locals really believe what they are told, and do they truly revere Fat Man and Little Boy? I have been a visiting writer in several authoritarian and totalitarian states, and usually the question answers itself. Someone in a café makes an offhand remark. A piece of ironic graffiti is scrawled in the men's room. Some group at the university issues some improvised leaflet. The glacier begins to melt; a joke makes the rounds and the apparently immovable regime suddenly looks vulnerable and absurd. But it's almost impossible to convey the extent to which North Korea just isn't like that. South Koreans who met with long-lost family members after the June rapprochement were thunderstruck at the way their shabby and thin northern relatives extolled Fat Man and Little Boy. Of course, they had been handpicked, but they stuck to their line.

There's a possible reason for the existence of this level of denial, which is backed up by an indescribable degree of surveillance and indoctrination. A North Korean citizen who decided that it was all a lie and a waste would have to face the fact that his life had been a lie and a waste also. The scenes of hysterical grief when Fat Man died were not all feigned; there might be a collective nervous breakdown if it was suddenly announced that the Great Leader had been a verbose and arrogant fraud. Picture, if you will, the abrupt deprogramming of more than 20 million Moonies or Jonestowners, who are suddenly informed that it was all a cruel joke and there's no longer anybody to tell them what to do. There wouldn't be enough Kool-Aid to go round. I often wondered how my guides kept straight faces. The streetlights are turned out all over Pyongyang—which is the most favored city in the country—every night. And the most prominent building on the skyline, in a town committed to hysterical architectural excess, is the Ryugyong Hotel. It's 105 floors high, and from a distance looks like a grotesquely enlarged version of the Transamerica Pyramid in San Francisco (or like a vast and cumbersome missile on a launchpad). The crane at its summit hasn't moved in years; it's a grandiose and incomplete ruin in the making. "Under construction," say the guides without a trace of irony. I suppose they just keep two sets of mental books and live with the contradiction for now.
Hitchens, of course, was a man who never avoided an opportunity to speak truth to power, often bluntly so. One wonders how he was able to restrain himself during his visit to Pyongyang all those years ago, as am matter of fact. Winchester, on the other hand, appears to be either an idiot or a man so filled with moral cowardice that even from the comfort of wherever it happens to be that the writes his column he does not dare speak to the truth. Hopefully, the world has more Hitchens' than it does Winchester's.